'The most important aspect of Bajrangi Bhaijaan is the use of humour to touch some sensitive and potentially explosive political-religious and cultural subjects,' says Mohammad Asim Siddiqui.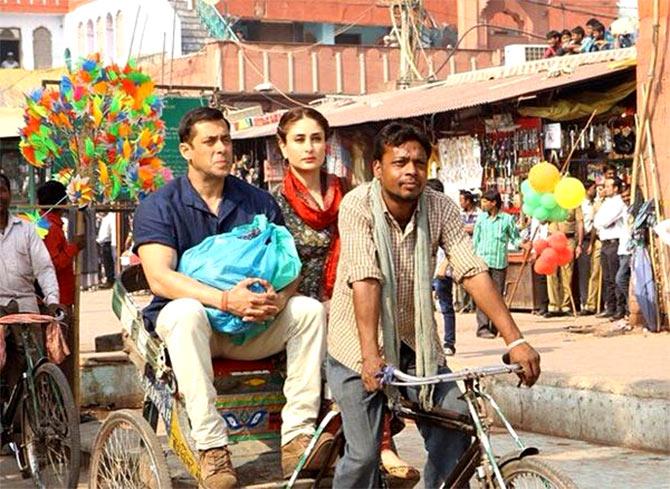 If Salman Khan the superstar discovered Kabir Khan the competent director in Ek Tha Tiger, Kabir Khan the able director has brought out the actor in Salman Khan in Bajrangi Bhaijaan.
This film is certainly not the usual Salman Khan stuff where you have a few unbelievable fight scenes and the inevitable baring of his chest, something that we are so used to seeing when we watch a Salman Khan film.
One can hardly disagree with Kabir Khan when he says that he has tried to show the good values of helping each other on screen through Bajrangi Bhaijaan.
Kabir Khan's films have always touched political issues very intelligently. His treatment of some international themes, especially those touching the lives of Muslims in the contemporary world, has been very sensitive. Kabul Express presented a perspective on Taliban. New York treated the post 9/11 scenario.
The most important aspect of Bajrangi Bhaijaan is the use of humour to touch some sensitive and potentially explosive political-religious and cultural subjects that touch the lives of Indian and Pakistanis.
The film contains a lot of ideology, but it distances itself from that ideology through its deft use of humour. It uses a lot of cultural stereotypes and popularly accepted motifs, but subverts them all to create humorous situations.
In the process it stays away from Pakistan bashing and an easy categorisation of people on the basis of caste, colour, creed and food habits. It presents identity as always in the process, a complex entity, not easily reducible to some fixed concepts.
Thus the easy identification of vegetarianism with Hindus and purity and non-vegetarianism with the image of fiery and impure Muslims is touched with very genial humour to suggest that this binary does not rest on sound wisdom and concrete evidence. Food is definitely one of the markers of identity, but identity is certainly not reducible to one's food habits.
Pavan Kumar Chaturvedi's vegetarianism does not translate into any negative feelings for the little girl when he discovers her gorging on chicken drumsticks even though he could even throw up to see this sight.
What should be the least expected description of identity that a person with an RSS background will bestow on somebody he loves and cares for? Most people will point to a meat-eating Muslim. And an even more apt reply would be a meat-eating Pakistani Muslim.
Son of a father who organised shakhas, Pavan Kumar Chaturvedi (Salman Khan) tries to lessen the enormity of his discovery by rationalising that Kshatriyas are also traditionally meat-eating people. But when faced with the real situation he happily takes the little Muslim girl to a non-vegetarian restaurant.
Bajrangi Bhaijaan makes the point that neither the identity of a person with RSS background nor that of a Pakistani, whether she be a little girl or a seasoned journalist, can be reduced to their food habits. Both can overcome their cultural baggage and discover a different aspect of themselves if faced with a new situation.
In the same way an imam of a Pakistani mosque can be very open-hearted and a humanist to the core, not harbouring any feeling of enmity for anyone. Or, to take another example from the film, Brahmins are not the only Indians to have a light skin.
And since the source of humour often lies in incongruity, the film makes these points humorously, interestingly and without any malice towards anyone. The difference between what is expected and what actually turns out throws many interesting situations in the film. The situational humour is a major strength of Bajrangi Bhaijaan.
Bajrangi Bhaijaan culls out interesting situations from many current discourses. There is little doubt that cricket is followed like a religion in both India and Pakistan. There is an unwritten law in both countries that 'thou shalt not lose to each other.'
Supporting the 'wrong' player, what to say of the 'wrong' team is nothing short of treason and it can result in violence, even death. But even this situation has been turned on its head in the film to create very healthy humour and to press home a point or two about treating sport as sport.
In the 1990s innumerable films, many featuring Sunny Deol, presented a one-dimensional view of Pakistan. But there have been quite a few films like Main Hoon Na and Veer Zara which showed the people of Pakistan rather than Pakistan as synonymous with the Pakistani State. Bajrangi Bhaijaan joins this short list.
But where Bajrangi Bhaijaan really scores is in showing the beautiful locations in Pakistan occupied Kashmir, probably a first of its kind in a big Hindi film. The picture of the beautiful mountains of Switzerland in a calendar that Shahida mistakes for her region is not without some meaning. Kashmir has traditionally been called the Switzerland of the East.
What is unsaid here is even more important. The establishing shot of the film focuses on the beautiful, snow-capped mountains suggesting peace, purity and tranquility. It is really a tragedy that the Switzerland of the East has become what it is even though its common people are like the common people of any other part in India: Full of love and tender feelings.
It goes to Kabir Khan's credit that he treats potentially explosive subjects touching ordinary lives of the people in the subcontinent in a light-hearted manner. As Mark Twain said: 'The secret source of humour itself is not joy but sorrow. There is no humour in heaven.' Khans's rich humour speaks through the six-year-old mute child who belongs to 'the paradise on earth.'
Mohammad Asim Siddiqui teaches English at Aligarh Muslim University.
REDIFF RECOMMENDS