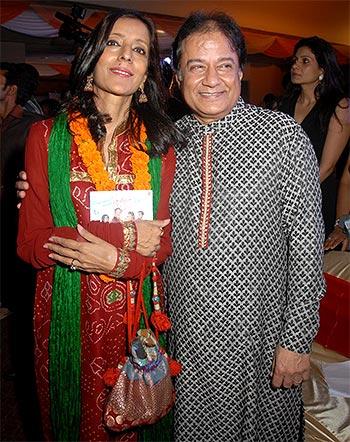 'Medha had been so alive, smiling in the pictures she posted on Facebook and the comments she left on my profile page. I did not think she would leave us so soon.'
Aseem Chhabra pays tribute to Medha Jalota.
A few years ago, I went to New Jersey to interview Medha Gujral Jalota.
She was with her ghazal singer husband Anup Jalota, who had a concert in the hotel where I met them.
The trip had actually been planned to get Medha a kidney transplant.
A donor had been found in India. He was a cousin of Anupji, but doctors in New York had said he was not a perfect match.
There was disappointment, but Medha, who had been living with two collapsed kidneys and new heart that she received a few years earlier, seemed strong willed.
She had the desire to live and she wanted to speak to the Indian-American community through India Abroad -- the newspaper Rediff.com owns in America -- to see if anyone was willing to donate their kidney, in case there was a perfect match.
last Tuesday morning, I was sitting in a movie theatre at the International Film Festival of India in Goa when I got a message from my brother in the Maldives.
He wrote that Medha had passed away.
I opened Facebook on my phone and there was a message from my childhood friend and Medha's cousin Atul Sikand: 'My precious and beautiful cousin Medha Gujral Jalota is no more.'
My heart sank reading Atul's words.
I had tears in my eyes.
I knew Medha was in a hospital in Westchester County just outside New York City awaiting a second heart transplant and then also a kidney transplant. Her condition was very serious.
Medha had been so alive, smiling in the pictures she posted on Facebook and the comments she left on my profile page. I did not think she would leave us so soon. She was a beautiful soul with so much life. And she was only 59.
I went to the same school as Medha. She was two years senior to me in Delhi's Modern School.
She was beautiful and very charming. As it often happens in schools, I was in awe of her and some of her friends. They were smarter than me, cool, hip and I never had the courage to approach this group.
After I finished school, I joined Delhi's Ruchika Theatre Group, made mostly of former Modern School students. Medha was also a part of the group. Even then, I was shy in her presence.
I remember the time she started dating Shekhar Kapur. He was Dev Anand's dashing young nephew and would come on his motorcycle to pick her up from rehearsals.
Later, the two were married.
Even though that marriage ended in divorce, the two remained friends.
On Monday afternoon, Shekhar and I briefly spoke about Medha at the Film Bazaar in Goa. I showed him whatever information I could find about her on Facebook -- reading out to him messages written by Medha's younger sister Eeda and Anupji's cousin Radhika Tandon, who lives in New Jersey.
Shekhar wrote a touching tribute to Medha on Twitter calling her the 'bravest person' he knew and adding 'You showed that life can be lived and loved despite all odds.'
I reconnected with Medha in the recent years, as she made frequent visits to New York. She had my number and would always call. I did see her a few times during those visits, but I regret that I did not see her more often.
I saw her and Anupji once in Delhi. Despite her difficult medical condition, Medha looked radiant, poised. She had a real presence. And I saw how caring and loving Anupji was with her.
I never met their son Aryaman, but Medha was proud of him.
Earlier this summer, she wrote to me on Facebook that she did not know I had graduated from Columbia University. In the same comment, she proudly told me that Aryaman had been admitted to Princeton.
A common friend had said that since Medha was housebound, she spent a lot of time on Facebook, sending text messages and being on the phone. I think many of her friends felt really connected to her because of that. I can spend hours re-reading the comments that she left on my Facebook wall.
Two weeks ago, I was in Delhi's Chandini Chowk where I ate a plate of dahi bhalla. And as I always do, I posted a picture on Facebook.
The next morning, I saw a comment from Medha. Even though she was in hospital, she wanted to know where in New York she could get dahi bhalla like the one in my picture.
I responded by saying that dahi bhallas were available in the South Indian restaurants in the Curry Hill area in Manhattan, and I promised I would get a plate when I came to visit her.
'Yay!!' she wrote. 'Would love that! When're you back?'
I wrote I would be back on December 3 and she liked that comment.
But she did not wait.