As electric they are on screen, Deepika Padukone and Alia Bhatt aren't quite chat show meat, feels Sukanya Verma.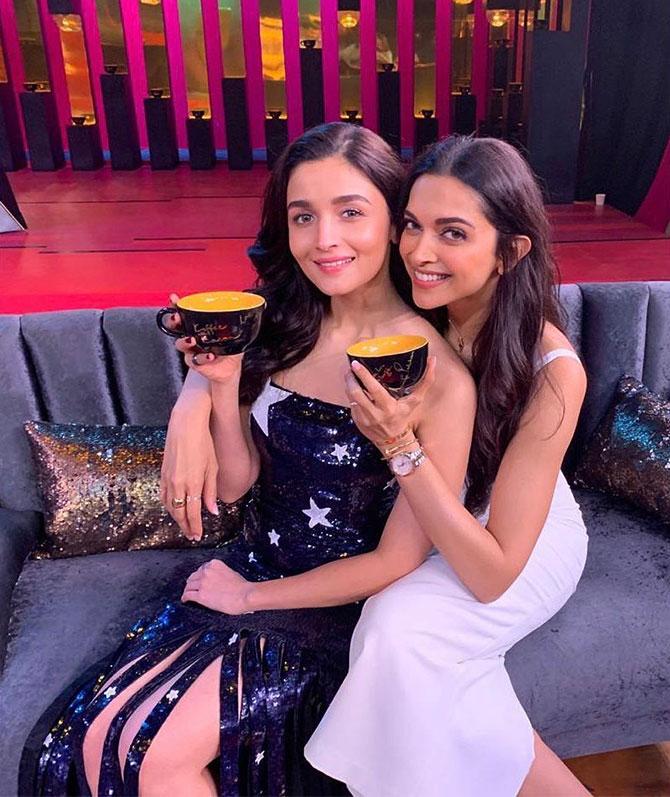 Shah Rukh Khan is to Koffee With Karan what coconuts are to newly purchased cars.
His eloquent presence and lithe humour lends the frivolity a fun that is just the right amount of revelation and read-in-between-lines. Few stars possess the quality to transfix outside the celluloid magic. SRK has it in abundance.
And it is sorely missed while witnessing a playful but monotonous interaction between the first pair of handpicked guests on the first episode of Koffee With Karan's sixth season.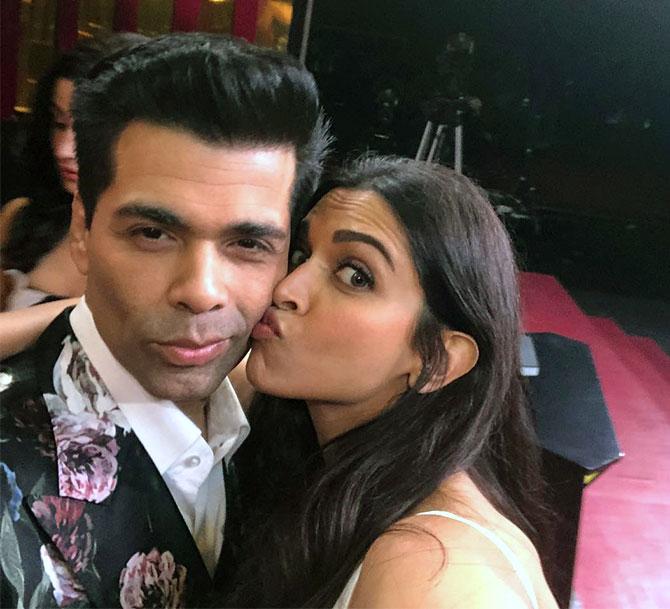 As electric they are on the silver screen, Deepika Padukone and Alia Bhatt aren't quite chat show meat.
Deepika is careful with her words, Alia is clumsy and yet they have done quite all right when paired with people who inspire the imp within.
It is all hunky dory between these two who hit it off during a Coldplay concert and waste no time to address the 'elephant in the room'.
Namely Ranbir Kapoor.
Deepika used to date him.
Alia is dating him.
In between there was Katrina Kaif.
In a Bollywood movie, this would make for an Ae Dil Hai Mushkil-like curious encounter between Aishwarya Rai Bachchan and Anushka Sharma over Ranbir Kapoor.
In real life, people move on faster and far less dramatically.
We'd probably feel snoopier if it was Alia and Katrina together -- Ranbir and Deepika are ancient history as far as millennial memory goes.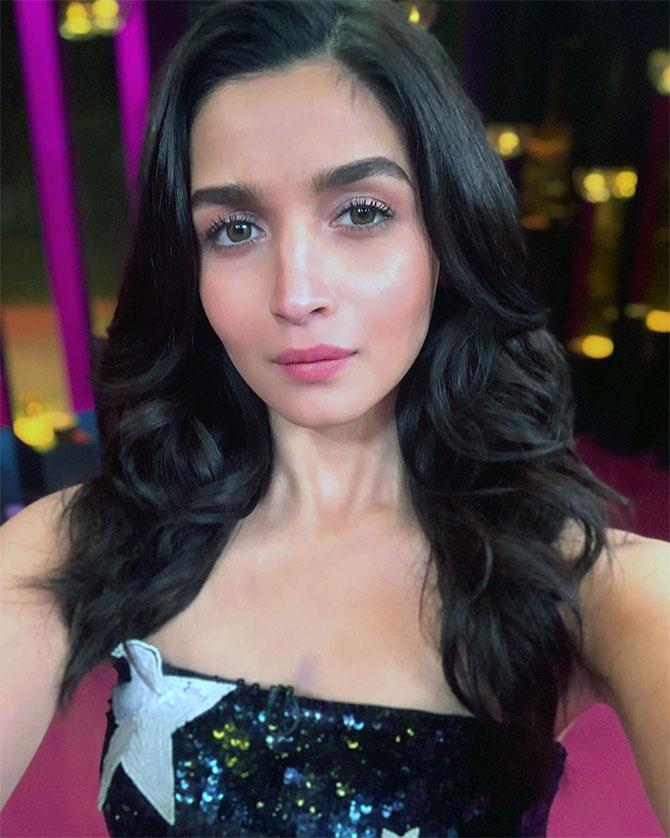 Ever the mischief monger, the Koffee With Karan host doesn't think so and hunts for a hint of awkwardness.
After all, Karan Johar's access to the stars and license to get past their standard 'I don't want to talk about my personal life' stance reserved for regular media is what the show relies on to get everybody loose tongued.
As its sprightly, witty, flamboyant star host, the film-maker known to don many hats does not disappoint.
Too bad the episode refuses to dwell beyond their relationship status.
It doesn't help that Deepika's wedding date to Ranveer Singh is made official by the duo on the same day a few hours before the telecast considering most of the episode involves scooping out confirmation of their upcoming marriage.
The Kuch Kuch Hota Hai director starts off by bragging about Koffee's longest running English language Indian show on television feat, quips how Bahubali's mammoth success has afforded a wardrobe he'll always be grateful for (he co-produced the megablockbuster for folks who didn't get the connection) or how he gets a nepospasm every time he hears the word 'nepotism' and gushing about the enormous girl power rocking box office these days.
Two minutes in and Koffee With Karan's trademark gossipy tone trickles in while KJo grills the girls about their Instagram posts relating to their love lives -- the flirtatious exchange between Deepika and Ranveer or the Ayan Mukerji presence in Alia-Ranbir photographic moments.
What starts out as a giggly session between schoolgirls discussing their love lives in a nervous, coy manner slumps into a phony pursuit of hamper across lacklustre games lacking spunk and sass.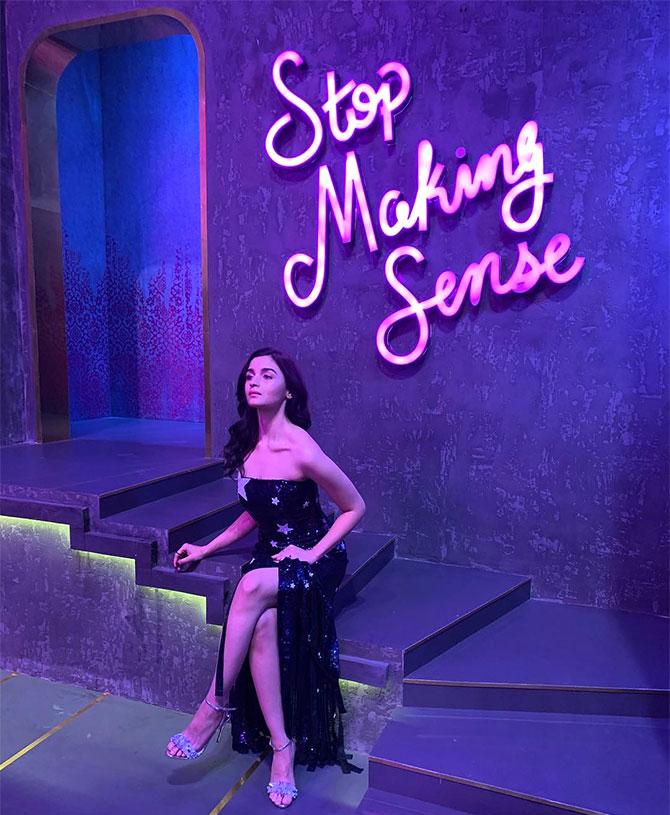 If Alia's discomfort at any mention of Katrina and complete indifference for Sidharth Malhotra is hard to miss, Deepika's diplomatic approach stays put as she denies any ill-will over the film industry's lack of support during the Padmaavat crisis saying they reached out to her privately.
We also learn how the famous viral photograph featuring Alia-Ranbir, Deepika-Ranveer, KJo, Aamir and Shah Rukh came about.
The genuineness is palpable as Deepika talks about the fondness, positivity and comfort of their collective camaraderie and how she achieved this 'cool zone'.
It's a nice moment on the show when cattiness takes a break, everyone's getting along with a halo above their heads and the world might just become a better place.
And then Alia jumps in to do her bit: "He (Ranveer) calls me Lulu. I call him Tutu."
Tut-tut to this lacklustre opener.
Rather hold my breath for Ranveer Singh letting his hair down with Akshay Kumar on the next session of Koffee With Karan.