Elitist critics dismissed him as a workhorse compared to singing thoroughbred Mohammed Rafi. For all that, Mahendra Kapoor -- who passed away on September 27 -- stayed the course, with a hoi-polloi following of his own, through 50 years. As a playback artiste of rare mental discipline, Kapoor never really went away.
Never forget that Kapoor's first two Filmfare Best Singer awards came when Rafi was at his peak. Kapoor clinched these awards for Chalo ek baar in Gumrah (1963), and Ye neele gagan ke taley in Hamraaz (1967). Both songs were composed by Sahir-Ludhianvi-Ravi for B R Chopra's banner. Sandwiched between those two awards was the Lata Mangeshkar-Rafi face-off on the royalty issue, and both ceased to perform together.   
This had Mahendra Kapoor impressively seizing every dueting opportunity coming his way -- to perform with either Suman Kalyanpur or Asha Bhosle, among others. So much so that Lata-Rafi thought it prudent to make up in mutual professional interest. Kapoor may not have matched Rafi but he was so committed to his craft that he always kept Rafi on his toes. This in the teeth of certain composers just not relishing the idea of giving Kapoor a second hearing.
During a get-together at Khayyam's Colaba residence in South Mumbai, I heard that vintage composer pleading Kapoor's cause before fellow composers Madan Mohan and Jaidev. The two, unfazed, just asked Khayyam to keep his views on Kapoor to himself! Khayyam, in fact, got a shock when, at one point in the 1970s, Rafi politely refused to sing for the man who'd tuned Kaifi Azmi's Jaane kyaa dhoondhtee rehtee hain yeh aankhen mujh mein  -- to go on Dharmendra in Shola Aur Shabnam. Clearly Khayyam's ardent Mahendra projection, at Rafi's expense, hadn't gone unnoticed.
Kapoor, for his part, never lost vocal poise, being ready to perform for any genre of composer. This was his strength -- his evenness of temper that made him a singer for all seasons. Like Kapoor, Manna Dey remained in Rafi's shadow to the end. Yet, where Manna could be questioning, not once did Kapoor offend even the humblest composer, be it Chitragupta or Usha Khanna.
Such sang-froid ultimately saw Kapoor's emerging as Mr Everyman's voice and choice. Neither Shanker-Jaikishan, nor Kalyanji-Anandji, nor Laxmikant-Pyarelal could quite do without Kapoor. Indeed, for a while, Kalyanji-Anandji were cheesed off with Rafi. This was the signal for Mahendra Kapoor to score, as the voice of Dilip Kumar via Hey Gentleman Gentleman Gentleman in Gopi (1970).  
Indeed Manoj Kumar (with Mere desh ki dharti for his 1967 Upkar punchline) would hear tell of none save Mahendra Kapoor as his voice. Reasoning that this performer's sturdy vocals gave him (as a writer-director hero) a unique screen identity as Bharat. Manoj even pressured someone of Naushad's stature to replace Talat Mahmood with Mahendra Kapoor in the Kitnee haseen aaj bahaaron kee raat hai number with Rafi -- after this Aadmi duet's disc-record had been released. Manoj told Naushad only Mahendra Kapoor could vocally measure up to Rafi in a duet in which he was pitted opposite Dilip Kumar!   
When O P Nayyar fell out with Rafi, there was Kapoor, right as rain, keeping Sawan Ki Ghata tandem-pace with Asha Bhosle, in Meree jaane tum pe sadke. Just reflect upon how sonorously 'Opee' got Kapoor to render, in a C-grade 1968 show like Kismet, such solos as Laakhon hain yahaan dil waale and Aankhon mein quayamat ke kaajal. If after countless such recordings for him, OP chose to return to Rafi, Kapoor philosophically accepted such a denouement as his destiny.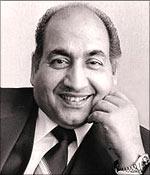 The big composers could be moody, but the schooled music-makers, ranging from S N Tripathi to Pt Shivram, swore by Kapoor, whose hold on devotional singing remained intact all through. Here then was a singer whose price was as flexible as was his voice.
Let us look at the five judges, who handpicked Mahendra Kapoor and Arati Mukherjee as winners of the 1957 Metro-Murphy Singing Contest requiring all participants to put over only non-film songs (in the open air ground adjoining Mahalaxmi Racecourse).
Naushad maintained that Mahendra Kapoor, classically appraised, sounded the best trained of the cub singers on view that evening. The legendary if glad-eyeing Anil Biswas -- upon my much later asking him how possibly could the Bengal school go along with Kapoor's style of vocals -- just wickedly observed: "Remember, my prime contest interest was Arati!"
C Ramchandra, as the third senior judge, was, by 1957, visibly anti-Rafi in spite of the flair with which this singer had come across under his baton, in those Lata-accompanying Nausherwan-e-Adil duets -- Taaron kee zubaan par hai mohabbat kee kahaanee and Bhool jaaye saare gham -- on Raaj Kumar-Mala Sinha. CR, in fact, pronounced Mahendra Kapoor to be the coming voice, and went on to provide Kapoor with a big breakthrough in V Shantaram's Navrang (1959). Via Yeh maatee sabhee kee kahanee kahegee, Shyamal shyamal baran and, not least, the all-time Raag Malkauns duet with Asha -- Aadhaa hai chandrama.
Mahendra remained a C Ramchandra pet to the end, turning up trumps under this trendsetter-composer (again alongside Asha) in the dainty Aanchal duet, Gaa rahee hai zindagee. Proceeding to score as tellingly (alongside Asha again) in CR's Zindagi Aur Maut tandem -- Dil lagaa kar hum yeh samjhe. Also, how a traumatised nation warmed to Mahendra Kapoor and Chitalkar Ramchandra's putting across -- following the October 1962 Chinese invasion -- Waah re Chou en-Lai
Yet, it was under Naushad that Kapoor took a flying start in November 1958 with the Sohni Mahiwal chartbuster, Chaand chhupaa aur taare doobe, a two-sided number attracting a record Radio Ceylon farmaish. Naushad told me how Rafi was not pleased that the Sohni Mahiwal theme-song thus went to a beginner like Kapoor.
"Rafi dared not ask me why himself," noted Naushad, "but I explained that, while all songs on Mahiwal  Bharat Bhooshan were in Rafi's voice, only the Chaand chhupa background number had gone to Mahendra. I had to be fair to the lad after helping to pick him as the Metro-Murphy Contest winner."
Vasant Desai, as the fourth judge, found Kapoor to be right up his composing alley in such numbers as Maanjhee re himmat na haar (Samrat Prithviraj Chauhan) and Kalpana ke ghan baraste (with Lata in Amar Jyoti). But Madan Mohan, the junior one among those five judges, never tuned with Kapoor. Mahendra, staying just a floor above in the same Peddar Road Makani Manor building as Madan Mohan, tended to importune that master composer for a song. This put off Madan Mohan, who generally opted for Rafi as the original. 
Yet, next to Rafi -- until Kishore Kumar arrived with Aradhana -- the maximum male renditions in our films belonged to Mahendra Kapoor, demonstrating how this singer was all things to all composers. Nor did Kapoor confine his oeuvre to the silver screen. You could always count upon him as a stage voice. One view was that Kapoor spoilt his voice by overdoing stage singing. Well, no composer ever complained that Kapoor was less resonant, in the recording studio, as a result.  
In fact, there was not a year in which Mahendra Kapoor did not come up with at least a dozen hits. To this extent, whatever his detractors said, Kapoor was the aam aadmi's voice. If Roshan preferred Rafi, he found Mahendra Kapoor (alongside Manna Dey) giving him a perennial hit in the tellingly Majrooh Sultanpuri-written Usko nahein dekha hum ne kabhee from L V Prasad's Daadi Maa.  
In the grand sum, did we underrate Mahendra Kapoor for all his seasoning? His output for O P Nayyar is remarkable -- if you move away from being fixated upon Rafi vis-a-vis this rebel composer. At one point, O P Nayyar even threatened to turn Mahendra 'into another Rafi'. Yet Kapoor remained deferential towards Rafi at all times. The extent of his populist success is noteworthy if you consider that they never ceased to compare him with Rafi.  
That it was Kishore Kumar, not Mahendra Kapoor, who so sensationally took over from Rafi is the way of the film world. A world in which you could undermine Mahendra Kapoor but never ignore him. Naushad held up this soft-spoken performer as the model for any would-be singer to grow classically literate. Looking to the calibre of competition he faced throughout his career in films, Mahendra Kapoor, if no Rafi, accomplished more than we are prepared to admit.
The author was Cinema Critic of The Illustrated Weekly Of India and Music Critic of Filmfare