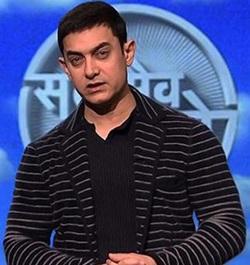 The second episode ably shed some light on the lesser known side of police apathy -- another topical issue that has evoked nationwide anger lately.

But did the topic fit in the show's format, asks Nishi Tiwari.

'You can't sleep at night if you've shot at a fleeing person in his back.'

'When a cop tortures a criminal, he is also torturing himself on some levels; their life is such that they need alcohol, medication and therapy to survive their jobs,' says a guest psychiatrist on the second episode on Aamir Khan's Satyamev Jayate.

After addressing age-old social taboos that plague India in the show's first season, Khan and his team are taking things to the next level.

The second episode of the show dealt with the very topical issue of police reforms, a problem that has shaken up India's collective consciousness off late, particularly in the wake of police apathy towards rape cases, rampant and deep-rooted corruption, and their general failure in other law-enforcing areas.

But while there has been a lot of hue and cry portraying them as villains, few instances tell the other side of the story.

The show's second episode tries to unmask the real villains -- factors that have contributed to this present-day evil.

Aamir Khan appears on the screen with his unusually buff forearms and his signature air of self-seriousness that, at first, famously belies the sincerity of what he is trying to achieve with the show.

But thankfully, the issue at hand takes centrestage early on in the show.
Abhinav Kumar, a 1996 cadre IPS officer from UP starts off proceedings by shedding some light on the problem with the force at grassroot level.
He and the guest experts who follow give an insight into what exactly is wrong with the Indian police force, of which following were the most significant points:
1. Severe lack of infrastructure like shortage of ammunition, manpower and funds. One police station in Uttar Pradesh even defaulted on their monthly electricity bill payment .
2. The force we have in India is meant to be the rulers' police and not the peoples' -- their duties and powers align with the interests of the ruling party more than they do with the interests of the common man.
3. The Supreme Court passed an order a few years ago for the formation of an independent body to take charge of police postings and transfers -- in order to take away absolute control of state government over them. This is yet to be implemented.
4. Constables -- the most hapless of all police officers -- constitute over 90 per cent of the entire force. They are denied decent salaries, working hours and a chance at professional growth.
At this point, one may argue that lack of infrastructure cannot justify lack of individual conscience on their part.
After spending a good part of the show on the plight of constables and their families, the show makes real headway with a more stark reality that most of us hadn't been familiar with before.
It all really boils down to a very valid argument made towards the end of the show -- that lack of empathy is not a character trait; it's a situation.
If one is handed the shitty end of the stick, it pretty much overrides all principles we hold dear.
As another IPS officer Anuradha Shankar points out, 'Hum constables ko nark mein rakhte hain... aur nark se yumdoot nikalte hain, devdoot nahi (We keep our constables in hell and hell only gives birth to messengers of death, not of god).'
While all the points are succinctly put across, Aamir and the studio audience come across as misguided fans watching a Salman Khan movie -- they crack up at all the wrong things (on cue of course).
Also, the episode leaves one wondering in the end -- the show's prime objective is to mobilise the people against social injustices.
Only in this case, what more can the people do apart from signing petitions to bring speedy implementation of the Supreme Court order?
Next time we encounter a constable demanding a bribe, should we gamely offer double the money because he is clearly short-changed in his job?
Or maybe put our spinal chords on line after they're done with breaking their lathis on all the other bones of our body?

Image: Aamir Khan on Satyamev Jayate 2