'It is difficult to pin down any singular factor but marriage does invite the emotional investment of viewers,' observes Chintan Girish Modi.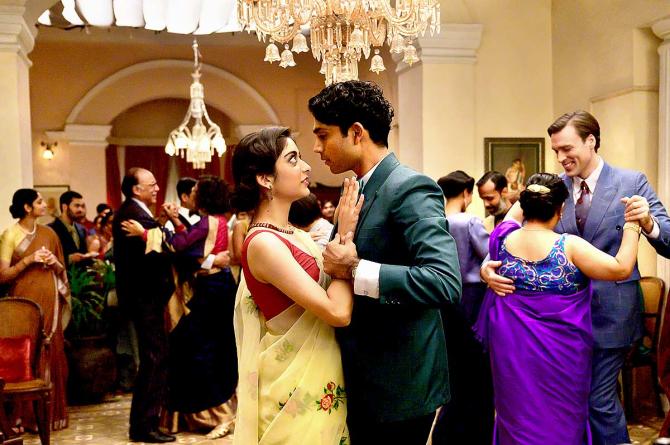 Gone are the days when marriage could be dismissed as the mainstay of Sooraj Barjatya's films and Ekta Kapoor's soap operas.
Marriage continues to drive the plots of many shows on India's popular streaming platforms.
What might be the reason -- the seductive appeal of conjugal bliss, the inescapability of this institution in a society that punishes pre-marital and extra-marital sex, or its unending potential for tragicomedy? It is difficult to pin down any singular factor but marriage does invite the emotional investment of viewers.
Mira Nair's mini-series A Suitable Boy, based on Vikram Seth's novel, began streaming on Netflix in October 2020.
It begins with Lata Mehra (played by Tanya Maniktala) telling her mother Rupa (played by Mahira Kakkar), "I don't think I ever want to get married."
This assertion of independence is met with shock.
Her mother asks, "What else are you going to do?" Instead of saying that she might become a writer or professor, the young woman replies, "Become a nun."
Is celibacy the only alternative to marriage for women?
Short of fainting from her distress, the matriarch says, "What's good enough for your mother, and your mother's mother, and your sister, is good enough for you."
The daughter falls in love, but not with a man her mother approves of.
Confiding in her sister Savita (played by Rasika Dugal), she says, "He's very good-looking and kind and romantic, and everything anyone would want him to be. Except, he's a Muslim."
This revelation replaces the sister's curiosity with concern and dread.
Why is a story set in 1951 -- shortly after the Partition -- being retold in 2020? The legacy of the Partition is acutely felt even today.
When a jewellery advertisement featuring the baby shower of a Hindu woman married to a Muslim man turns into a feud between champions of interfaith marriage and campaigners against the so-called 'love jihad', it is evident that marriage is as much about drawing boundaries as it is about bringing families together.
A mismatch in terms of religion is a significant red-flag in the marriage market. Caste is another.
The suitor who eventually becomes the 'suitable boy' in Nair's mini-series is Haresh Khanna (played by Namit Das), a 'self-made man' working in India's footwear industry after studying shoe manufacture in England.
Mrs Mehra considers him a worthy candidate because he is from 'our community' but a solid stamp of approval comes only after his suitability has been duly assessed.
The mother and the daughter pay a visit to his factory.
After a tour showcasing the processes involved in making leather, Mrs Mehra asks her future son-in-law, "You don't work in the tannery, do you? You work in the office?"
Smriti Mundhra's Indian Matchmaking, a reality show that released on Netflix in July 2020, clarifies that a 'similar background' is often a euphemism for endogamy -- whether in relation to religion, caste or sect.
Matchmaker Sima Taparia helps clients in India and the US navigate the arranged marriage process by understanding their preferences, shortlisting candidates, and setting up dates.
Her solution to all problems is 'adjustment'.
"Marriages are breaking like biscuits," she says.
"Marriages are made in heaven and God has given me the job of making them successful on earth."
Zoya Akhtar and Reema Kagti's series Made in Heaven premiered on Amazon Prime in March 2019.
Though it is mainly about wedding planners struggling to run their business, it also comments on the deceptions that come with marriage.
Ramesh Pathak (played by Vinay Pathak), a gay landlord, spies on his gay tenant Karan Mehra (played by Arjun Mathur) using a hidden camera.
When the landlady discovers footage from this camera on her husband's laptop, she suspects that he is a closeted gay man.
To protect himself, the landlord calls the police and gets his tenant arrested under Section 377 of the Indian Penal Code under charges of sodomy.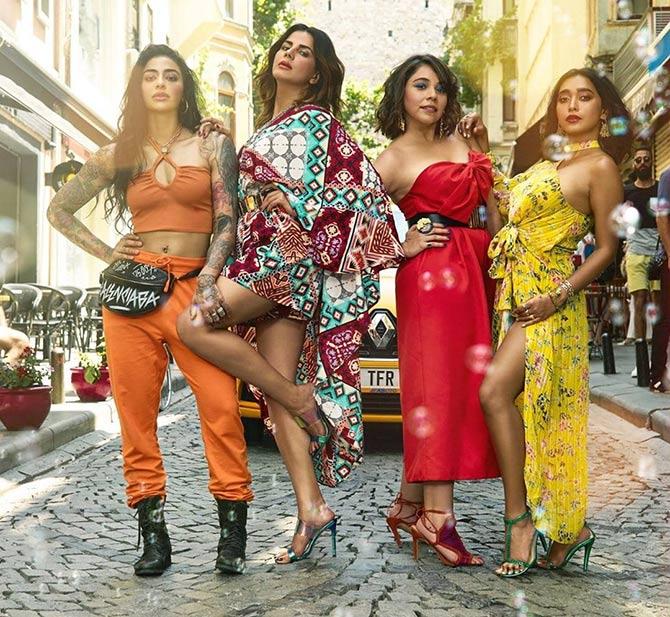 Another show exploring what marriage means outside the world of heterosexuality is Rangita Nandy's Four More Shots Please, which released on Amazon Prime in January 2019.
Gym trainer Umang Singh (played by Gurbani Judge) cancels her wedding with actor Samara Kapoor (played by Lisa Ray), which is meant to be legally registered in London since Kapoor is a British citizen.
Singh is upset when she learns that Kapoor has accepted an acting assignment in Los Angeles, and made plans for both of them to spend 18 months abroad, without consulting her.
Singh wants a relationship based on equality, not sacrifice.
She says, "I've witnessed marriages in my own family where one speaks and the other is spoken at. That's exactly why I ran away from there to a more equal world."
Whether Indian courts are ready to legalise same-sex marriage remains to be seen but Indian shows can certainly raise the bar when it comes to equality.
Feature Presentation: Aslam Hunani/Rediff.com