Sreehari Nair introduces you to three promising movies coming up.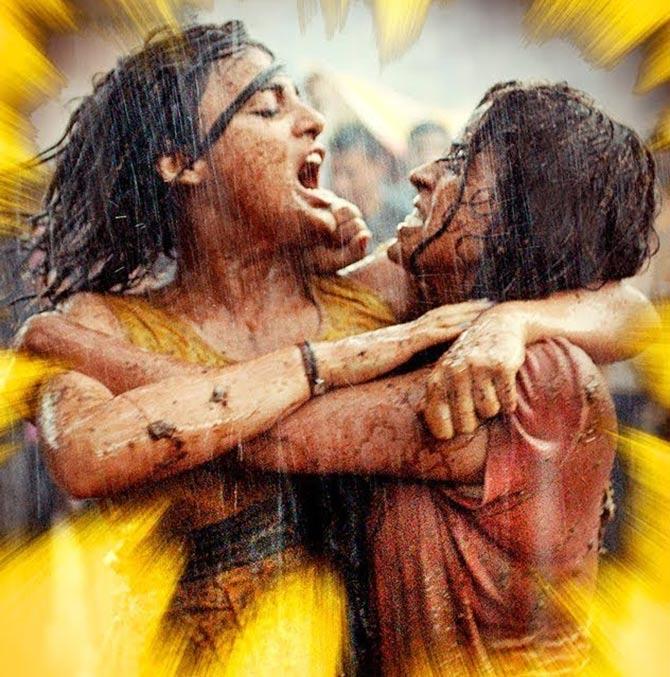 For their sheer curviness, very few Hindi film writers can match Vishal Bhardwaj's dialogues -- Bhardwaj's wit is the wit of Dickens, Oscar Wilde, Billy Wilder, and Robert Towne.
Remember that Faye Dunaway line from Chinatown?
'I don't get tough with anyone Mr Gittes, my lawyer does.'
In the trailer for his latest, Pataakha -- a tale of warring sisters -- Bhardwaj has a piece of dialogue that recreates the musicality of the above line.
'I won't talk to you, my shoes will,' says Sanya Malhotra's Chhutki as she removes her footwear and flings it at her sister Badki (Radhika Madan).
Despite the 'smarts', there is a written quality to all the lines here; the wit isn't the wit that arises from unintelligent ramblings, Twain-like.
The danger with Vishal Bhardwaj is that he often finds himself entangled in his own web of words.
A Spaghetti Western-esque whistling at the start of the trailer gives way to a series of well-timed profanities, and we are promised a ticket to the Theatre Of The Silly, set somewhere in Rajasthan.
The sisters seem to have grown up abusing each other; with every new abuse adding to their inches.
'Siblings at war,' one of Vishal Bhardwaj's pet themes, as evident in Makdee and Kaminey, has been re-activated here -- Bhardwaj, I am guessing, sees such characters as two sides of the same person.
The girls are as unkempt as boys, with frizzy hair, acerbic tongues, and with their walking on all fours.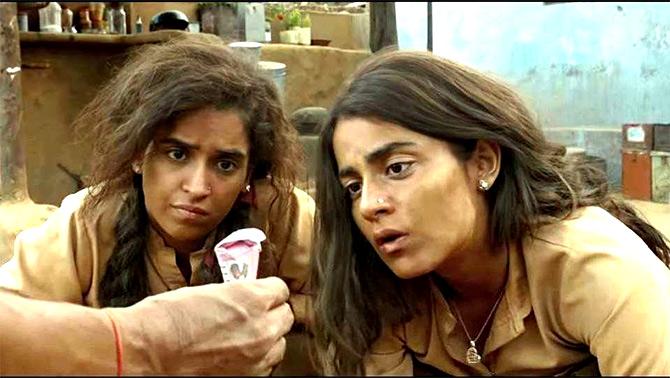 Of the two actresses, Radhika Madan seems like she has more tricks up her sleeve -- she modulates her voice better, and gives it a certain raspiness that turns a few of the written scenes around.
As the trailer progresses, Badki and Chhutki fall in love, become better dressed in love, and elope, only to find that they have got married to men, who are brothers.
The irony of the story thus: Sisters who work all their life trying to undo the injustice of being cast as sisters, thanks to a quirk of fate now find themselves being cast as neighbours.
Sunil Grover makes a strong impression as a friend of the two sisters -- he is the guy who promotes the brawls of the sisters as novelty acts, minting money in the process.
The great Vijay Raaz is the father who gives his daughters a discourse on cancer and who later pimps them out in order to fund a bribe.
There are running gags, aplenty (like Chhutki's English Teacher/Lover, whose correcting of Chhutki's English becomes a big part of their romance).
But these inspired routines when pitched without emotional roots can also go terribly wrong -- like Pankaj Kapur's Leftist-after-being-drunk gag in the god-awful Matru Ki Bijlee Ka Mandola.
With Pataakha, I hope Vishal Bhardwaj goes back to that part of his sensibility that respects the dusty, the grimy, the unpolished, and the behavioural.
I hope that as much as Bhardwaj's nifty lines, the arbitrary excitements of his people, their crying with food in their mouths, their toothy laughter, and their bad dancing, will also be given a chance to create explosions in the sun-scarred Rajasthani skies.
Where Manto ends and Nawaz begins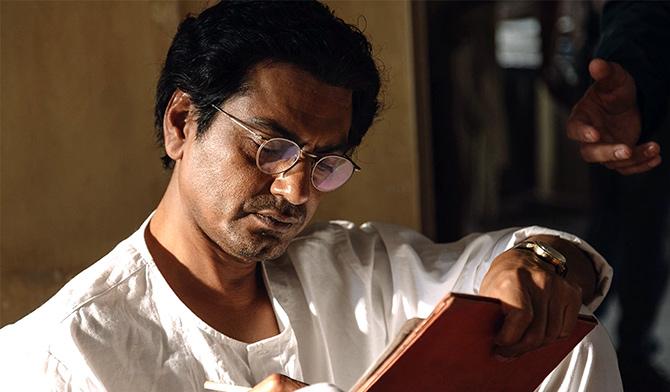 In Manto, Nandita Das presents Saadat Hasan Manto as an artist who continues to live through the difficult questions he once posed and are yet unanswered.
The echoes of the obscenity charges that were leveled against Manto are today felt with greater intensity; this is a world where 'Offence' spreads faster than dengue.
The trailer of Das' film Manto -- with its recreating of courtroom scenes from 70 years ago -- wants to suggest that the repression of art and artists wasn't born yesterday; that every generation sets up its own apparatus to control free expression.
Manto's genre is 'Biography', but that's clearly a ruse.
In the life of Manto, Nandita Das, it seems, discovered the perfect engine for a social inquest: Should artistic freedom be absolute or should it be evaluated against the subject of the artist's responsibility?
In the figure of Manto, Das had perhaps arrived at a painful reality which holds true for many an ambitious artist: That they are as fragile as brave; that the works of persecuted artists may survive but the artists themselves often don't.
The trailer introduces Manto as a Christ figure of sorts whose musings in courts and the cafe societies of his time ring like prophecy today.
'If my tales are unbearable, it only means that we are living in unbearable times.'
This is a man whose confidence in his own humanity is what gives him his pride -- evident in the way he sits, cross-legged, in a horse-carriage, holding his poise through the bumpy ride.
In his stories, Manto often turned to those who defied the neat values with which the middle-class identified.
Prostitutes, pimps and lunatics were Manto's preferred people.
What serendipity then that Manto is played here by Nawazuddin Siddiqui, whose greatest virtue is offering empathy to characters we don't naturally think of as worthy of empathy.
Psychopaths, underworld dons, and cold-blooded murderers are Siddiqui's preferred people.
Here then are two artists who swim in the same pool of art which doesn't settle for easy judgment.
It is as if Nawazuddin Siddiqui as Saadat Hasan Manto is building a case for the impulses that drive Siddiqui the actor.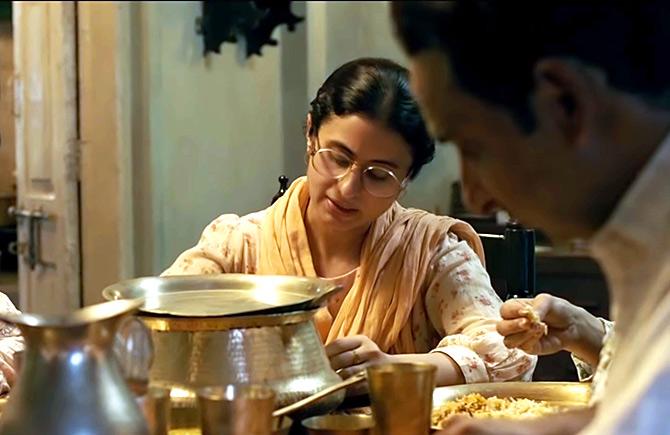 Elsewhere in the trailer, we get to see the matchless Rasika Dugal as Manto's wife, doing what she does best -- which is, creating little scenes within a scene.
The movie also seems to be a trip back in time to 'styles', 'manners', 'decors' and 'types' we don't see these days.
Bench-tapping as a demonstration of solidarity.
Sleaze-pot movie showmen who wear their pants real high and who describe 'steamy roles' as 'challenging'.
Mumbai local train compartments soaked in stark brown (it's a colour of that age), with only Manto and some Gandhi-capped heads bobbing inside.
And through all these subtle touches, we hear Manto's takes on life and art.
'With the attaining of Independence, we stopped dreaming.'
Strongly against interpreting his stories for the reader, Manto talks about the importance of Literature that 'just is' than 'tries to be something'.
In what could be a narrative masterstroke of sorts, dramatised versions of Manto's stories seem to have been sewn into the telling of Manto's life (So we get how life begets art).
The ever-brilliant Tillotama Shome appears in one story as a helpless woman not giving into her helplessness but fighting it all the way -- this is the kind of women Manto loved to write about.
The fatalistic short Cold Meat, with its 'Sex up against the face of Death' quality also gets a look-see.
Javed Akhtar is cast as one of Manto's defence lawyers maybe because he is such an unabashed Manto fan.
My feeling is that Akhtar may have even written his character's dialogues himself.
Even though his stories were 'open' and 'dynamic', there was certain definitiveness about Saadat Hasan Manto's personality and his philosophies.
This definitiveness, I fear, is antithetical to Nawazuddin Siddiqui's approach as an actor.
Siddiqui in having to repeat Manto's prophecies verbatim may well have been denied the luxury of breaking and unmaking the dialogues presented to him on a page -- this breaking and unmaking is the Art of Nawazuddin Siddiqui.
It's not surprising that the thing Siddiqui nails perfectly in the trailer are the gibberish lines that signal Manto's slow descent into insanity.
In those random, gibberish sputtering of lines, I presume, is hidden the death of Manto the writer, and the birth of Siddiqui the actor.
Failure, Hard Work, Sprints in Slow Motion, Tears, and Success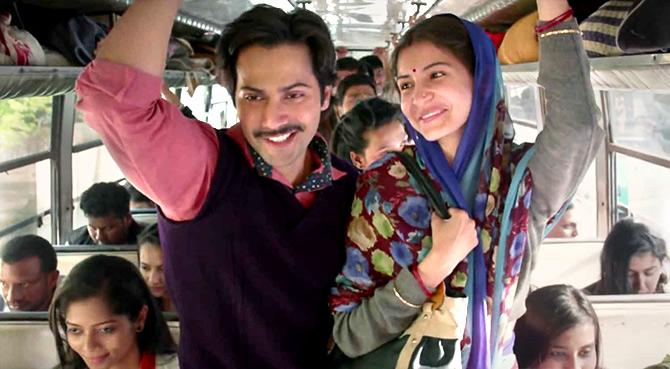 'This is a rooted movie!' screams the trailer of Sui Dhaaga, which opens with Varun Dhawan's voice-over waving us in.
Dhawan has a voice you can recognise among the sound of a million breaking stars; a voice so uncynical that when it tells you, 'Life's Swell despite living a hand-to-mouth existence,' you believe in the voice.
Dhawan plays a bhaand-on-hire, appointed purely to make his boss look good.
Director Sharat Katariya gives his vision of 'unhappy domesticity expressed as a function of unchanging traditions' yet another go -- as Dhawan and Anushka Sharma, playing husband and wife, communicate in half-looks and side glances.
The story follows an all-too-familiar arc: Positive-minded Dhawan with the help of his supportive wife resurrects his grandfather's defunct stitching and knitting business.
The arc is set to an all-too-familiar background score.
All the mileposts are laid out in the trailer: Failure, Hard Work, Sprints in Slow Motion, Tears, and Success.
The whole thing, we know backwards.
Both Varun Dhawan's life story and the familiarity of the tale at hand can do with the same title: Yarns my grandfather taught me.