The long-awaited book is frank, funny, self-lacerating and full of gossip-worthy anecdotes.
What else could we ask of the Rocketman?, asks Roshneesh K'Maneck.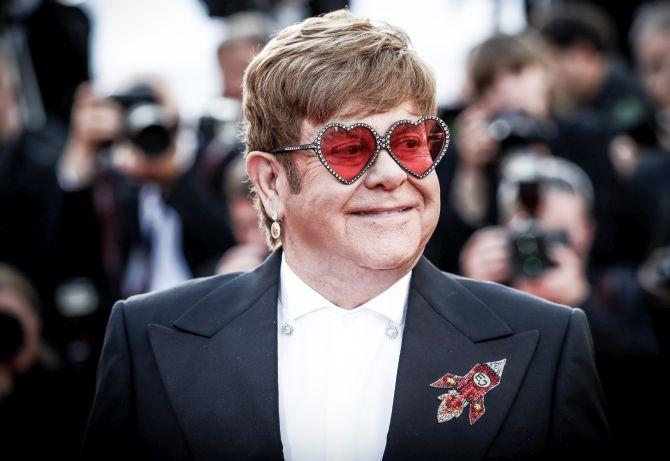 Earlier this year, we were all treated to Rocketman in the cinemas. The movie, taking huge liberties, spoke of Elton John's life. Through the movie, we are all informed of Elton's life -- from his shy, repressed upbringing in Pinner in England to how he met his best partner in life, in the form of Bernie Taupin, his lyricist.
However, what Rocketman doesn't tell us, Elton John, with the help of music journalist Alexis Petridis, puts down in words in his autobiography, Me. And we have got to say, we don't mind it at all!
While the movie was a fantasy musical, the book is the real deal and he doesn't hold back in talking about the reality of his life -- sharing everything about his childhood, to his doomed love affairs with straight men, to his diva-esque tantrums and his extravagant excesses including orgies and copious drug-taking.
The 300-plus-page book starts out with his childhood, which was painful marked by his mother's extreme emotional neglect and his father's bouts of intense rage over seemingly anything Elton did.
'I (got) in trouble if I ate celery in what was deemed The Wrong Way,' Elton writes. 'The Right Way to eat celery, in the unlikely event that you're interested, was apparently not to make too loud of a crunching sound when you bit into it. Once, he hit me because I was supposedly taking my school blazer off incorrectly.'
Fortunately for all of us, Elton found salvation in music.
After struggling on the British pub circuit, during which he also was backing American R&B greats like Patti LaBelle and Lee Dorsey, he quickly shot to fame owing to his 1970s hit Your Song and as they say, the rest is history!
For all those who think the book is about Elton's amazing musical talent and how he and his partner -- Bernie Taupin -- churned out hit after hit, you are in for a huge disappointment.
This book isn't how they managed it or about their process. In fact, we learn that, handed a new lyric by Taupin, Elton gives it 40 minutes or so and if a tune isn't happening, he moves on.
In the single paragraph about his musical process, he writes, 'I can't explain it and I don't want to explain it'.
And yet there's no doubt his talent is miraculous.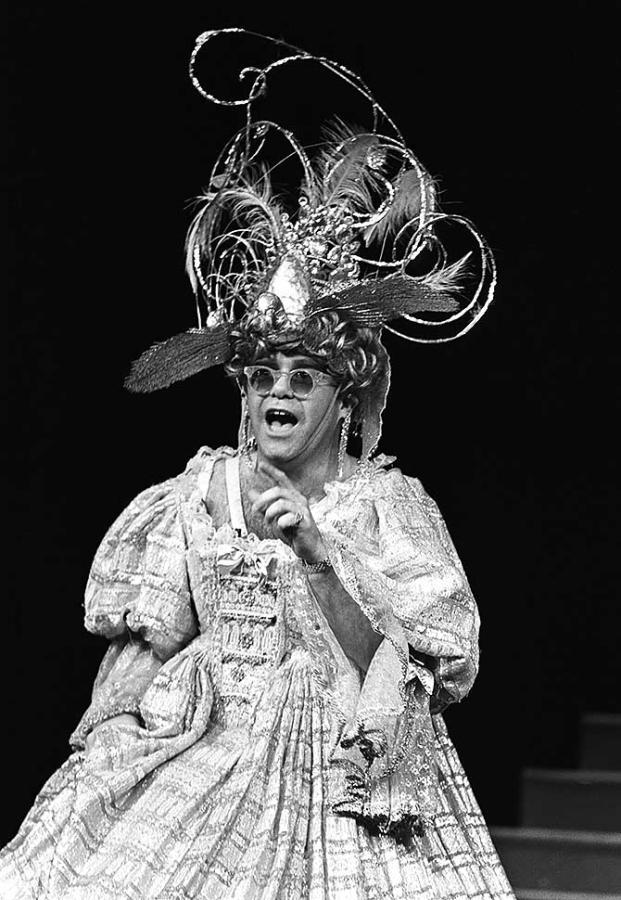 Elton also speaks about his addiction to cocaine and the dark rabbit hole it took him down for 16 years. He's quite honest and dissects the first time he snorted the white powder. 'The first line I snorted made me retch,' he writes. 'I went out to the toilet and threw up. And then I immediately went back... and asked for another line.'
He also breaks the myth of the celebrity and speaks of his insecurity. His reflection on how, regardless of the success or adulation he was enjoying, underneath the glittering costumes he was still Reg Dwight from Middlesex -- body-conscious, insecure, full of self-doubt and self-loathing -- is deeply moving.
Elton, unlike today's celebrities, is painfully honest about his cocaine and alcohol dependancy. He is frank about the fact that a big chunk of his musical success came when cocaine became part of his life.
But, amid this horrible darkness, his addictions also gave him hilarious stories to share. For instance, Elton found Bob Dylan so 'scruffy', he thought the Like A Rolling Stone singer was a gardener and tried to stop him 'helping himself to a drink'.
'Towards the end of the Eighties, I held an insane party in LA, and invited everyone I knew,' Elton recalled in his book.
'By mid-evening, I was flying, absolutely out of my mind, when a scruffy-looking guy I didn't recognise wandered into the lit-up garden.
'Who the hell was he? Must be one of the staff, a gardener. I loudly demanded to know what the gardener was doing helping himself to a drink.
'There was a moment's shocked silence, broken by my PA saying, "Elton, that's not the gardener. It's Bob Dylan".'
But it's not like he glorifies his addictions as he shares the painful time he had after checking into a no-frills rehab facility in the suburbs of Chicago where he was forced to clean toilets, do his own laundry, and even share his bedroom with another patient.
The singer also speaks of his bouts of uncontrollable anger, a trait, he suggests, he inherited from his mother and his tantrums. The story about him calling his office in a rage and asking his people to do something about the wind outside his hotel room is cheerfully confirmed.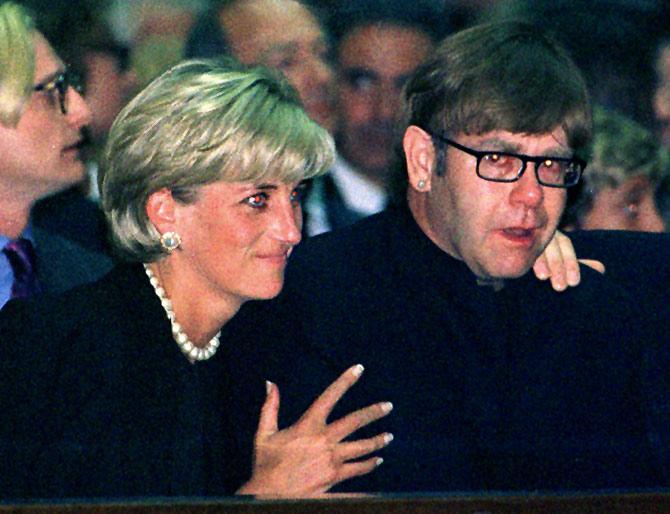 He is also not shy of sharing zany tales of him with some of the biggest stars of the last half century. For instance, John Lennon once told Elton to ignore Andy Warhol who was knocking on his hotel room door: 'Do you want him coming in here taking photos when you've got icicles of coke hanging out of your nose?'
If that doesn't make you want to devour the book, Elton also shares the time when Richard Gere and Sylvester Stallone almost came to blows over Princess Diana in the corridor at his house in Windsor.
That's why it is such fun to see that he has titled the autobiography as Me. It is not some rockstar notion he has or about grandiosity, but just Elton talking about Elton.
I have to interject here that in a time when celebs have an army of people behind every aspect of their image, this memoir is a breath of fresh air, with Elton making fun of himself and being honest to a point where it hurts.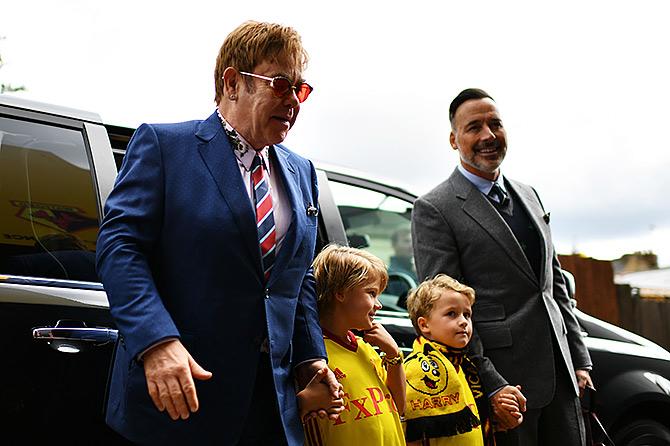 The third and last part of Me deals with his craving for what he perceives as 'normal life' -- family dinners, dropping his kids to school and spending time with his family at home.
It also speaks of his private struggle with prostate cancer right before the start of his ongoing farewell tour. In one passage about his struggle, he talks of the time he urinated while singing to a crowd of over 4,000 fans. It might not be something you and I would like to share, but it's all fair game for Elton.
In conclusion, as Andrew R Chow writes in Time, 'If Twitter had existed throughout John's career, he might have been cancelled many times over for his wild outbursts and fiercely independent decisions. But it's John';s willingness to share and reflect on these misdeeds that makes him such a compelling and enduring figure.'
I couldn't agree more. While the book skips over his brilliant, ground-breaking music, it is essential reading for anyone who wants to know the difficult road that he walked while creating it.
---
Roshneesh K'Maneck starts and ends her day with music. If she had a choice, she would like her life to be a musical!