Babita's success ratio is higher than that of any other leading lady in the 1960s, says Subhash K Jha.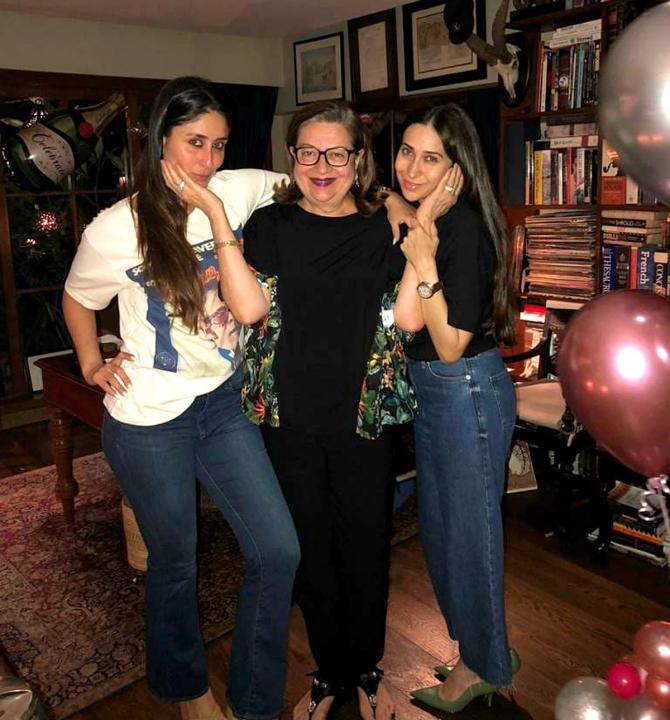 I met Babita Shivdasani-Kapoor -- who turns 74 today, April 20 -- once over lunch. She had accompanied her daughter Kareena to meet me at a posh restaurant in suburban Mumbai.
Babita was warm and outspoken and seemed interested in only talking about her daughters. When I would bring up the topic of her career, she brushed it off.
"It was just a phase in my life. I wasn't really career-driven.
"I wouldn't say I was not serious. I worked hard for six years from 1966 to 1972.
"Then I gave it up to marry Daboo (Randhir Kapoor), had my two daughters Lolo (Karisma) and Bebo (Kareena) and never looked back."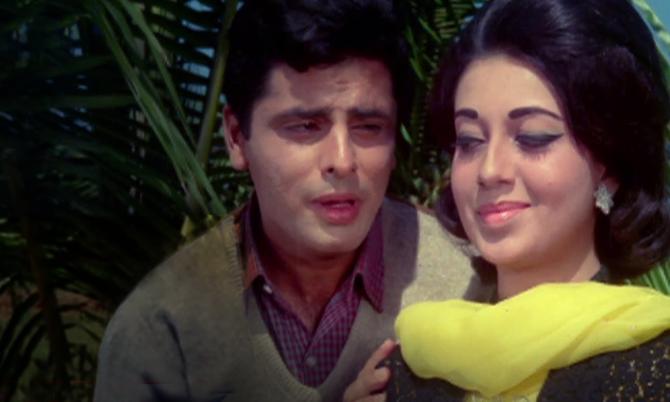 Critics unfairly compared Babita to her legendary cousin, Sadhana Shivdasani. They were not similar in their personality or aspirations.
Maybe Babita should look back a bit to see her achievements.
The fact is, cinema history has been unfair to Babita. She's not much of an actress, I know. But out of the 19 films that she did between 1966 and 72, most were hits!
In fact, Babita's success ratio is higher than that of any other leading lady in the 1960s, and yet she is not even mentioned in any evaluation of Hindi cinema of the decade.
Babita's first release Dus Lakh (1966), with Sanjay Khan as her co-star, was a big hit.
It immediately stamped her as a lucky heroine. And heroes were falling over each other to work with her.
In 1967, she was Jeetendra's leading lady in the biggest hit of his career, Farz.
They paired up again in Aulad Bikhre Moti, Anmol Moti and Banphool -- all hits.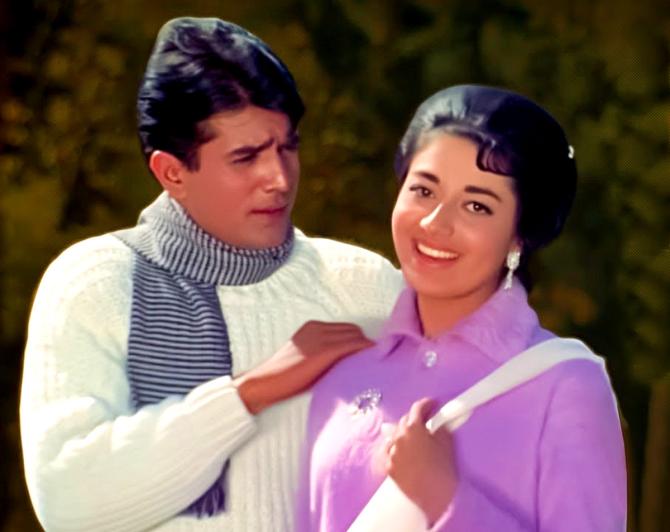 She was Rajesh Khanna's heroine in Raaz, which flopped. But their second film together, Doli, was a hit.
In 1968, she teamed up with her future uncle-in-law, Shashi Kapoor, in Haseena Maan Jayegi. which was a massive hit -- one of the biggest in his career, unmatched by any of the innumerable films he did with Babita's samdhan, Sharmila Tagore.
Babita's elder daughter Karisma also did a film titled Haseena Maan Jayegi.
In 1968, the same year that Haseena... released, Babita was paired opposite Biswajeet in one of his last successful films, Kismat, remembered to this day for its hit song, Kajra mohabbat wala.
She starred opposite the fast-fading superstar Rajendra Kuma in Anjana in 1969; it was one of Jubilee Kumar's last hits.
Babita also starred with her future uncle-in-law Shammi Kapoo in one of his last successful films as a leading man, Tumse Achcha Kaun Hai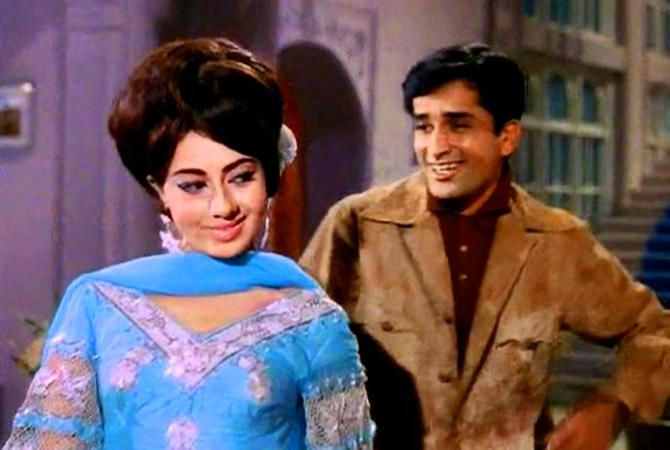 In 1971, she was paired with her soon-to-be-husband Randhir Kapoor in his family film, Kal Aaj Aur Kal, which starred Babita with three generations of the Kapoor clan -- Prithviraj Kapoor, Raj Kapoor and Randhir Kapoor.
Besides these blockbusters, she was also the face of many timeless chartbusters on screen, including:
Bekhudi mein sanam (Haseena Maan Jayegi)


Aao huzoor tumko sitaron pe le chalun (Kismat)


Kab tak huzoor roothe rahoge (Aulad)


Jeevan path pe pyar ne chedi madhur madhur sargam (Ek Shriman Ek Shrimati)


Sajna saath nibhana (Doli)


Rimjhim ke geet sawan gaye (Anjana)


Ho gayee teri ho gayee (Kab Kyun Aur Kahan)


Aap yahan aaye kis liye (Kal Aaj Aur Kal)


Yeh jo ladki hai (Bikhre Moti)


Aahen na bhar thandi (Banphool)


Sheeshi bhari gulab ki (Jeet)


Do qadam tum bhi chalo (Ek Haseena Do Diwane).
Babita Shivdasani-Kapoor is not counted among the legends. She is not one of them.
But she gave the 1960s some of its biggest hits.
And that counts.
Feature Presentation: Ashish Narsale/Rediff.com