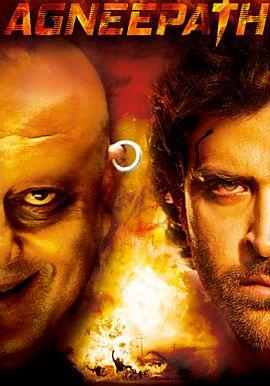 Suparn Verma salutes the memory of Mukul Anand, who first made Agneepath

When I came out watching the new Agneepath the one man who stayed with me for hours after the viewing was Rishi Kapoor.

Rishi Kapoor has regaled us for decades now and he has remained one of the most under rated actors in the country, never ever being in the number game, his track record has been consistent, he has said some of the most cliched lines film after film with the utmost sincerity, no one plays the guitar like he does on screen and before Shah Rukh Khan showed us he could romance a tree there was Rishi Kapoor.

A big shout out to debutant director Karan Malhotra for giving the actor a role in which Kapoor startles you with his absolute unabashed, unapologetic, evil portrayal of Rauf Lala, but the scary part is that even when he is trading off young girls you are seeing him as a human being instead of a monster and that is a feat only Rishi Kapoor can pull off.

As I watched his mesmerising performance I just kept thinking on a tangent that if Vishal Bharadwaj was to remake Maqbool, Rishi Kapoor would make such an awesome Abbaji.

Kapoor and Sanjay Dutt's Kancha have only one scene together and Dutt being the secure actor that he is doesn't try even once to overshadow the power play that is unfolding on screen staying true to the text of the script.

The country woke up to Sanjay Dutt as an actor with Mahesh Bhatt's Naam released but for me his best performance was in the severely under rated Bhatt's Kabzaa and J P Dutta's Hathyaar.

Dutt has always played grey characters and made them loveable and acceptable, but this time he walks the dark side accompanied by some great art direction by Sabu Cyril and very smartly lit by Ravi K Chandran or Kiran Deohans (whoever shot these portions deserves a round of applause).

Hrithik brings his own vulnerability to the character never ever trying to go in the zone of the iconic Amitabh Bachchan and that is a tough task because the role is of an angry young man portrayed by a an actor who in real life is transitioning from boyhood into manhood but that is the reason why Roshan is among the best we have today, his pained eyes have fascinated me since his debut, they are a reservoir of pain.

I am openly biased towards Priyanka Chopra and really wished she had even more meat as Kali, as she is a joy to watch performing on the screen.

One technician I want to single out is the sound editor Stephen Gomes who has done a fabulous job with the detailing and the mix.

The one person whose genius I really missed on screen is one of the most under rated dialogue writers of our times, Kader Khan, who has written some of Amitabh Bachchan's most quoted lines after Salim-Javed.

This piece isn't a review or even trying to be one because I can't be objective about this film, I am an emotional viewer, am emotional about Amitabh Bachchan, I am emotional about movies I have grown up on and I am emotional about Mukul Anand.

The original was not without its problems nor was it Citizen Kane but I loved it and I loved the guy. On September 8, 1997, I wrote his orbituary.

I reproduce it below so that a generation that didn't grow up on him always remembers a fallen comrade.

"He was too young to die.

That's the first thing that strikes you as you are told the tragedy of Sunday, September 7 -- Mukul Anand, the well known director, passed away, quietly, of heart failure in Pune.

At 46. At an age too young to die.

The dynamic director of Hum, Agneepath and Khuda Gawah fame, of big dreams, big hits and equally big flops, died in his prime of creativity, survived by wife Anita, daughter Anishka and son Mitlav.

"Mukul was a man who dreamt in superlatives," his friends say, "And the results were always big -- either he had big hits or big flops. The canvas and the scope of his story always remained big. That was his trademark."

Dialogue-writer Inder Raj Anand's nephew, Mukul was not a whizkid who, one fine morning, burst into the film horizon with a super-duper. Rather, he was the antithesis to that -- the guy who had to sweat it out all the way; the guy whom Lady Luck refused to acknowledge till he came of age; the guy who, even after he found favour with the Lady, as occasionally earned a frown from her as the smile...

Starting his career ghost-directing Punjabi, Hindi and Gujarati films (including low-budget remakes like Kanoon Kya Karega and Aitbaar), Mukul entered the big league with Arjun Hingorani's Sultanat. Then there were hits galore -- just as there were those big flops. (And, also, the many, many top ad films in between -- Pepsi, Ruff and Tuff...)

It was right after one of his mega-flops, right after the much-hyped Trimurti(in Subhash Ghai's company) sank like a stone, that Rediff On The NeT first met the director...

MAD. As in crazy, loony, cranky...

Only, here the acronym stood for Mukul Anand Directs. This was the famed director's not-so-famous office in upmarket Worli.

The ground floor was still under construction. That was all right -- Anand had said his office was on the first floor. Ah, there he was, caged in his cabin, discussing last-minute details about the Ruff and Tuff jeans ad.

"Hi, I'm Mukul Anand," he said, as he presented himself to me after a moderate gap.

It was not long after Afghanistan President Najibullah's hanging -- a hanging which was carried out in the same locality where Anand shot Khuda Gawah.On his wall was a reminiscent of it, a framed picture.

Looking at the photograph, he commented, "It is so ironic that Najibullah was hanged in the same spot where we shot the hanging scene in Khuda Gawah..."

The next hour raced by as Anand happily spoke about his Afghan experiences, winding it up by proudly pointing to a medal of honour, presented to him by the late president. It stood handsomely encased in a glass plaque, hanging from his leather chair.

We wanted to photograph it, we said, and asked if we could take it to the office. Most people would have refused to part with such a valuable memento, but not Anand, who agreed happily.

Towards the end of our appointment, the conversation turned to Trimurti.After this, what? Does he think he can stage a comeback?

Of course yes. Anand's tone was cool and confident as he talked about his next project, Dus. "I'm going to rectify all my past mistakes, just you wait and see," he says, "Right now we are scripting the film. With Dus, I plan to usher a new way of thinking into commercial movies..."

A few weeks later we met again. The construction on the ground floor was complete. Better still, this time, Anand was really ready to talk.

We were in his in-house studio, a dim-lit room, with sound recording system, an Avid editing set-up and a wall lined with the computers for his designers.

"You know what? I want to put up Dus on the Internet. Once the shooting starts we will create a site where people can debate the Indo-Pak issue," the director said, "Shah Rukh and Salman Khan will play the lead roles, and Lisa Ray will make her entry into films big time. I plan to pull out all the stops!"

A quizzical glance served as my unmouthed question -- like what? -- and set him off into his usual full-throated laugh. "Well, for one, I plan to use the language that is really used!"

A la Bandit Queen?

"Well yes, I mean, for how long can we have the hero saying 'Kutte ke baache, main tujhe mar daloonga' (You son of a dog, I'll kill you!) when his wife has been raped and his whole family wiped out? And the love scenes -- this time when the hero kisses the girl he actually will kiss her. I'm tired of this whole hypocrisy of using backshots (shots from behind) and suggesting happenings. Those are more vulgar."

"That looks like a sure-shot way to delay your film with the censors!''

"Oh, we have not finalised it," he said, "I'm not the only one involved. We are a corporate body, and the plan will have to be approved by my partners. But one thing is for sure: with Dus I'm set to undo all my past mistakes. No one will be able to fault its storyline...''

The third time we met, it was the 1996 Channel [V] Music Award, which the Rediff team was covering live on the Net. Anand was there at the function.

"Hey, here to watch the event, huh?" I asked him.

"Not really," he smiled, "I will be presenting some award with Dev Benegal. Just you watch."

I promised him I would do more than that. "We will cover you live," I said, "But could you spare us some time after that?"

"Okay, done," he said, as he moved to his designated seat.

Back at the media centre where the Rediff team keyed in the commentary a little while later, Anand, alluding to my overbearing presence, exclaimed: "Hey, hey, I always thought you were the only one working there!"

My colleagues gave me dirty looks. "We will kill you for this, just you watch out!" they promised me solemnly, "What have you been telling him?"

Anand, meanwhile, was commenting in the Rediff chatroom. Finishing which, he turned to me and, probably catching the anxious look I was throwing my colleagues, laughed throatily.

"Hey, relax, guys!" he said, "You guys were looking so tense, I had to say something -- I was just pulling your legs..."

When we met next, Dus had undergone quite a change -- Shah Rukh was out and Sanjay Dutt in. And Anand had the media in knots, guessing who the heroines were.

So who would they be?

"Wait till next week," he smiled.

"Oh, but we couldn't do that."

But Anand, a master at evasion, was by then altogether on a different track -- Anu Malik.

"You know, earlier Anu Malik used to follow me around singing his compositions. Once he followed me right inside the Taj loo, and started to sing! I looked at him and said, 'Anu, believe me you have the potential to be India's greatest pop star. I'm glad to see he has made a good start..."

"About Dus --" I cut in again. Anand threw up his hands in mock surrender. "Yaar, you won't leave me, will you?"

He proceeded to speak about his film.

The last time Rediff interacted with Anand was soon after Amitabh Bachchan's debacle with Mrityudaata. Anand was keeping a low profile, as he knew the media would hunt him for quotes. We called him up and, predictably, first came the refusal.

"I will not talk about Amitabh," he said.

"So how is Dus going?"

"Dus is going fine, but I will not speak about Amitabh."

"You won't speak to us? "

"Arre yaar, tu marvayega (buddy, you will kill me)," he said, before giving in, "Okay, shoot." And that's when we got down to business...