Indian films, and Raj Kapoor in particular, have a special place in Iranian cinephilia or cinemadoosti, Ranjita Ganesan discovers on a visit to Iran.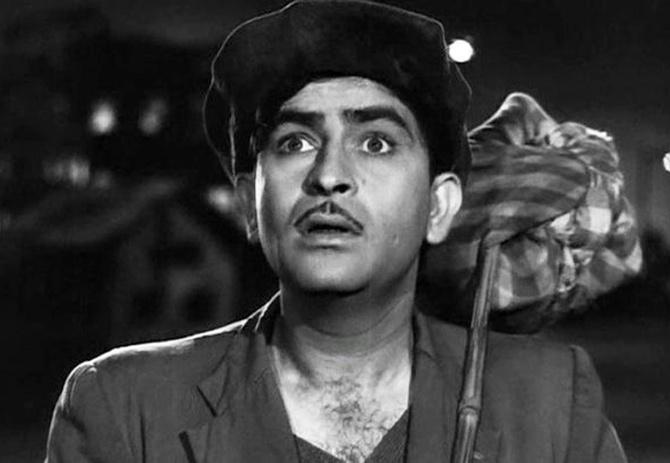 A Party in Hell (1956) by Samuel Khachikian -- the Armenian-Iranian director of thrillers who is often compared, unimaginatively I am told, to Alfred Hitchcock -- featured a heaven next door too.
Whereas in hell Hitler and other evil men danced, Khachikian's surrealist imagining of heaven included a serenely smiling Raj Kapoor. I haven't seen the film.
My friend, the London-based writer and film-maker Ehsan Khoshbakht, ardently narrated it to me once. In his utterance, the last name "Ka-pour" even sounded Iranian.
The Awara director was in fact a household name in Iran. Ardent narrations by his father are how Ehsan remembers first hearing about films such as Shree 420, before new technologies made it possible to see it himself years later.
'The real sequences were sometimes less impressive than those we had created in our mind. The imagination could be more cinematic than cinema,' he wrote in an article for Sight and Sound about Iranian cinephilia or 'cinemadoosti'.
Indian films, and Kapoor in particular, have a special place in this cinemadoosti.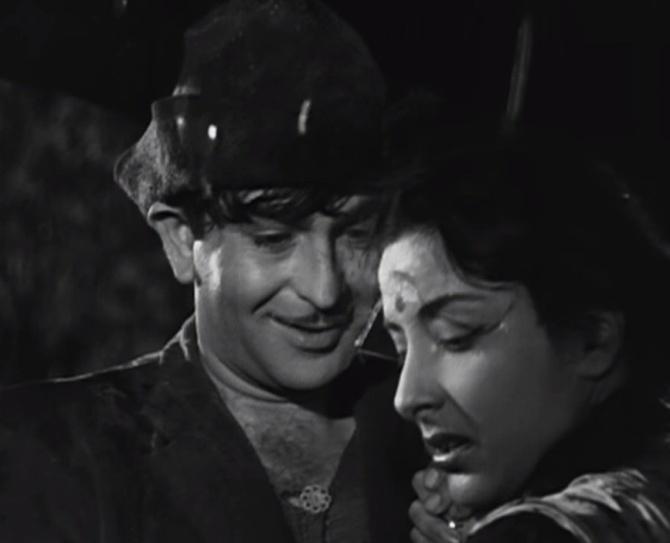 By the 1950s in Iran, melodramas from India had caught the imagination more than American and British ones.
As many as 49 of these were screened in the country in 1957, the film scholar Hamid Reza Sadr notes. Raj Kapoor and Nargis were welcomed the following year.
The director visited several times -- he is photographed with Iranian singing-acting sensations Googoosh and Mahvash, and a picture of him touring Iran's Central Studio in 1954 hangs proudly in Tehran's Cinema Museum.
Another of Kapoor's co-stars, Vyjayanthimala, is also immortalised there with her still featuring in a display called the Museum of Memories, amid photographs of Hollywood stars Ingrid Bergman and Elizabeth Taylor.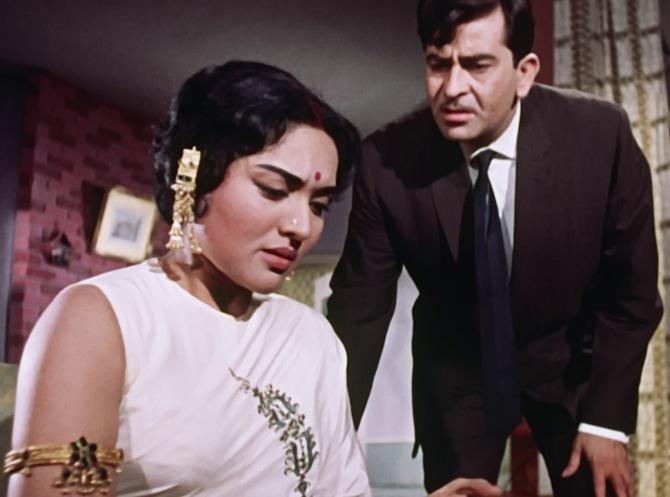 I gathered impressions of Indian cinema without effort on a trip to Iran last month. People love to talk movies. But this was during more pleasant times, just before angry protests sparked by recent petrol price increases gripped the country and were quelled with brutal force.
A film studies professor told me about a Persian term coined for the subcontinent's particular style of melodrama -- "Hendibazi".
Iranians accuse films, even Farsi films at times, of Hendibazi whenever they manipulate heartstrings or kick logic to the curb.
He laughed about how the tree is an important member of the cast in older films. Like in so many places, "Bollywood" is an object of both fascination and amusement.
Indian characters were written into Iranian screens too. The wildly popular 1976 series Daie jan Napoleon (Dear Uncle Napoleon), a television rendering of the bestselling novel by Iraj Pezeshkzad, also had an Indian character.
Its "Sardar Maharat Khan" forever describes situations as being "bohot" something or other, and the characters around him repeat this word for comedic effect.
Oftentimes, in pre-Revolution films, the doctor character was shown to be Indian because a large number of Indian doctors had moved to Iran for work then.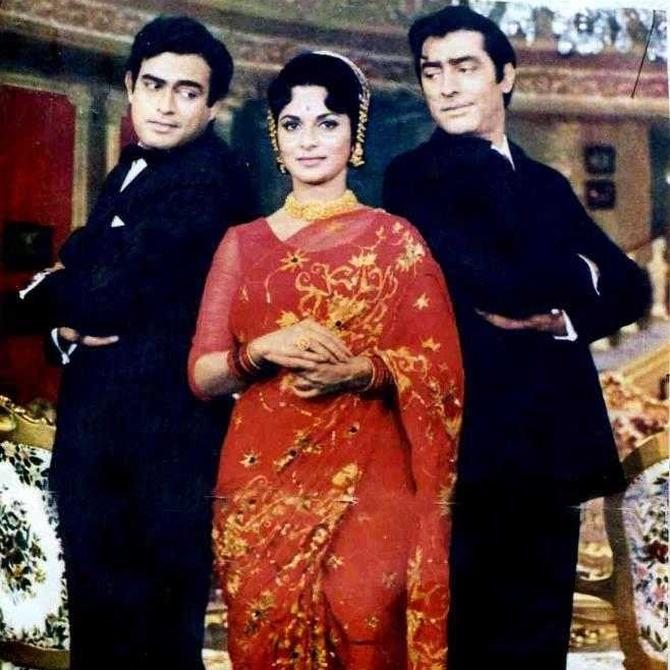 Even before, in 1972, Waheeda Rehman played an Indian dancer in Subah o Sham (Homaye Sa'adat in Farsi), a bilingual filmed in Iran, in which Sanjeev Kumar and the Iranian star Fardin played brothers.
This has continued post-Revolution too. Mention "Bombay" and many wonder whether you meant "Mumbai".
The latter name is well-known to Iranians now because of another co-production -- Salaam Mumbai (2016) -- starring local heart-throb Reza Golzar and Dia Mirza as medical students from Iran and India.
The film was a roaring success in Iran, but went entirely unnoticed in India.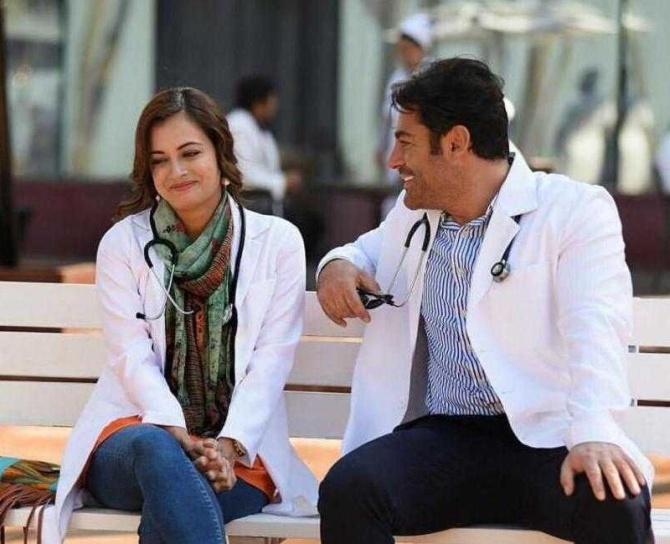 The Turkey-based satellite channel company Gem TV, which broadcasts illegally in the country, offers a popular Gem Bollywood channel.
Unsurprisingly, because Hollywood Westerns were a rage in Iran, the 'Indian Western' Sholay too won hearts. In 2006, it was voted a favourite film by Iranians in a poll by the Islamic Republic of Iran Broadcasting.
As recently as two months ago, a censored version of the film was aired again on the state-run IRIB channel.
Hindi cinema's excesses have occasionally given succour to Afghans, several of whom live and work in Iran, making them forget problems at home.
"I used to see myself as the actor and imagine that I was living his interesting life," one of them, a student of dramaturgy, said. He even looked forward to Ashutosh Gowarikar's Panipat.
Did all the Hendibazi not distress his playwright sensibilities? "No, it has a place in people's hearts. I appreciate that."
---
Ranjita Ganesan is a feature writer at the Business Standard newspaper.