'Bollywood's 'no prisoners taken' honesty comes as a big surprise.'
'I cannot think of a single judge, politician, sportsperson or bureaucrat being so forthright in their opinion of their contemporaries,' says T C A Srinivasa-Raghavan.
Illustration: Uttam Ghosh/Rediff.com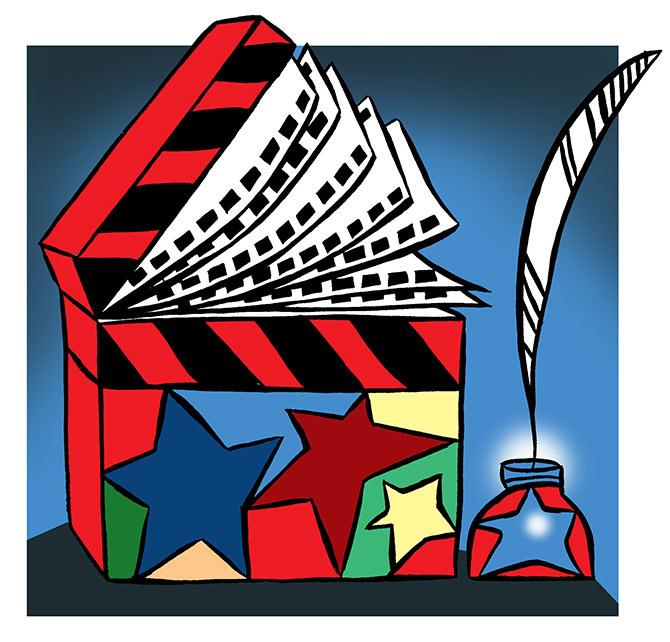 Several years ago, an ageing friend of mine, who remains unimpressed with my erudition and knowledge, urged me to read biographies and autobiographies.
"If nothing else," she said with complete seriousness, "you will realise the truth about yourself."
Not being in a hurry to do that, I kept putting off the evil day.
But four years ago, in a fit of depression, I decided to start down that path of de-egoing.
It has been a salutary experience.
The pleasant surprise was that most people who wrote autobiographies were decent enough people, just ordinary guys who were lucky enough to be in the right place at the right time with their natural skills and who had a fierce desire to succeed.
I started with the autobiographies of bureaucrats which, if I may imitate their style, were mostly in the nature of such things, always, or usually, about claiming credit for some policy or another, which was adopted or not as the case may be.
In the fullness of time, hoped the bureaucrats, history would recognise their stellar role in shaping it.
Indeed, I have yet to come across a bureaucrat who did not write a seminal note that was ignored by the government, for which we are still paying the price.
The following year, I moved to judges.
Many were hugely egotistical, but all gave me an insight into things hitherto not encountered, at least by me -- the notion of legal fairness, equity, privilege and its obverse, the rulers' responsibilities; and, of course, that most elusive of all things, justice.
The judges operated on the principle that justice lies in the eyes of the beholder, namely, themselves.
Hurrah, I thought to myself. At last, I have an explanation for some outrageously unjust judgments.
Year three was devoted to the autobiographies of politicians and other beneficiaries such as sportspeople in the eternal non-zero-sum games that they play.
I again got glimpses of some aspects of life: Sycophancy in the case of politicians and genuine hard work in the case of other achievers like sportspersons and businessmen.
Somewhat shamefacedly, I must also admit to reading a few autobiographies by journalists. Those were the worst by far, even more so than the ones by bureaucrats.
Showtime, folks!
For the past few months, I have turned to autobiographies by Bollywood people.
Of the 10 that I have read so far, three stand out by a mile: The ones by Naseeruddin Shah, Rishi Kapoor and Karan Johar.
They talk of people we know by sight or voice or both, namely other actors, directors, producers, music and dance composers, singers, etc.
And they tell it like it is, no punches pulled.
This 'no prisoners taken' honesty came as a big surprise.
I cannot think of a single judge, politician, sportsperson or bureaucrat being so forthright in their opinion of their contemporaries.
For example, Mr Kapoor says outright that he has a bone to pick with Javed Akhtar who apparently once said on a television show that Raj Kapoor had been responsible for the premature death of Shailendra. He even demands an apology.
Mr Akhtar said he had been misunderstood.
Mr Shah talks candidly about his relations with his family and Mr Johar about various persons he dislikes.
They all also talk about their failures, and not just their successes. They describe how they reacted to them. There is no make-up at all to hide the wrinkles.
It is all so very different and refreshing. This surely is the stuff of autobiographies.
A suggestion
The other surprise is the high level of their intellectual engagement with issues of public importance.
The assumption that they are 'mere actors' is simply not true. Their books prove that beyond doubt.
Along with the rest of the usual gaggle we see on television chat shows, these people should be invited more often, rather than only when the jallikattu ban happens or Sanjay Leela Bhansali is manhandled while shooting a film.
For example, I would honestly love to hear Messrs Kapoor, Shah and Johar on the Budget. Or, for that matter, Deepika Padukone, Priyanka Chopra and Katrina Kaif.
These people can give us a dimension that is missing from television's current affairs programmes. The impact on viewership will also be very significant.
In fact, I would go a step further: Some channel should start a Koffee With Karan counterpart with these people, focussing purely on political, economic and sociological issues.
Bring on Kamal Haasan with Arvind Subramanian, for example, to discuss demonetisation. Method will be method and fun will be had by all.
Do read the INTERESTING FEATURES in the RELATED LINKS below.