'He always seemed one of us, part of the great aspiring middle class -- his values, his simplicity, even the intellectual snobbery which he could barely hide,' observes Mousumi Sengupta.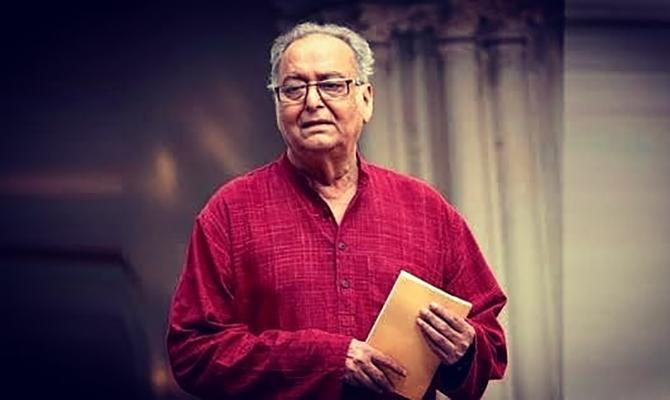 I was about 10 years old then, a student of Modern High School, Calcutta.
When classes ended for the day, we would all be queued up near the school gate. On the other side, there would be a crowd of parents and drivers, waiting to take their children or 'babas' back home.
I cannot forget that day.
There he was, the six foot something handsome young man, dressed casually in a sky blue kurta, jeans and sandals, ruffled hair, a lovely smile with searching eyes, standing outside the school with the other parents.
Right next to us was one of our strictest teachers, staring at him, with an awestruck, doting gaze.
From then on, we would often see him looking for his daughter to take her home.
Always dressed casually, mostly in colourful T-shirts.
A celebrity at his peak!
Our school teachers in charge, who would be reprimanding us saying 'no talking' or 'stand in a straight line', would suddenly get mesmerised, and without any further words, would keep staring at this handsome gentleman.
No starry airs, just a doting dad.
This was none other than the legendary Soumitra Chatterjee, who has just started his journey to another world, leaving behind millions of grieving fans and admirers.
My heart goes out to his daughter Poulomi and to his entire family.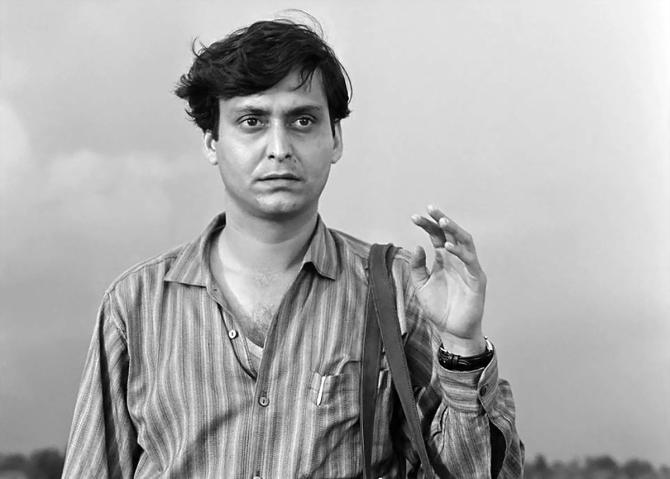 I cannot write an obituary for the great man.
I am sure there are already more than a hundred tributes on him, outlining his greatness as an actor, as an elocutor.
But what I remember is an outstanding person.
Yes, we know that he won innumerable awards including the Bongobibhushan, three National Awards, the Padma Bhushan, Dadasaheb Phalke award, Chevalier of Arts and Letters from France and also the highest civilian award of France, Member of the Legion of Honour.
But there will be many people to write about this.
What we will remember is that all thinking Bengalis feel that we have lost a family member.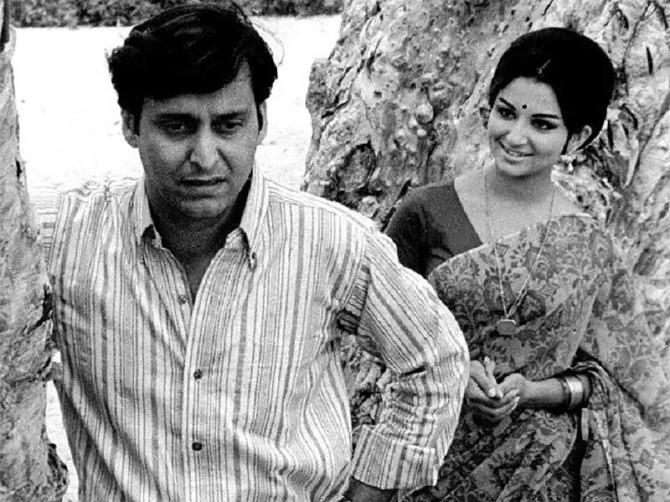 Ingmar Bergman had Max von Sydow, Akira Kurasawa had Toshiro Mifune.
The great Satyajit Ray had Soumitra Chatterjee, the actor whom he openly said that he depended upon and always would.
This great collaboration between the two, in 14 films out of the 29 that Ray made, tends to overshadow all his other great work.
The truth is that he also worked with other legends like Mrinal Sen (Akash Kusum), Tapan Sinha (Kshudita Pashan is a classic) and Tarun Majumdar (Ganadevata comes to mind).
What is more, in his old age he was the mainstay of many young talented directors.
He was one of the reliable pillars of quality that held up Bangla cinema in the 21st century.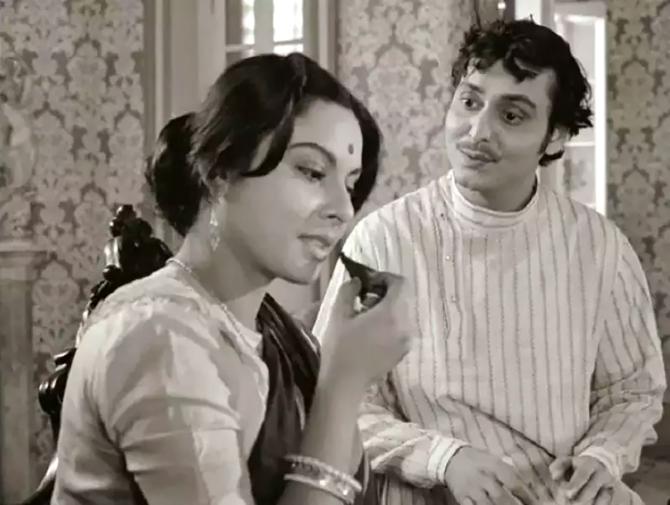 But besides all this, he was a towering stage personality.
In fact, the roots of his acting were in his theatre background.
Two of his plays, Tiktiki (based on Sleuth) and Homa Pakhi, had shows wherever Bengalis are found.
I still remember how mesmerised I was when I saw him in Tiktiki in Chinsurah, when he was in his 60s.
He wrote and published 14 books, including collections of poetry.
And his unmistakable mellow voice has recorded poems that now have a life outside the printed page.
At one performance, he once said he could recite the poems of Rabindranath Tagore and Jibananda Das through the night.
Poetry may even have been his first love.
I remember the last time I met him was at a success party for his film Haami at the Bengal Club, and even there during the adda he held us spellbound with his recitation.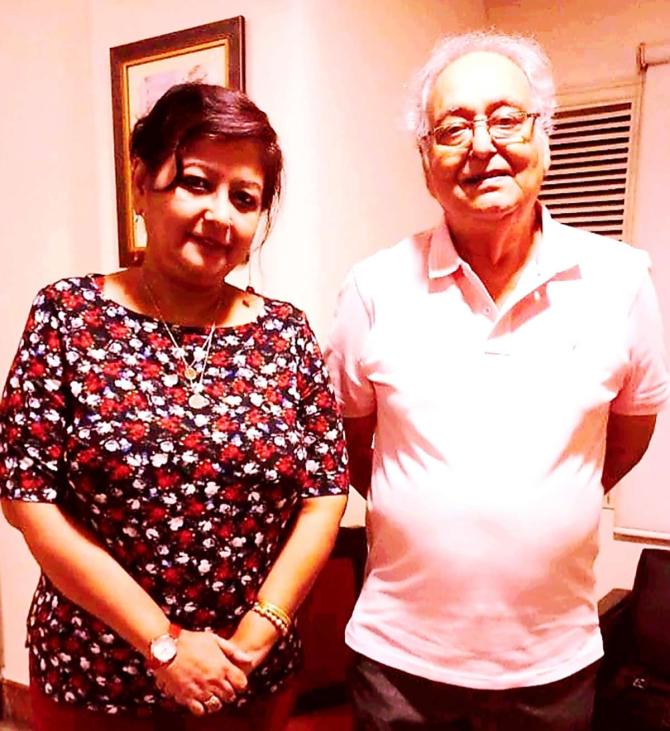 But these achievements are not enough to describe the man.
It is difficult to to be objective or dispassionate about somebody who strangely seems part of my own family.
Soumitra Chattopadhyay was the essential Bangali bhodrolok.
He always seemed one of us, part of the great aspiring middle class -- his values, his simplicity, even the intellectual snobbery which he could barely hide.
His unique appeal did not lie in the fact that he was one of the three biggest stars ever in Bengali cinema.
His appeal lay in the fact that he never thought of himself as a star.
Of the other two, Suchitra Sen was every inch a star; nobody ever accused her of being an actor.
Uttam Kumar was a very competent and professional actor who seized greatness when he could, but his star quality overshadowed his acting.
Soumitra Chattopadhyay was the ultimate actor.
He entered into his characters so completely that we never realised that he was acting. That was his greatness.
At the same time, he never put on an act.
He never behaved like a star.
He was so grounded, always civilised, polite, considerate.
Always a wonderful person.
Now that he is gone, people who worked with him are pouring forth tributes to the person as much as to the artist.
We know he was a great creative person, that he was a poet, playwright, a stage actor, an essayist and even an editor.
We know that he was possibly the most awarded and internationally recognised actor in Indian cinema.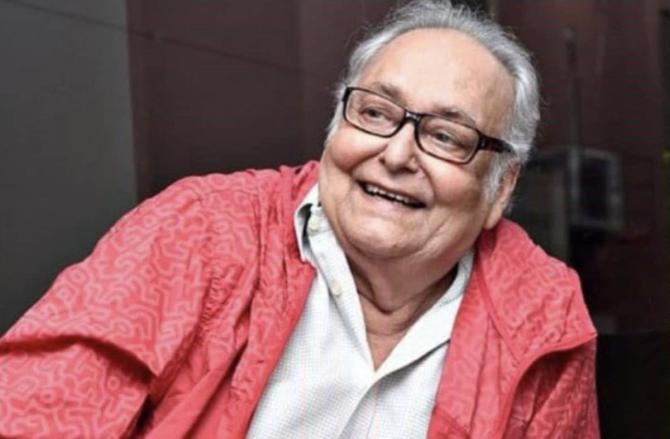 But when we remember him, the first image that comes to mind is of a simple gentleman.
The decent bhadralok who, even after the age of 80, would always be punctual on the sets, out of consideration for his colleagues.
The indulgent father who would take time off from shooting to drop his daughter off to school and even pick her up afterwards.
An equally doting grandfather who visited his grandchildren almost every day even at the peak of his stardom.
The small-town boy who, even after he moved to Calcutta and became a star, would call up his childhood friends and neighbours in Krishnanagar and help them with everything from getting a pension to receiving proper medical care.
The professional who would take care of his younger co-actors, not only by advising and guiding them through difficult shots but also inquiring about their personal problems and health.
As I witness his funeral procession on television, any Bengali actor or director that comes to mind, be they 25 or 75, is seen there.
Some sobbing through interviews.
In his last journey, he is accompanied by a sea of humanity!
Their sincere affection and deep respect for the man come across so clearly.
I have already said that he was inundated with awards and accolades.
The essence of the man was clear from his acceptance speeches.
He did not speak about his cinematic career.
He only said that he was an ordinary man with nothing great to say, that whatever he had achieved had only given him a few moments of satisfaction and that he was keenly aware of all that he owed to the traditions of Bengal and to Bangali society.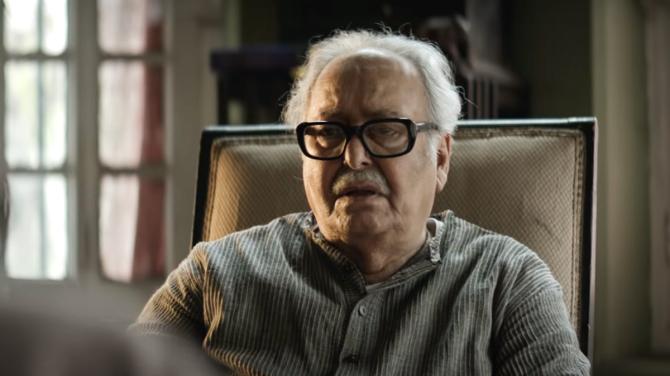 I somehow feel that one of his last films, Anik Datta's Barun Babu'r Bondhu, was created around Soumitro Chattopadhyay's real character.
Like the protagonist, Barun Babu, whom he played, he held fast to his values and his principles without making a fuss about it.
It is not so well-known that he refused a Special Jury Award in the National Awards of 2006 because he felt that both the award and his acting had been devalued.
Or that he refused the role of Karna in Shyam Benegal's Kalyug (which went to Shashi Kapoor) because he did not think he was relevant outside Bengal.
For him, values were always more important than Net Asset Value.
Without fuss, without flamboyance, he was a man of unwavering principles.
This was his character.
Basically humble, decent, principled and through and through a Bangali.
The ultimate bhadralok.
Our Apu, our Ashim, our Subir, our Borunbabu. And, of course, our Feluda.
Mousumi Sengupta has been a print, radio and television personality, a news anchor cum journalist. Currently, she is a part time columnist, author, a social activist and a full time helicopter mom.