J Jagannath on how he expects to see the Trump effect at the Academy Awards on Sunday.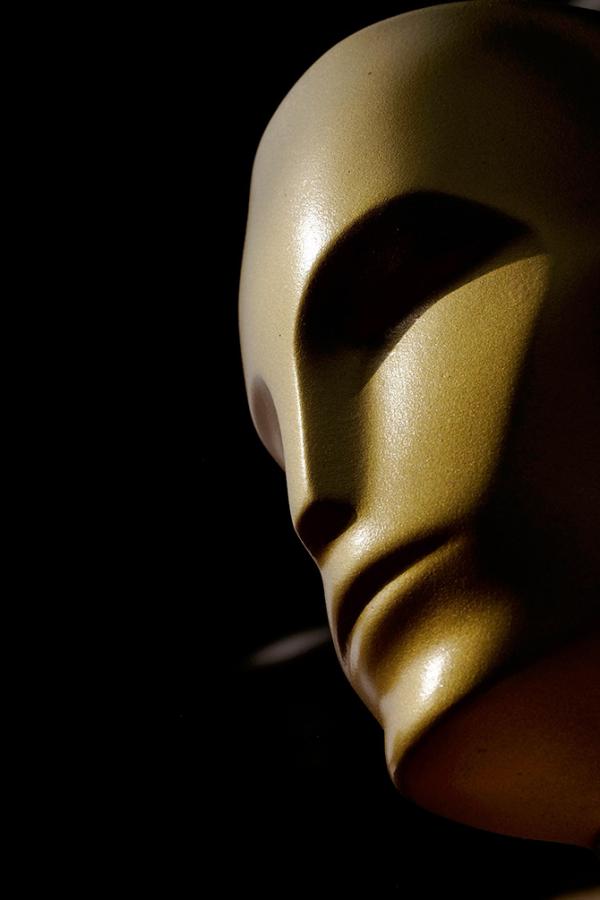 IMAGE: This year's Oscars will be held on February 26. Photograph: Frazer Harrison/Getty Images
The Oscars ceremony this month will be truly monumental, not just because a musical (La La Land) is tipped to sweep the awards, but it's the first one during Donald Trump's presidency.
,strong>Meryl Streep's rousing Golden Globes speech, where she ripped into his moral code, has set the stakes even higher.
His decision to impose a four month travel ban on Muslims from seven countries to enter the US means means that Iranian filmmaker Asghar Farhadi, whose majestically gloomy The Salesman has been nominated for best foreign language film, will not be part of the ceremony.
I expect some intense speeches from the winners on the new president who seems hell bent on taking the country into a regressive black hole.
Someone on Twitter put this fracas succinctly as, 'Better yet, have the Oscars in Mexico. Take the money and spend it somewhere the nominees can actually attend.'
Politics apart, it was dismaying to see Amy Adams not making the cut for Best Actress category for her nuanced portrayal of a linguistics professor who sets up means of communication with seven-limbed aliens in Arrival. Surprisingly, this wrenching and wise movie earned eight nominations.
'Arrival gets 8 Oscar noms except the woman who held it together gets ignored,' tweeted a distraught Melissa Silverstein.
The Academy's bottomless love for Meryl Streep needs to stop right here because she robbed Amy Adams of a nomination.
Streep's performance in Florence Foster Jenkins as the shrill sounding baroness who aspires to be an opera singer is strictly paint by numbers, especially when compared to Catherine Frot's scintillating performance in Marguerite, from which the former was remade.
There have now been 647 cinematography nominations in Oscar history. Not one has been for a woman.
However, Arrival's Bradford Young is only the second black person ever nominated for Best Cinematography.
'As for Mel Gibson's myriad nods, Hollywood sure loves a white, horrifically behaved male comeback story,' tweeted Lisa Rosman on the best director nod he got for his frankly sterile World War II movie Hacksaw Ridge.
'So pleased Oscar has embraced Mel Gibson again. Trump-loving anti-Semites haven't been rewarded nearly enough this past year!' said another Twitter user while making an oblique reference to the muddied American political waters.
Nicole Kidman barely deserved that best supporting actress nomination for the sudsy Lion.
'Kitted in red curls, she coos like a turtle dove till you want to strangle her,' wrote Nigel Andrews in his Financial Times review of Kidman's role.
Love and Friendship, that blissful hug of a movie adapted from a Jane Austen novel, had zero nominations. Kate Beckinsale and Tom Bennett deserved nominations for taking the audience back to that paradise called Victorian England.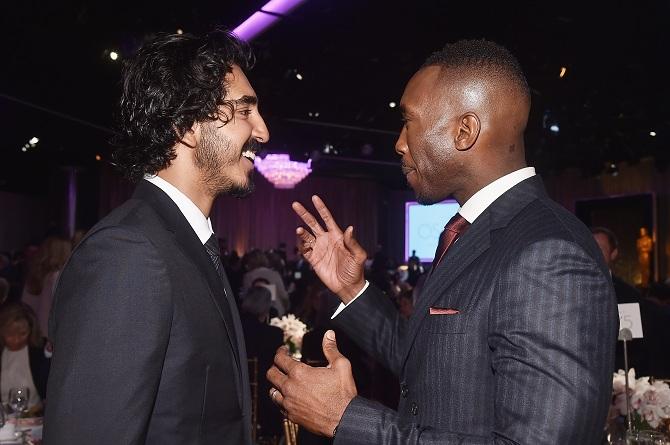 IMAGE: Best Supporting Actor nominees Dev Patel, left, and Mahershala Ali at the 89th Annual Academy Awards nominee luncheon in Beverly Hills, California.
After last year's #OscarsSoWhite hashtag 35 per cent of this year's nominees are people of colour.
Photograph: Alberto E Rodriguez/Getty Images
Enough of my recriminations, here are the sunnier takeaways.
The Academy seems to have paid attention to last year's #OscarsSoWhite hashtag and, voila, 35 per cent of this year's nominees are people of colour.
Three black screenwriters have earned Oscar nominations for the first time ever.
Barry Jenkins, Tarell McCraney (both for Moonlight) and the late August Wilson (Fences).
After a hard-fought and patient two decades of acting, Mahershala Ali has been nominated for Best Supporting Actor for his marvellous performance in Moonlight as the crack dealer who is the mentor for the movie's young protagonist.
At a time when the Black Lives Matter movement is doing the rounds all across the US, it's heartwarming to see a movie like Moonlight get eight nominations.
Considering both its box office success ($104 million) and three Oscar nominations, one hopes Hidden Figures will push studios to truly invest in more Black women-led narratives.
If Lin-Manuel Miranda wins an Oscar for the best original song, he'll be the youngest to earn the 'EGOT' -- an Emmy, Grammy, Oscar and Tony.
That said, the groovy as hell Shakira song in Zootopia deserved a nod too.
La La Land has to win 12 of its 14 nominations to become the movie with the most Oscars (Ben-Hur, Titantic and Lord of The Rings: The Return of the King have 11).
This looks quite likely, considering how the Damien Chazelle movie has been sweeping awards so far.
This would be quite a waltz.