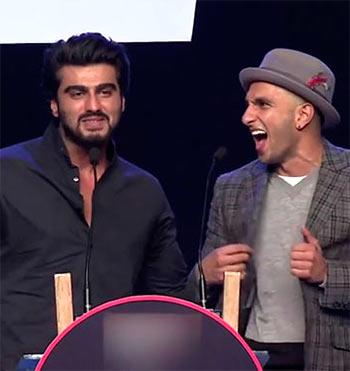 'A few people have begun to dictate what the country should wear, think, see, go about its lives. That is the real Indian bak***di, says Mango Indian.
I haven't watched the roast that's put its hosts, the aptly named All India Bakchod, in hot water, and I couldn't care less if Karan Johar is gay as a bird, but I had to tell my wife to go and watch the YouTube episode in another room because she was laughing too loud for our sleeping one year old.
And a colleague who was watching the 'roast' of Bolllywood A-listers in office -- again with headphones -- had to be told by another colleague to stop laughing because the entire office was staring at her.
Akhilesh Tiwari, president of the amazingly named Brahman Ekta Seva Sanstha in Mumbai, who has filed a police complaint against AIB for obscenity, doesn't share their sense of humour. Or of the 4,000 people who watched the 'roast' live at a suburban Mumbai stadium, laughing hysterically, if reports are to be believed.
The new Maharashtra government -- which has signalled its 'development' intent by declaring that the area around rivers, hitherto mostly no-go areas for industries, can now be exploited by our amazingly ecologically responsible corporate sector -- is also not amused. The state's minister for culture has demanded to know whether AIB had a censor certificate.
In the same Maharashtra, a new Urdu daily called Awadhnama has been shut down, and its editor Shireen Dalvi, who is supposedly the first woman editor of an Urdu (and by extension Muslim) daily newspaper, has been forced literally behind the veil.
Her children have stopped going to college out of fear, and the 46-year-old Dalvi, says the Mumbai Mirror, 'is on the run, with FIRs being filed against her on a daily basis across the state.'
Her fault: She reproduced a Charlie Hebdo cartoon on the front page. Her fault, again per Mumbai Mirror: 'She advised Muslims to reply to such provocations with knowledge and wisdom, not violence.'
The malaise is not limited to Maharashtra; it's the new All India Banality: The republic of taking offence.
Like the tickers that you can often see running on television, we are now inviting anyone and everyone to take offence.
Words beeped out of programmes on Indian television include beef, and now you can't even sing about Bombay.
Anyone who has tried to get an FIR for a stolen or lost mobile phone knows what it's like to deal with the police. Any 'normal' person will go to the cops only when left with no other option.
Our justice system is crippled with an immense overload of cases in the courts. Rape victims are waiting for six, seven years for justice while the rapists roam free and threaten, intimidate, subvert.
Our underpaid and overworked lower level police force will try to 'burk' -- the word for refusing to file complaints -- at every stop possible.
But there is a small bunch of people, for whom the entire creaking machinery will bend, crawl, and oblige at amazing speed.
They are educated people, they know how to file an FIR, they know the right people so that their FIRs are filed, their cases admitted. They know how to navigate the maze of the judicial system.
And given that good lawyers charge a bomb to even say hello, they have the money backing.
They are the ones who will threaten Salman Rushdie. They are the ones who will hound Taslima Nasreen. They are people who will take offence at the 'tone and terror' of irreverent scholarly works on religion like Wendy Doniger's.
And they know that they will be grinning while those they roast suffer the slow burn of the Indian judicial system.
The AIB Roast was backed by Only Much Louder, a young company that has established a virtual monopoly over Indian independent (read rock, blues and other such 'despicable Western imports') music live concerts.
Their audience is young, as are their employees. They are not the Brahman Ekta Seva Sanstha type. Now they will have to run into the wall called the Indian administrative system.
For the editor of Awadhnama, too, there will be continuing misery, far beyond when the headlines fade.
A few people have begun to dictate what the country should wear, think, see, go about its lives. That is the real Indian bak***di.