'Raazi is being hailed for breaking the glass ceiling for Daughters of Bollywood Inc,' says Sunil Sethi.
Illustration: Uttam Ghosh/Rediff.com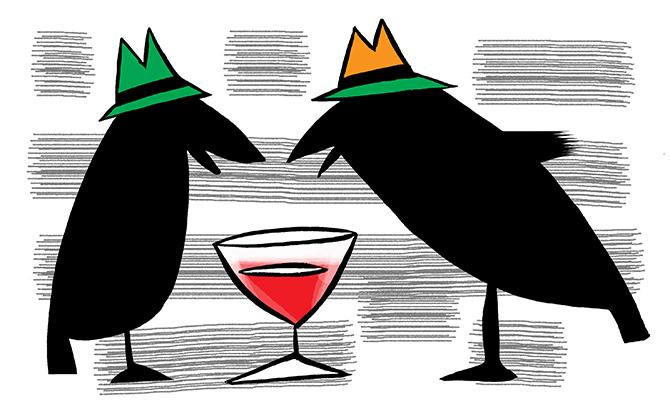 It's a curiosity that during a prolonged phase of perilous India-Pakistan relations the most talked about movie and book should be India-Pak spy thrillers.
The film first: Raazi, directed by the capable Meghana Gulzar and starring the radiant Alia Bhatt in the central role, is the surprise hit of the season.
Despite mixed reviews for its occasionally implausible plot, Raazi is being hailed for breaking the glass ceiling for Daughters of Bollywood Inc.
It has grossed well over a smooth Rs 1.50 billion in the first few weeks -- a first for a female director dominated by a young actress. Both 44-year-old Ms Gulzar and 25-year-old Ms Bhatt are legatees of established film-makers of distinction.
That it is co-produced by Karan Johan and Times of India owner Vineet Jain also tells you how unusual partnerships can work in the Hindi film industry.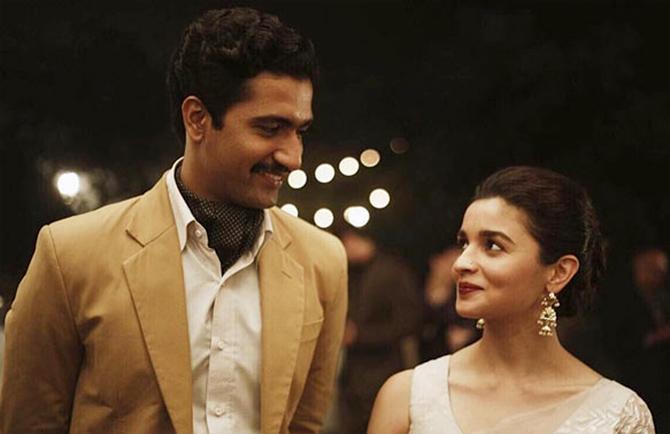 The story, set in the run-up to the liberation of Bangladesh in 1971, is about a Kashmiri girl, knowingly called Sehmat Khan, who is pulled out of college by her nationalist father and trained as a R&AW operative to infiltrate the Rawalpindi cantonment by being married into a leading Pakistani military family.
Her job is to pass on defence secrets from her married family home, including blueprints of naval subs, to her handlers back in Delhi.
Sehmat soon turns killer as the plot lurches from one credulity-stretching situation to another: Do Pakistani brass hats carelessly leave classified documents at home?
Are bugs with hanging wire taps in domestic kitchens and bathrooms undetectable?
And are Rawalpindi bazaars, from flower sellers to grocers, really paid-up R&AW agents?
But who said espionage fiction has to be credible -- film-goers wouldn't turn the novels of Ian Fleming or John le Carre into global money spinners if it were.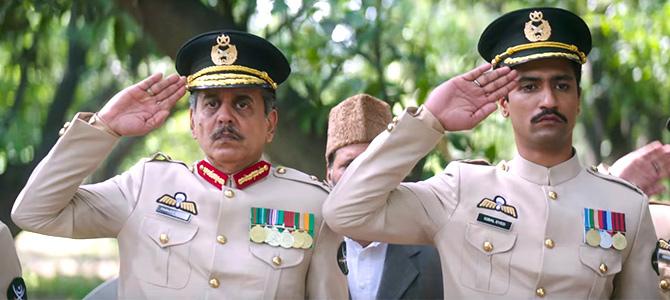 The oddity about Raazi is that it is apparently based on a true story by Harinder Sikka, a former naval officer, who in numerous interviews claims that it is the real life of a Kashmiri Muslim woman he tracked down, post-Kargil, in the Punjab town of Malerkotla.
He is hazy on further details about his novel, Calling Sehmat. 'It was important to fictionalise it as it would have been dangerous for her family. Her son (from her Pakistani husband is out of the army now, and Sehmat is no more.'
Mr Sikka is surely treading thin ice when he adds that his book is meant 'to highlight one of the finest examples of extreme loyalty of the Kashmiri people towards India'.
Never mind. Mr Sikka's pop patriotism is effectively exploited by Ms Gulzar, who also scores in her choice of a fine ensemble cast that includes Vicky Kaushal and Jaideep Ahlawat; and for her slog in scouring Punjab's towns like Patiala, Malerkotla and Nabha to replicate a degree of verisimilitude of Rawalpindi locations where most of Raazi is set.
In certain sequences her debt to Katherine Bigelow (Hollywood's finest woman film-maker of compellingly gritty espionage and war films such as the Oscar-winning The Hurt Locker, or the capture of Osama bin Laden in the recent Zero Dark Thirty) is evident.
What Pakistani audiences, with their unquenched thirst for Hindi cinema, will make of this Indian best-seller is uncertain.
On both sides of the border, however, opinion is being bitingly vented on The Spy Chronicles: RAW, ISI and the Illusion of Peace (HarperCollins; Rs 799) by A S Dulat and Asad Durrani, former chiefs of intelligence.
The idea to get two spymasters to collaborate was original, but like many accounts by retired officials the result, assisted here by a journalist, is often tedious, disjointed and infected by a glutinous bon homie.
Its notable consequence has been that Lieutenant General Durrani has been summoned by military HQ in Islamabad and given a sharp dressing down. He now faces a formal inquiry and has been barred from leaving the country (much of memoir was recorded in cities like Bangkok, Kathmandu and Istanbul.)
In a scathing review titled 'Chattering Mynahs', Pakistani columnist F S Aijazuddin (Dawn, May 31, 2018) says the book should 'be ingested with a pillar of salt which would dwarf Lot's wife'.
Among the gems that the two spymasters trade is Mr Dulat's confession that 'he would have loved being DG ISI'.
Part of the problem, Mr Aijazuddin suggests, may be the quantities of Black Label the two authors appeared to have consumed during its writing.
'This book reeks of alcohol. There are at least five references to the beneficial effect whisky had on "lubricating" discussions between the unabashed Indians and the bashful Pakistanis. To repeat E M Forster's devastating review of the bibulous poet Dom Moraes' book Gone Away, 'one longs for a non-alcoholic edition'.'