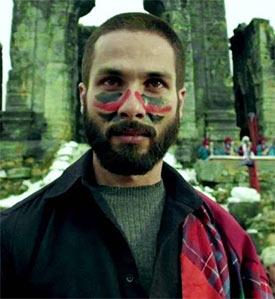 'Vishal Bhardwaj, Haider will ensure you a permanent place in the galaxy of filmmakers like Guru Dutt and Satyajit Ray.'
Sudarshana Dwivedi salutes the director.
I have studied and taught Shakespeare, enjoyed his works and loved his tragedies. So I was looking forward to Vishal Bhardwaj's Haider, his take on Shakespeare's Hamlet.

I have seen and admired the filmmaker's work in Maqbool and Omkara, but I was not prepared to be taken in as totally by Haider the way I did.

It had all the elements of the original Shakespearean tragedy in place, including the fatal flaw in the hero's character that marked him doomed from the beginning. Yet it was Haider's world.

A world that is more powerful than Hamlet's.
Kashmir assumes as strong a character as any hero (more than the moor in Hardy's novels) narrating its tale of angst, agony, pain, helplessness, betrayal, and exploited innocence that is riveting, to put it mildly.

The Valley's body has been admired, explored and exploited since times immemorial in films, yet no one cared to look into its soul, as it is a Herculean task that needs super sensitivity combined with daring on the part of the explorer, like extracting a deeply embedded shard of glass from the paw of an injured tiger.

Vishal Bhardwaj's triumph lies in accomplishing this superb feat in his own unique way.

While the Shakespearean tale of love, betrayal, revenge, and doom unfolds on the screen, a parallel tale of the Valley, caught in crossfire between two nations claiming it to be their prized possession, also starts tugging at your heartstrings.

It is so real that at times I felt nauseous at the sight of corpses, missed a heartbeat at a totally unexpected cold-blooded encounter and was in physical pain at the sight of so much suffering.

And it is not a Shia, Sunni or a Pandit who is suffering, but an entire race, for absolutely no fault of their own.

Hamlet is the story of the prince of Denmark, who was forever puzzled with the question 'To be or not to be?'

Haider is about a different set of people who question the fact of their existence.

"Main hoon ya nahi hoon," Haider asks at one point in the film.

How can anybody deny a fellow human being his existence and yet claim to be human?

The end credits have statements proclaiming some positive changes in this scenario, yet people continue to be uprooted from their homes and suffer the pains of insurgency even today and this heaven on earth continues to be shattered by shell fire periodically.

At best, it is an uneasy calm that prevails in the Valley.
Superbly crafted with achingly beautiful cinematography, dialogues that flow from the heart, and actors who have not acted but lived out their characters on screen, the play of snow and fire that represents the upheavals the story goes through, Vishal has made a film that one has to live through, not just watch.

I am no critic, but even if I was one, I'd say this is a rare film that has soared beyond ratings. I didn't cry even once during the movie, but broke down completely as the end titles rolled.

I just wanted to hug all these men and women tight and tell them they are not alone in their plight and they do deserve better.

Vishal Bhardwaj, even if you decide never to make any other film, Haider is a crown jewel that will ensure you a permanent place in the galaxy of filmmakers like Guru Dutt and Satyajit Ray.

I feel so proud to have someone like you as a filmmaker, who had not only the courage to tackle this sensitive issue but elevate it to a point where it crosses the realm of personal tragedy and gives voice to a collective anguish.

Image: Shahid Kapoor in and as Haider.