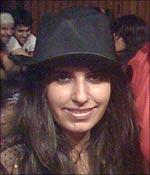 Rediff staffer Anisha Ralhan pens this heartfelt tribute to the man who takes the numero uno spot in her life.
Do you remember the time when you last grooved to the thriller track; throwing your dangerous moves and sprouting blood on the dance floor or crooning the way-you-make-me-feel to your very own Billy Jean? I do!
Among all the great things inherited from my parents, love for Michael Jackson takes the numero uno spot. Like every other kid born in the '80s, I grew up worshipping the King of Pop, but unlike everyone else I preserved my respect for the man who's been the world's unchallenged dancing demigod.
Everything about that quaint, eccentric, zany boy had left an indelible mark in my memory. My mother says I moonwalked before I could walk. At the age of seven, I literally saw the world as Black or White as I spent hours memorising (and consequently flaunting) the eponymous song.
I distinctly remember performing the cult Thriller move on popular demand at wedding receptions and school socials and writing peace poems inspired by Heal-the-world song.
Little did I know that that what seemed a harmless juvenile crush would manifest into an incurable, all-consuming obsession that would pierce me long after the man was gone.
His death didn't shock me, it devastated me. It was an eerie coincidence that he passed away on the day I had to perform show-jazz to two of his popular songs. I heard the news early morning and forced myself to believe that it was nothing but a jolting nightmare. A morbid silence greeted my house
Later that evening, before paying a dancing tribute to the star, I told myself that THIS IS IT. It had then become my moral responsibility to do justice to his songs. So I fixed my fedora and pulled up my socks and felt a cosmic force talking through my limbs. For me his death became as surreal as his life.
Every time I hear the two songs -- 'Tabloid junkie' and 'The way you make me feel', a part of me cries and a part of me freezes, revelling in his larger-than-life persona.
Talking about his achievements would be talking through one's hat. But it's widely known that he is perhaps the only artiste who's been jibed as much as he is eulogised. I remember reacting vehemently to tweets and Facebook messages that said, 'Children worldwide can breathe a sigh of relief' or something as ridiculous as 'MJ can never rest in peace because plastics are hard to recycle'. But, then, seldom has fame come without a price tag.
I choose to overlook the mordant literature on him and celebrate the talent that showered moolah on the music industry year after year. On this, his death anniversary, I can only beg the world to remember the King of Pop for his tunes that continue to electrify the dance floor and flood singing competitions with tears.