'It was only to be expected that she would grace the national awards function in her distinctive style.'
'For her admirers, the flouting of norms was in character because she has made her mark in highly competitive Bollywood on her own terms,' says Amulya Ganguli.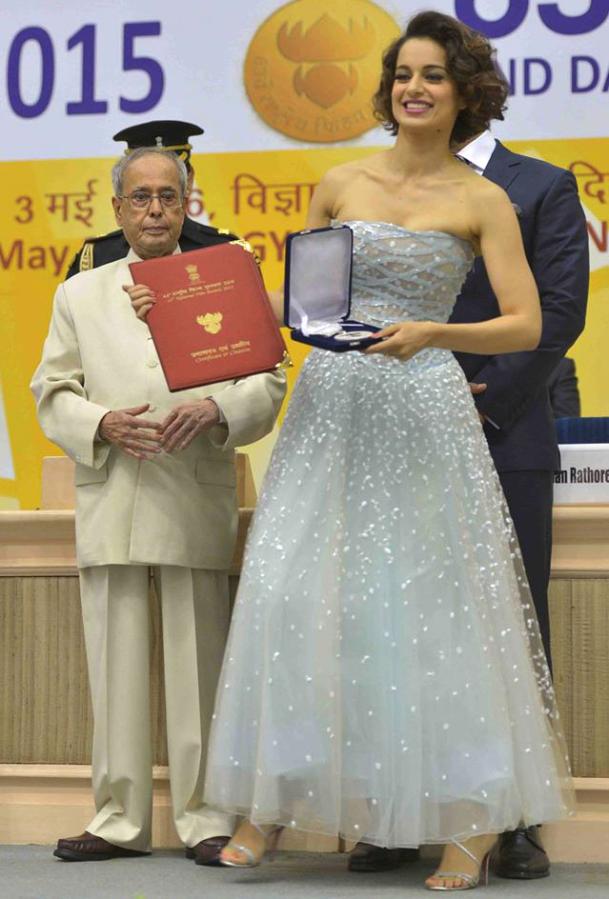 There must have been a sharp intake of breath at Vigyan Bhavan as Kangana Ranaut arrived in a resplendent off-shoulder dress to receive her award for the best actress at the national film awards ceremony.
An unsmiling President Pranab Mukherjee handed her the award flanked by an unsmiling Information and Broadcasting Minister Arun Jaitley, and an unsmiling Rajyavardhan Singh Rathore, the I&B minister of state.
It is not known bow the government's mentors in Nagpur reacted to the show of bare shoulders. There is little doubt that they regarded it as an 'oracular provocation', the phrase which their one-time shishya, L K Advani, used for the Babri Masjid in justification for its demolition.
There is little doubt that Kangana's defiance of the norms -- she was expected to be demurely draped in a flowing saree like a true Bharatiya nari -- was provocation of sorts, perhaps deliberate.
If the film censor board chief, RSS nominee Pahlaj Nihalani, been present in the audience, he must have regretted that a cinematic newsreel of the ceremony cannot be edited like the duration of a kiss in the latest James Bond film.
Kangana's choice of dress was in keeping with her persona which has never followed the beaten path, either in her personal or professional life.
Even in the film Tanu Weds Manu Returns, for which she received her second best actress national award (and her third overall), she portrayed a character who turns up at a family function draped in a bath towel -- albeit a large one -- after a few surreptitious swigs from a bottle in a bathroom, causing a flutter among those present.
It was only to be expected, therefore, that she would grace the awards function in her distinctive style. For her admirers, the flouting of norms was in character because she has made her mark in highly competitive Bollywood on her own terms.
Not conventionally good-looking of the Madhubala or Madhuri Dixit type, it is Kangana's boldness, not to mention her outstanding acting prowess, which makes her stand out in a milieu which has seen several suicides by young actresses.
A self-confessed unwanted girl child who has been called a witch in adult life, Kangana's success despite the odds makes her typical of today's youth.
Her rebelliousness in the choice of attire on an occasion dripping with staid formalism mocks the advice given by Sushma Swaraj, who epitomises the Bharatiya nari where dress is concerned, to AIR newsreaders when she was the I&B minister to shun sleeveless blouses.
Kangana's shunning of a saree is in keeping with the modern trend where young women have forsaken the saree except for ceremonial occasions.
They prefer jeans and tops and even shorts if only because they can be quickly put on and makes travelling in public transport easier.
Now Kangana has shown that Western couture can be flaunted with flair also on formal occasions.
For the curmudgeons in the saffron brotherhood, Kangana's attitude is another sign that India is changing.
Women are now embracing lifestyles which leave the traditional far behind. Having decided to step out of the kitchen and enter colleges, offices and playing fields, their dresses are adapting to what is suitable for their new ways of life.
Men, of course, have long dispensed with the dhoti and kurta. The burra babu of the offices in colonial times in his hallmark coat-and-dhoti ensemble now appears only in period films. Even the RSS first took to shorts and are now considering donning trousers.
But the women have been advised to stick to sarees and salwar-kameez. Even the dropping of the dupatta was frowned on by the khap panchayat-types as it was considered immodest.
Once women started trying on jeans and trousers, dresses -- including off-shoulder ones -- could not be far behind.
What must worry the orthodox is that such outfits go hand-in-hand with non-vegetarian meals and live-in partners. To them, it is a slippery slope which can make India look quite different from the Bharat which they want it to be.
It may not be too far-fetched to suggest that the MP who introduced a private member's bill to make it mandatory for a new member to say Bharat Mata Ki Jai after taking the oath, will now plan to make the wearing of sarees compulsory on formal occasions, for a videshi poshak is undoubtedly anti-national.
Amulya Ganguli is a writer on current affairs.