'People who went on the sets thought Ranbir was Sanju sir.'
'Ranbir made Sanju sir his own.'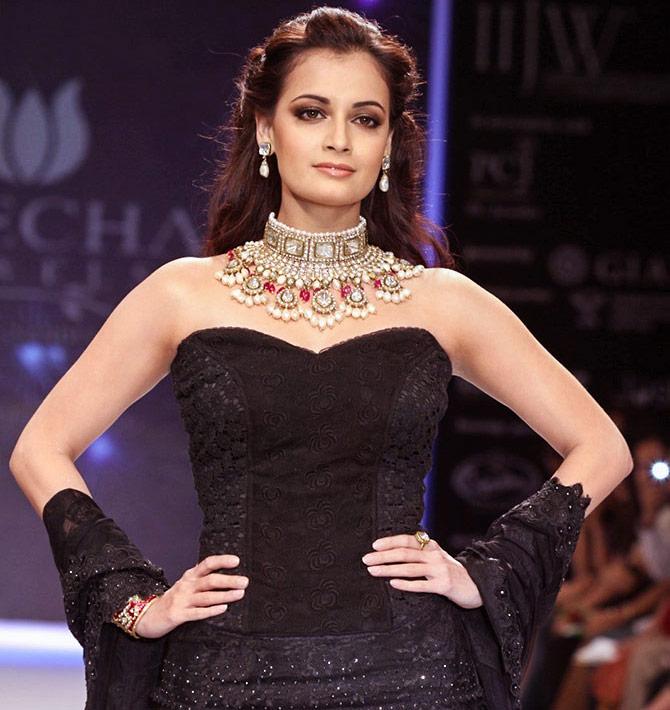 IMAGE: Dia Mirza. Photograph: Abhijit Mahamunkar
Dia Mirza is busy juggling her role as an actress with that of an UN Environment Goodwill Ambassador for India.
She will be seen next in Raj Kumar Hirani's Sanjay Dutt biopic. While Ranbir Kapoor plays Dutt, Dia will play Sanju's wife Maanayata.
In a telephone conversation with Rediff.com's Patcy N, Dia discusses Sanju and looks back at her movie career and life.
The first of a two-part interview:
You are not doing too many films these days. Is that a conscious decision?
I have never wanted to stay away from movies, but I think it is a combination of a few things.
Firstly, in the last six years, I have been running a production company. I have made two films and that takes a lot of my time.
Also, I think I am privileged to be in a place where I can say no.
My choices are not driven by fear or a need to do something that I don't believe in.
My absence will be taken care of now when people will see me in the Dutt biopic.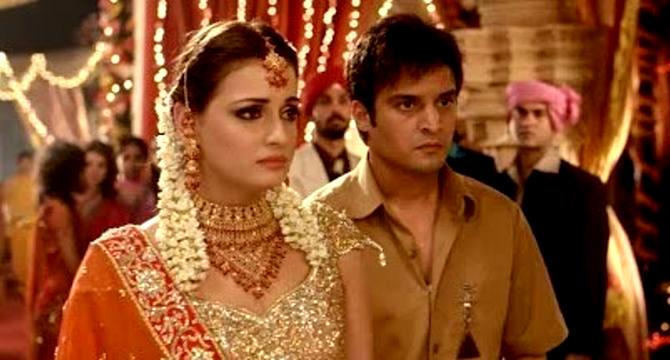 IMAGE: Dia Mirza and Jimmy Sheirgil in Lage Raho Munna Bhai.
That will be your second film with Raj Kumar Hirani after Lage Raho Munna Bhai.
He is my favourite director in the country.
I think (writer) Abhijat Joshi and Raj Kumar Hirani are a formidable force because of the way they think and feel, the things they notice, and the respect they have for the craft.
Going back to work with them is an honour.
I will never forget the night before the first day of the shoot.
We had done workshops and readings. We had marked the scenes before, but still, I couldn't sleep the night before.
I was terrified.
I was scared I would mess it up. There was too much pressure.
But as soon as I went on the sets, my fears were replaced with love and respect.
How close are you to Sanjay Dutt's family?
Sanju sir and I have done a few films together.
I share a deep sense of regard and love for him.
He has been kind, warm and wonderful to me over the years.
I have also interacted with his wife Maanayata. It is remarkable to see the support and strength she has given him, the way she has been his rock.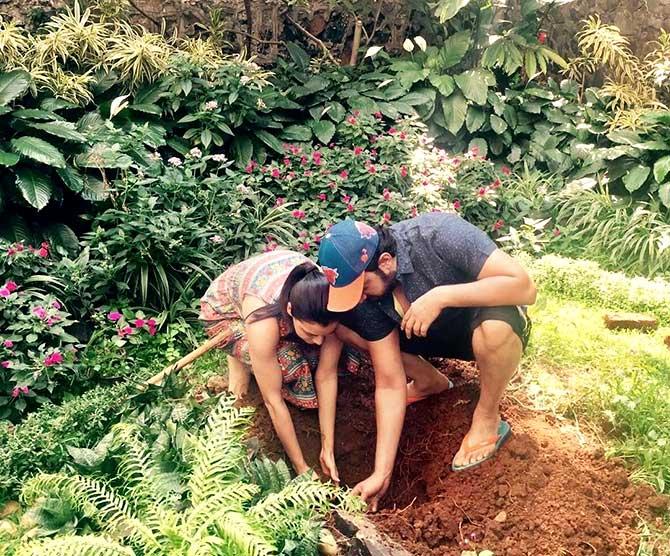 IMAGE: Dia Mirza and husband Sahil Sangha 'plant some love' on Valentine's Day. Photograph: Kind courtesy Sahil Sangha/Instagram
You play Maanayata. What kind of preparation did you do?
It was totally my director's homework and I followed his direction. I have played the part prescribed to me.
How has the film shaped up?
It is shaping up exactly the way Raj Kumar Hirani's films shape up.
Ranbir (Kapoor, who plays Sanjay Dutt) is possibly one of the most inspiring and motivating individuals I have ever worked with.
He effortlessly bring nuance to his character.
Ranbir doesn't talk too much about it. He just does it and you see the magic unfolding.
Also, he has an amazing temperament.
He would be the first to reach the location because he would need five, six hours to do prosthetic make-up to play the older part.
Despite the heat and the long hours, he would come on set before time.
Women have always been challenged physically on the sets.
We have been thrown into freezing environments with barely anything to cover us or into extreme heat, caked in make-up, and heavy clothes and jewellery. And we're supposed to dance and look beautiful.
After I saw Ranbir during this film, I am never going to complain about anything again!
If this guy can be so accommodating, calm, collective and happy, then nobody has any business of getting hassled and irritated even if they are physically uncomfortable.
You have worked with Sanjay Dutt, you have seen Ranbir play him. Has he got the mannerisms right?
The physical transformation was unbelievable. People who went on the sets thought Ranbir was Sanju sir.
Ranbir made Sanju sir his own. He has brought his own integrity, honesty and sincerity into the part.