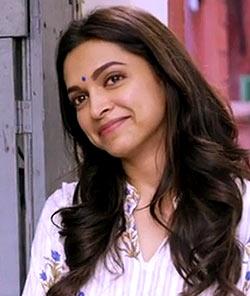 Film: Piku
It is thrilling to see Deepika Padukone push herself, and Shoojit Sircar's film does not at all make things easy for her. Piku -- whose real name we don't know, or need to know -- is an irritable character, a grump who uses her scowl as a shield to defend her sanity.
It is a character so relatable she seems familiar, one of those people who choose to live at the very end of their tether, and Padukone appears to relish playing someone so completely unreasonable.
Yet Sircar and Padukone warmly, in small measures, bring out Piku's softer side, the way she wistfully tries on jewellery, the way she sings with her father, the way she (while gobbling down a mouthful of Calcutta egg roll) casually proposes marriage.
And, as I'd said in my review, the way she says 'pachcha': 'Piku uses this Bangla word for arse -- a cute splat of a word, with a tchah-sound built right in -- while at a dining table full of eagerly nostalgic relatives, and Padukone plays the moment magnificently, her eyes twinkling and grin well in place, dropping her guard to say an 'uncouth' word and, simultaneously, thrilled to be saying it. Bravo.'
Bravo indeed. Shine on, Ms Padukone.