Home > India > Movies > Reviews


Review: Go Goa Gone could have used more fun-gore

Shubir Rishi | May 10, 2013 09:15 IST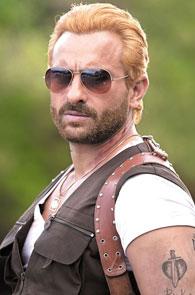 'Saif Ali Khan. Okay, the blonde get-up as the pretend-Russian-Mafiosi suits him. So do the sunglasses. The Russian part does not...'
'I think he got the most substandard one-liners in the movie. Half of them unintelligible too (since it is in a thick accent). He is down with the whole I-amFrussian-I-weel-speek-like-thees-only...'
Shubir Rishi pronounces judgment on Go Goa [Images] Gone.


When I first saw the trailer of Go Goa Gone, I was NOT impressed. And though I was pleasantly surprised that they were finally making a zombie movie here, I half-expected it to be a rip-off of some lesser-known European production. I was wrong.


The first scene immediately reminded me of Prahaar — two really tired commandoes going on in a lazy banter about who will chase the fly away from one's nose. The only difference being that this time it was a remote controller and two of the lead protagonists — Kumal Khemu (very likable, and he has got the best lines in the movie, well, he is one of the dialogue writers), and Vir Das (UM), total wastrels, and almost always high on drugs.


The third protagonist — Anand Tiwari (of the Jaago Re Tata Tea [Get Quote] advertisment fame) is 'normal' well, someone hasto play the nice guy!


The first 20 minutes of the movie are kinda forgettable, but I guess, necessary — same old one-liners, same old antics — one bad boy duped by his girlfriend, the other losing his job (after a really silly, bad-taste episode) and then the two of them piling on the nice guy and off they are to Goa.


The fun starts only when we have our first sighting of the zombies. Like all zombie movies, they have a silly explanation for why there are zombies. Usually, zombie-fests are blamed on military experiments and viruses imported from some godforsaken, obscure country, but here they just put it on to a drug, which is apparently the baap of cocaine and other such substances and screws you up pretty good.
The message is simple: Drugs turn you into a zombie. (heh)


I have five problems here.


First: How, living in a city like Mumbai [Images], being employed at some really cool place where you are Facebooking constantly and have upwards of 2,000 friends (and a sextoy-like thing prominently displayed on your table) with apparent easy access to drugs and sex and other, otherwise culture (read a TON OF Z-movies), can you not know what zombies are?


Our characters go in a confused daze after their first encounter with one. Um, what are they called? V...V...v? They are afraid of sunlight and whatever...?


Really? Damn, I have known about them since the last 25-odd years and I have grown up in small towns without access to any such movies (horror and sex go together, you see). MOST movie-goers know zombies are slow and they can only be killed with a no holds barred brain-breaking blow. So, we waste a lot of time hearing about checklists and what have we learned until nows.


And this was promoted as India [Images]'s first ZOMBIE comedy. Huh?


Second: Two of the lead protagonists in the movie cannot shoot to save their lives, like, literally. Yet, towards the end, they are expert shooters and getting the Zee's dead-on. Like one-shot kills. Um.


Third: Saif Ali Khan [Images]. Okay, the blonde get-up as the pretend-Russian-Mafiosi suits him. So do the sunglasses. The Russian part does not. Personally, I think he got the most substandard one-liners in the movie. Half of them unintelligible too (since it is in a thick accent).


I mean, he is down with the whole I-amFrussian-I-weel-speek-like-thees-only, but... Sorry Saif, but I think you were way-cooler in Tashan, as far as off-beat comedies go.


Fourth: The zombies. I like my zombies slow and stupid. Hell, everyone likes them that way. Yet, here we are, with stiff-like, oft-rushing zees, and some of whom look like hey man, a quick dash of custard/porridge mix on your face and you are good-to-go. (Though there is ONE intentional scene which is, quite funny).


Fifth: Vir Das. The guy has no clue what the hell he is doing. Or what the hell is going on. For being called 'India's answer to Jay leno [Images]' and 'a comedian to watch out for,' he sucks.


I am sorry, but he does.


Half the time I was lost in his prepubescent Convent-school accent, and the other half getting annoyed at the wooden expression.


Really, its not called understated. It's just called dumb.


Having said all that, Go Goa Gone is a fun watch. There are plenty of innocent-sounding, slow-exploding one-liners, which are funny.


Comedy comes naturally to Khemu and Tiwari; their lines are seamless and believable. Ed and Shaun they are not (from Shaun Of The Dead) — Khemu is more in-your-face, and Tiwari is way too understated.


Also, the background score and the sound design is kinda wacky. Likable, much. Ramsey, this is NOT. Only, the makers could have really, really come up up with something more...grindhouseish!


Oh, and Puja Gupta is pretty.


I would have liked some more fun-gore in the movie, but I guess I will have to make do with some non-zombie Telugu cinema for the time being.


Please go watch this movie sans-kids, and you are in for somegenuine giggles. And of course, there is a promise-like for a sequel.


Rediff Rating:

Want to see this movie? Check out Rediff Movie Tickets!