Advertisement

  

Advertisement
Watch Videsh for Preity Zinta
Sukanya Verma
| | |
| --- | --- |
| Preity Zinta in a scene from Videsh. | |
| | |
| | |
| | |
| | |
| | |
| | |
March 27, 2009 11:56 IST
Ever known that blood-curdling sensation when you stand up for the so-called victim, unleashing a diatribe of verbal gunfire against the apparent offender, only to have the object of your blind support curtly nudging you, 'You're over reacting.'

Deepa Mehta's latest film does that to you. Videsh [Images] starts out as a disturbing account on domestic violence but loses all objectivity the minute it resorts to elements of mysticism, inspired by Girish Karnad's play Nagamandala. It's a dangerously incompatible mix and damages the possibility of a decent movie to an outright ridiculous one.

And that's really sad coming from Mehta, especially after demonstrating what fine filmmaking is all about in the poignant and profound Water.

In spite of the awkward dubbing from English to Hindi, it opens with enough promise. In Videsh or Heaven on Earth (its international title), Preity Zinta [Images] plays an unassuming, happy-go-lucky Ludhiana girl, Chand Grewal.

Cliches are gladly abandoned. Like there's no running around mustard fields or romping about colourful bazaars bargaining for glass bangles to establish the same. Instead, her face lights up as she claps her hands in glee during a ladies sangeet/gidda or dabs talcum powder under her armpits inside an airport washroom (captured through Giles Nuttgens' discerning cinematography) providing ample evidence of her lively disposition.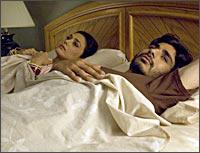 Like most girls on the brink of marriage-hood, Chand too dreams of a rosy-hued future, doting hubby and affectionate in-laws. She's obviously a quintessential romantic who's hoping her life to turn into a Karan Johar [Images] brand of grand fairy tale, Made in Canada [Images]. But that's not the kind of fate Chand, married to Rocky (Vansh Bhardwaj doesn't impress with his lout-like stubble and grating grimace), an Ontario-based cabbie, meets.
Once inside a cold, unfamiliar foreign land, Chand finds herself isolated from all things humane. Exasperated by the ever-growing burden of his stiff-eye browed, conniving mum (Baljinder Johal), spineless dad (Rajinder Singh Cheema), jobless brother-in-law (Gourrav Sihan), indifferent sister (Ramanjit Kaur), their two kids -- a rebellious son and docile daughter, Rocky is least interested in having any conversation with, forget basking in the gentle affections of, his new bride. Depending on his mood, she's either his preferred punching bag or object for intercourse.
Rocky's revolting behaviour would make any self-respecting individual (on and off screen) clench his/her fist and give him a healthy dose of his own medicine. And that's exactly why a heavily-bruised Chand's desperation to lure him with some magical root potion strikes as particularly regressive. What follows from then on is just too bewildering to endure.
Without really getting into details, all I'll say is while I genuinely don't have any issue with mythological snakes falling in love with Bollywood's leading ladies, the purported twist in the plot seems most asinine and out of context. I mean, nagparikshas? Come on!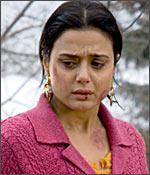 Besides deviating irrevocably from its original concerns, Videsh, despite its few 100 minutes duration and distressing assault scenes, is surprisingly slow and tepid, respectively. There are flashes of heartfelt anguish reflecting Chand's growing sense of alienation -- when she scribbles down her name and address on the walls of a public loo or makes whispered pleas to her beloved 'Wahe Guru' in a bid to get connected with her parents on the phone.
But the impact of her appeal is diluted in the disjointed narrative crammed with suggestions of various sub-plots involving immigration, ambition, isolation and loss of innocence, to name a few.
Also, why does the film enter black and white mode at repeated intervals? It's neither a flashback nor symbolic. And it's certainly not stylish.
What Mehta truly succeeds at is extracting a landmark performance out of Preity Zinta. The actress immortalised in effervescence erases any trace of happiness she may have previously conveyed with her startling transformation into Chand. Known for her forthright ways and liberated views, Preity breaks away from her real-life image to effectively slip into the wounded soul of her character. Even when she talks to the camera, unexpectedly breaking into grim, trance-filled monologues, there's immense fervour in her convictions.
Despite the vagueness that ensues, the cast, besides Preity, including Baljinder Johal as the overbearing mother-in-law and Ramanjit Kaur as the silently sympathetic sister-in-law, fares well. If only the screenplay had not taken such a serpentine turn, under the pretext of imagination, in surfeit, that is.
Heaven on Earth is a cool title for a cocktail. Apply it as a concept in a script. And the result is as ambiguous, mixed up and convoluted as Videsh.
Rediff Rating: