Home > India > Movies > First Look


The Darshan vs Jayamala showdown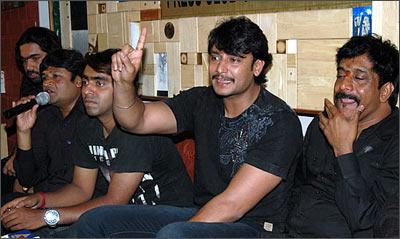 A war is brewing in the Kannada film industry.
As a mark of protest, actor Darshan and his five artist friends raised their salvo against Jayamala, the first woman president of the Karnataka Film Chamber of Commerce for the kind of injustice meted out to some well known legends of the Kannada film industry.
The issue is that though the KFCC had published 75 books on various film industry personalities, it has ignored the names of those who played villains.
The most shocking omissions of some of the legendary artists include well known Kannada villain Toogudeepa Sreenivas (father of Darshan and director Dinakar Toogudeepa), Sudhir (Tarun Sudhir's father), Sundara Krishna Urs, (Nagendra Urs's father), N S Rao, (actor-director Om Prakash Rao's father), Musuri Krishna Murthy, (actor-producer Jayasimha Musuri's father), Dinesh, (actor Giri's father) and Dikki Madhava Rao.
Darshan, Tarun, Nagendra Urs, Jayasimha Musuri Giri Dinesh and director Om Prakash Rao addressed a press conference to vent their displeasure over the deliberate injustice meted out to many well known artists.
All of them wore black shirts and bands on their shoulders as a mark of protest. Artists Prem, Naveen Krishna, Nag Kiran, Ajit and others were also present at the press conference to show their solidarity with Darshan and friends.
"By any yardstick, people like Dikki, Toogudeepa, Sundara Krishna Urs, N S Rao, Dinesh and others should have been in the list of seventy five persons selected for book publishing. We really don't know how such legendary personalities who have contributed so much for the development of the Kannada film industry, were ignored," says Darshan.
Darshan is angry with Jayamala because rather than addressing their complaints, she chose to advise them to keep silent. "I personally spoke to KFCC president Ms Jayamala well before the launch of Amruta Mohtasava. Instead of explaining, she reacted casually. She also told a few other artists that their careers will be in jeopardy if they take up this issue in public," an angry Darshan adds.
Meanwhile, reacting to the allegations made against her, Jayamala says, "I alone can be held responsible for the so-called omissions by the Book Publishing Committee. We are planning to bring out some more books on many other famous personalities. I told these artists including Darshan about our plans. But they have instead taken decision to be critical on KFCC. Fathers of these artists were doing villain roles on screen, but they behaved like true heroes off screen. But it looks these so called heroes of today are behaving like villains in real life. I have heard their grievances and have promised to look at them."
Noted literary personality and film director Baragooru Ramachandrappa who is the president of the Book Publishing Committee also says that the committee has not ignored artists like Toogudeepa Sreenivas and Sundara Krishna Urs.
Text: R G Vijayasarathy