Home > India > Movies > Reviews


Walk Straight past theatres

Raja Sen | March 20, 2009 13:20 IST



There are some films that aren't meant for theatres. Films you randomly find while surfing channels on TV, and that you end up watching for lack of anything better to do -- or because the remote's batteries have run out. You discover that there's nothing new to offer, and save for the lead actor going through the daft motions earnestly, there's no reason to stick around.

Yet you leave the TV running, because there's nothing particularly cringeworthy. You talk on the phone, heat a meal, miss a good forty minutes of the proceedings. And then you watch the end, roll your eyes at the schmaltziness of the climax, and smile anyway as you wonder if scriptwriters are actually paid to come up with cliches like this or if everything's made up on the sets by a gang having fun.

Straight, as you know by now, is exactly such a film. There's nothing objectionably bad, and while it starts off promisingly, it finally leaves you with absolutely no reason to recommend it to anyone. There are some quirks, but the vaguely handled characters are sadly predictable in the way they iron out those kinks. And the direction is so, so amateurish you begin having second thoughts about buzzless multiplex movies.

So yeah, watch Straight only if you have absolutely nothing better to do. (Which is unlikely, because a couple hours of YouTubing would serve you better.)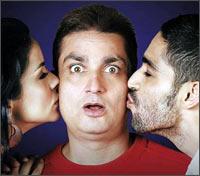 This is the kind of film that makes me feel sorry for Vinay Pathak, a talented actor having to make do with derivative nothing films. Sure, he gets leading roles and -- trying valiantly to bring a Steve Carrell-esque sincerity to them -- comes across as warmly affable even when we don't like the films, but I bet he wishes he got more meat more often.
Straight opens with a charming set of credits, with a set of Gujarati planes flying across the world and spiralling off into smaller planes -- an inventive take on the family tree that sets us up to expect a clever film. Actually, it really does try to be clever even when there is nothing truly original going on, which is the really jarring bit. Director Parvati Balagopalan flirts so much with visual gimmickry in her cuts from scene to scene that the film has no flow, and the schizophrenic sound design doesn't help things as whooshes and zloops are borrowed from different genres and pasted onto everyday gags.
So we have a compilation of random sexual-insecurity based gags, all happening to Vinay Pathak's Pinu Patel, who suffers through every frame of this film. The characters are ludicrously written, as Gul Panag is remarkably casual about forgiving a charge of embezzlement against her, while Anuj Choudhry continues to work as a chef even after winning the lottery. All this while Achla Sachdev has a blast overdoing a vampy seductress part.
Sexuality? Insecurities? The only part of the film that comes close to touching on those issues is played by Sid Makkar. This is a charming character with a truly believable foreign accent (take notes, Abhishek Bachchan) and the actor does well to make his character realistic -- it's the only part of the film which is.
Then again, maybe you are just in the mood for a bad viagra joke. Your call.
Rediff Rating:

Want to see this movie? Check out Rediff Movie Tickets!