Home > India > Movies > Reviews


This Aloo Chaat is tasteless

Elvis D'Silva | March 20, 2009 16:20 IST



Nikhil (Aftab Shivdasani [Images]) is an America-returned young man from a Delhi [Images] family, who doesn't know how to tell his parents and elders that he is in love with a Muslim girl. So he goes to the family friend (Manoj Pahwa), a reputed sexologist no less, for help.

Of course, the man who claims to be able to solve anyone's 'problems' in 15 days has a solution to the lad's dilemma. He devises a plot that involves installing a different woman in the household as the girl Nikhil intends to marry while simultaneously showing the family what a great girl his actual girlfriend is. Confused? That would be the least of your problems if you bought a ticket to watch Aloo Chaat [Images].
 
On a macro level, it might be possible to assume that the filmmakers intended for this to be a fun family film. Well, there is a 'family' in Aloo Chaat but that's about it.

Watching patriarch Purshottam (Kulbhushan Kharbanda) harrumph his way through another role where he plays a man out of sync with the times is not fun. Nor is it fun to watch the machinations of the sexologist and the groom-to-be, especially when they are carried out in as lackadaisical a manner as they are in this film. As the interfering uncle who is also perceived as the family idiot, Sanjay Mishra relies on his well-worn shtick and proves to be annoying more often than he proves to be funny.

Aloo Chaat runs for around two hours but no time is ever spent in showing us why Nikhil and Aamna (debutante Aamna Sharif) love each other so much that they would go to all this trouble. We are supposed to believe that theirs is a love that will stoop to conquer, actually fall in love with them and root for them simply from watching a couple of montage sequences. We never find out how they met, when they fell in love or why Aamna is always dressed in an exquisite salwar kameez that accentuates her figure way better than a bikini does for the white girl (Linda Arsenio).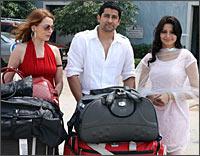 This movie is not as tedious as some other 'comedies' that have robbed us of valuable hours of our lives in the recent past, but it still feels like a single episode of a television sitcom was stretched to feature length. Don't believe me? Check out the ridiculous sound effects that accompany every 'funny moment' in the movie. Ear-splitting and designed to elicit earache rather than the belly laughs the filmmakers must have assumed they were providing, these sounds are just one of the many ways in which this is a small screen effort with big screen aspirations.

Watching Aloo Chaat is like getting a peek behind the scenes of a movie where the scheduling exercise came first and the storytelling was a mere afterthought. Sure Ms Sharif looks fetching sometimes and left to his own devices, Mr Shivdasani is capable of delivering an interesting interpretation to some scenes.
 
It would be interesting to see what these two rumoured real-life lovebirds would be able to do with a script that actually gave their characters a narrative arc and told a story through them. Aloo Chaat unfortunately is not that script, or film. Those venturing into a cinema to watch this, do so at their own peril.
Rediff Rating: 

Want to see this movie? Check out Rediff Movie Tickets!