Home > India > Movies > Interviews


The Rediff Interview / Ugesh Sarcar

'Had I used magic tricks, we would have gone far on Jhalak'

March 18, 2009


| | |
| --- | --- |
| Ugesh Sarcar | |
| | |
| | |
| | |
| | |
| | |
| | |
Ugesh Sarcar's magic did not work on the dance floor and was eliminated from the celebrity dance show, Jhalak Dikhla Jaa.
The young magician has now returned to his hometown Bangalore, and is nursing his back, which he had injured during his first dance performance.
He talks to Rajul Hegde about the experience. 
So your magic didn't work on the dance floor?

(Laughs) We were eliminated because of our weak performance.
Your Hrithik Roshan [Images] dance was very impressive just before the elimination round. What went wrong?

Thank you! We were concentrating more on the next week's performance, rather than this. My choreographer, Tina, was very stressed out. When we were dancing, she gave me a very strange look when I looked into her eyes. I just blanked out, and we missed a few steps. We were eliminated because of that.
Tina is an amazing dancer and a very good choreographer. But she gets stressed out very quickly. She has been very patient with me and I truly respect and admire her for that. 
Did you expect to get eliminated?

No. I expected Anand Raj Anand to get eliminated because he scored less.
Did you try any magic tricks on the dance floor?

Had that been the case, we would have really gone far.
Do you think the judges were biased?

Absolutely not. The judges were cool and fabulous.  All of them are icons in their own field and I don't think people of that calibre would do something like that. They were perfect and their judgement was bang on.
In an earlier interview, you said dancing was not your forte.  How much of dance have you learnt on this show?

We did a lot of Bollywood dance and I was just starting to learn jazz for our next performance. I couldn't learn any particular form of dance because there was not enough time. But I learnt the basics. It was a very tedious process but I managed.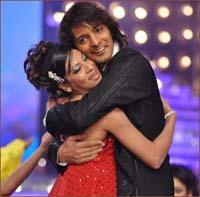 How was your experience on the show?

It was an amazing experience. I got to to meet wonderful people from different fields and it was a lot of fun. I got along with everyone. People get stressed out very fast and I just want to tell everyone not to get stressed and complicate things. Things should be taken more casually.
Who do you think are the best dancers?

Gauhar Khan [Images] among the girls and Karan Singh Grover among the boys. 
If given a chance, would you like to return to Jhalak as a wild card entrant?

Why not? I enjoyed the show and would love to go back and rock the dance floor.
Are you open to doing more reality shows?

I don't mind doing something like Jhalak. But a big no to music reality shows. I can't sing to save my life. I bray (laughs)