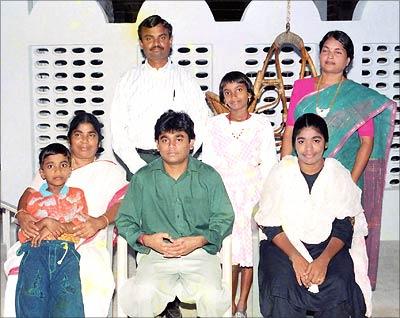 We asked readers if they had ever met Oscar winning composer A R Rahman [Images], and we got quite a response.
Jeyasimmon R writes in to say that Rahman and his family were neighbours from the years 1992 to 1998. He shares his memories:
In these days of joy and ecstasy, I would like to share the fond remembrances and a picture of Dilip [Rahman], his mother and sister Rekha [Images], and my family taken when we enjoyed the warmth and love of neighbours.
I knew that I could never get such close proximity to the genius. The day Roja [Images]'s audio was released, I, as a fan, knew that his compositions were different from contemporary music. I used to tell everyone that the time had come for reversal of trends and for Tamil music talent to percolate in the north and go global.
We enjoyed the neighborhood from 1992 to 1998. We never wished to leave the place as we had become family friends. But leaving was inevitable as a tenant.
I still remember the love and affection of his mother by calling me and my wife [Jayanthi, standing extreme right] as 'son and daughter'. She made special meals marking various celebrations.
My daughter Kimmy Diana [small girl, standing] is working as a sofware engineer and my son Kenny Robert [seated] is studying medicine. Incidentally, he played with GV Prakash Kumar, the upcoming music genius, when they were children. We would call him Prakku fondly. I am sure with his hard work and style, Prakku will also reach the pinnacle of music at the Oscars [Images].
Keep those memories coming in. The world would love to hear about Rahman.