This week's release, Dhoondte Reh Jaoge, stars talented actors like Paresh Rawal [Images], Soha Ali Khan [Images] and Johnny Lever, and yet, is a terrible film.
Soha proved her potential with films like Rang De Basanti [Images] and Mumbai Meri Jaan [Images], and looked like an actress who was here to do meaningful cinema. But what is she doing signing awful films like Dil Kabbadi and Dhoondte Reh Jaoge?
Dhoondhte Reh Jaoge revolves around film producer Raj Chopra (Paresh Rawal), who wants to make a movie. He has given 10 flops already, and now, no actor wants to work with him. Anand Pawar (Kunal Khemu [Images]), a chartered accountant helps him out.
Raj and Anand take Rs 5 crores each from investors, but invest only Rs 5 crores in the film. They split the rest of the money among themselves. They want to make a flop film, so that they don't have to repay the investors.
They rope in the worst writer (Johnny Lever) in the industry, and take two beggars, who sing in trains, to compose the music, as well as sing in the film. Then, they cast a struggling actress Neha (Soha) and a flop actor Aryan Kapoor (Sonu Sood [Images]).
The director and script keeps changing through the making of the film, titled Solay se L'agaan Tak. Like the title suggests, the film is a spoof of landmark films made between Sholay [Images] and Lagaan [Images].
While a good spoof may have been enjoyable, Dhoondhte is dull, slow and boring.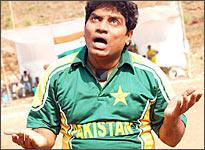 Sonu Sood has 11 avatars in the film -- a dwarf Sood, a squint Sood, a stammering Sood... That may have been interesting too, except that Sood does a terrible job.
We loved Kunal Khemu from the time we saw him in Zakhm to even Dhol, but maybe it's time for a break. Or maybe, he should just re-learn a few acting tips from his previous films.
Paresh Rawal has done some fantastic films fantastically. And that's why one can't help but wonder why he would sign up a film like Dhoondhte that has absolutely nothing going for it.
Director Umesh Shukla -- a theatre actor and director -- should perhaps re-learn the skill before he decides to inflict us with another film.
Rediff Rating: