January 30, 2009 13:14 IST


There's something that directors Ajitpal Mangat and Ashutosh Gowariker have in common, besides the fact that both of them have made movies on cricket -- Victory in the first case, and Lagaan [Images] in the second.

They shared screen space in a forgettable venture called Indrajeet, way back in 1991. The then would-be directors played victims on whom the hero (Amitabh Bachchan [Images]) wreaked vengeance.

Thereafter, Gowariker appeared in a few more films and then wielded the directorial baton -- fumbling twice (Pehla Nasha, Baazi) and then making Lagaan, aruguably the best film made in India with cricket as a backdrop.

Mangat, on the other hand, gave up his acting career, and moved on to the ad world before plunging into feature film direction with Victory.

Which brings us to Victory. The film tells the story of Vijay Shekhawat (Hurman S Baweja), a cricketer from Jaisalmer who aspires to make it big, endures initial failures, finally succeeds, subsequently loses his soul in the labyrinth, and then regains his lost glory.

It's a story we have seen many times in reality -- Yuvraj Singh [Images], Mahendra Singh Dhoni [Images], Suresh Raina, RP Singh and many more have come from small towns and finally made it very big.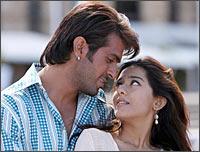 Victory, of course, has the usual masala ingredients thrown in in good measure -- an understanding girlfriend (Amrita Rao [Images]), an upright father (Anupam Kher [Images]), a foe-camouflaged-as-a-friend (Gulshan Grover [Images]), a couple of coaches (Dalip Tahil and Tinnu Anand). And then the gimmick -- about 40 international cricketers in itsy-bitsy roles, Harbhajan Singh [Images] and Brett Lee [Images] more scenes than the others.
The film opens with the lines: 'Cricket is not a game in India. It's a passion, a religion, a way of life.' The director's idea of exploiting the game's huge popularity on celluloid may have seemed terrific on paper. But at the execution level, Victory becomes one of the many assembly line productions that Bollywood churns out every year -- high on hope, low on scope.
I can't help but draw an analogy at this junction. Since the emergence of the Board of Control for Cricket in India (BCCI) as the global financial powerhouse at the turn of the century, the national team has hardly had respite from matches -- even the recently cancelled tour to Pakistan was substituted by a hush hush trip to Sri Lanka [Images]. It is this excess of cricket that has taken the charm out of the sport. So much so that even an Indo-Pak series -- which only a few years back was an occasion to wait for in eager anticipation -- now ensures ennui.

In the context of movies, Lagaan has done a BCCI. Just ask yourself: How many cricket-based movies can you remember before the 2001 film? You may throw up names like Dev Anand's [Images] Awwal Number or Kumar Gaurav's All Rounder or one or two more.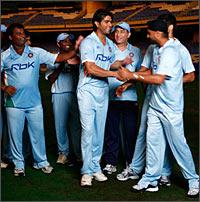 Now, try listing movies based on cricket post-Lagaan and the number keeps increasing -- Stumped, Iqbal, Chain Kulii Ki Main Kulii, Say Salaam India, Hat-Trick, Jannat [Images], Meerabai Not Out... Add Victory to this list.

And that's the film's main problem. It's just an addition, not a variation.

The blame lies mainly with the director. Mangat is neither a raconteur nor a master craftsman. And it is his inexperience, and the subsequent inability to tell a story differently that turned the film to an unintentional comedy. And the gimmick falls flat too.

Hurman, who had a terrible debut with Love Story 2050, disappoints the second time round too. Yet, he turns in an earnest act. His choice of movies may be questioned but not his effort. Let's hope he scores better with his next film, Gowariker's What's Your Rashee?.
Rediff Rating: