Home > India > Movies > Reviews


Discuss |
Email |
Print | Get latest news on your desktop

Raaz 2: Worth a watch

Nithya Ramani | January 23, 2009 18:54 IST



I had no expectations from Mohit Suri's horror film, Raaz [Images]: The Mystery Continues but I must admit I was pleasantly surprised when I watched it.

The film opens with Kangana Ranaut's [Images] narration about spirits, fate and destiny, picturised on a foreigner driving to an ashram in Kalindhi, where the film is set. He finds a man self-mutilating himself in the name of the devil, claiming god is dead.

The scene cuts to the glamourous fashion industry. Kangana, playing a stunning model called Nandita Chopra, repeats her Fashion act. Her red hair, swishing across the ramp, makes her look sexy. And like in Fashion, she carries with her a history of broken relationships. But she does not go through with a suicide attempt, that we've seen her doing in so many movies before. Instead, she goes ahead and patches up with her boyfriend, Yash Dayal (played by Adhyayan Suman), and moves on to a happy life.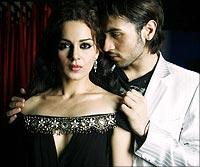 Yash is a struggling television reporter who finally finds success by directing a reality show called Andhavishwas. However, he does not believe in the supernatural and superstitions. His show wins accolades and awards.

Enter Emraan Hashmi [Images] aka Prithvi, the star of the film. He is an artist, who foresees Nandita's life -- a complete stranger to him -- and paints her future. He believes that something dangerous will happen to her, and so tries to save her.

Does he succeed in saving her? What exactly does he see in the future? Watch the film to know what happens next.

And trust me, you should watch the film.

Kangana puts in a great performance, one, I admit, I didn't know she was capable of. Her scenes when she gets possessed, as well as when she walks the ramp, are brilliant.

In fact, her performance -- along with Emraan's -- deserves a five star rating. Five stars also to director Mohit Suri for the way he has shot the film. The first part keeps you on the edge of your seat, as the film alternates between horror and suspense. Suri does a wonderful job behind the camera. You will not find too many gory scenes here. Instead, the amount of bloodshed seems to be just right. However, the film tends to fall flat in the second half.

Emraan does complete justice to his character. Adhyayan comes across as a raw actor, who needs to work on his acting. But he compensates with a convincing act in the second half of the film.

The music and background score is very good, and makes an impact.

One wishes that more attention could have been given to the story, and the faltering climax.

On the whole, this weekend looks very exciting -- with this cool horror film and an Oscar-nominated film Slumdog Millionaire [Images] waiting for you in theatres.

Rediff Rating:

Want to see this movie? Check out Rediff Movie Tickets!

Email |
Print | Get latest news on your desktop