January 16, 2009 17:17 IST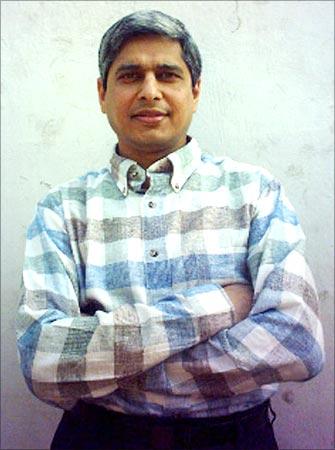 Danny Boyle's Slumdog Millionaire is fast becoming a rage. After winning four Golden Globe [Images] awards recently, the Mumbai-based rags-to-riches story staring Irrfan Khan [Images], Dev Patel [Images] and Freida Pinto [Images] has received a startling 11 nominations for the 2009 BAFTAs (British Academy Film and Television Art).
Based on Vikas Swarup's bestseller Q & A, the film however did not strictly adhere to the book. In fact, according to guardian,co.uk, the movie was given an extreme makeover. When told of the changes by the film's screenwriter Simon Beaufoy, Swarup was fine with it.
First, the title was changed to Slumdog Millionaire [Images]. And Swarup, being the diplomat he is (he is minister and deputy high commissioner of India, based in Pretoria) told the website that the title 'made a lot of sense'.
The end was changed as well. 'Danny thought the hero should be arrested on suspicion of cheating on the penultimate question, not after he wins as I had it. That was a successful idea,' Swarup was quoted as saying.
Other changes which were instrumental for the film being a success was that friends were changed to brothers, subplots involving Bollywood stars and the city's hoodlums were cut off, and most importantly, the main protagonist's name and ethnic identity was changed from Ram Mohammad Thomas to Jamal Malik, a Muslim who loses his mother to a Hindu mob.
'It's more dramatically focused as a result, perhaps more politically correct,' Sawrup said of the change. The only thing that worries the novelist is how Indians are going to handle the riot scenes in the movie.
'People in India are sensitive about how they're portrayed, so there will be criticisms. But a Bollywood director recently told me Slumdog Millionaire's failing was that it wasn't extreme enough to be truly Indian. India has a genius for recycling its contradictions,' the report quoted the writer as saying.
In the picture: Vikas Swarup