January 16, 2009 10:45 IST


I would like to take this opportunity to ask Twinkle Kumar [nee Khanna] if there was ever a time when her husband Akshay tried cooking for her, did so rather woefully, and she felt the politest response was to giggle.

In this hypothetical situation, Kumar might have mistaken this for genuine mirth, and assumed -- along with fellow dinner guest Shridhar Raghavan (the writer of Bluffmaster and Khakee [Images]) -- that the idea of him as a chef was surefire comic gold, a prospect the actor and writer tried out first with Raj Kumar Santoshi's [Images] abominable disaster Family, and then this latest Nikhil Advani [Images] blooper, Chandni Chowk To China [Images].

A film that makes Singh Is Kinng seem like a highly textured work of complex characterisation and nuanced writing, Chandni Chowk To China is a disastrous overbudget mess -- and it may even turn out to be the one film so weak that even current box-office almighty Akshay Kumar [Images] can't save it.

He tries his best, but the film itself can't quite decide whether to be a massively over-the-top bit of masala (like Kumar's own vaguely enjoyable Khiladiyon Ka Khiladi) or an out-and-out spoof (like Shah Rukh Khan's [Images] guilty pleasure silly movie Baadshah). No, this one slots into a painful no-man's-genre area, and, clearly confused between the campy comic route and the overtly melodramatic path, constantly stumbles around.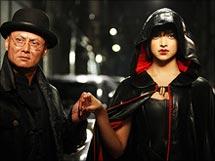 Sample, if you will, this early contender for the year's most bizarre dialogue: Kumar has been trained in Kung Fu, his arms turned into lethal weapons using something called the Iron Forearm technique. Soon he's folding Deepika Padukone [Images] into these aforementioned steely arms, and saying [I translate, roughly] 'I have Iron Forearms. Soon I'll have Iron Legs, an Iron Chest, Iron Stomach,' he pauses to look down pointedly, 'and an Iron...' Here he trails off as the girl coyly covers his mouth, saying 'Enough' with a smile.

'Don't stop me now,' retorts he, 'My entire body is now made of iron.' She smiles, flutters eyelids, and breathily says, 'Oh, mere Iron Man.'

Nope, not kidding.

But Iron Man creator Stan Lee isn't the only Lee this constantly underwhelming film would disappoint. The film's patently loopy plot involves a reincarnated Chinese warrior, a half-Chinese half-Indian translator whose origin story gets even more muddled at the end, a Hindi-speaking Chinese cop with twin daughters who have divvied up their Indian and Chinese features based on where they live, and a baddie who borrows his big gimmick from a James Bond [Images] villain's sidekick.

And all of the above, unbearably insane as it sounds, could still have made for a perfectly enjoyable film had it completely embraced the absurd and gone for laughs, but Chandni Chowk To China oscillates between a kick-propelled Akshay flying several blocks and the very same man being humiliated and spat upon, with an unsubtle background score suggesting we should be sad. Sigh. We are, but the pity we feel isn't for the hero, it's for the film that could have been.

In the middle of all this martial arts moron-giri, Deepika plays Miss TSM, an online shopping saleswoman (her infomercial is one of the film's high points) as well as her twin sister Meow Meow, a hot Chinese vamp. And while the catty Oriental Deepika looks significantly edible, her presence only serves to make Deepika 1.0 look depressingly dull, and after seeing two of her share the same frame we can no longer run from the fact that the word acting and this pretty girl don't quite belong in the same sentence.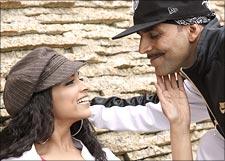 But isn't Akshay good, you wonder. Isn't he the man who routinely makes scriptless movies enjoyable? Doesn't he often work despite the script and the scenes, simply by dint of being who he is? Sure he does, and he manages a few genuine laughs this time around as well, yet his primary achievement in this film is that his character connects completely with the audience: as his protagonist Sidhu haplessly wonders what's going on around him, we sit in the darkened theatre and feel his dazed-and-confused pain.

What flummoxes me completely is the fact that this film is produced by Rohan Sippy, one of the more restrained Bollywood filmmakers and a man who believes in coolth via understatement, and gargantuan American film studio Warner Brothers, making a much hyped foray into India. The only man I can see completely adore this movie is former cricketer Navjot Singh Sidhu, who shares a last name with Kumar's character and might like to hear Kailash Kher [Images] routinely exhort him to greatness. And like on his comedy show, we're not laughing half as hard.

It's not the first time that Akshay's end-credits music video is the best thing about his latest hit, but even as this one features backup dancers gyrate in KillBillesque yellow-black jumpsuits behind the superstar, you realise that you're only really happy to see them because the film's finally over.

Twinkle bhabhi, please tell Akshay to leave cooking to the others. We'll be fine ordering in some takeout, really.

Rediff Rating: