| | |
| --- | --- |
| A scene from Slumdog Millionaire. | |
| | |
| | |
| | |
| | |
| | |
| | |
January 15, 2009 15:48 IST


Danny Boyle's Slumdog Millionaire [Images], having conquered the hearts and minds of Hollywood -- winning 4 Golden Globe awards in the process -- now turns its sights on the United Kingdom.

Also Read: Slumdog: Review 1 |  Review 2

The Mumbai-based rags-to-riches story has received a startling 11 nominations for the 2009 BAFTAs (British Academy Film and Television Art), as has the Brad Pitt-starrer The Curious Case of Benjamin Button.

Slumdog Millionaire was nominated in the following BAFTA categories: Best Film, Adapted Screenplay, Cinematography, Editing, Music, Production Design, Sound and Outstanding British Film.

Danny Boyle [Images] has been nominated best Director, 18-year old Dev Patel [Images] for Leading Actor and Mumbaikar Freida Pinto [Images] for Supporting Actress.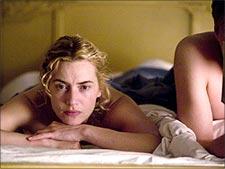 Those contending with Slumdog Millionaire and The Curious Case of Benjamin Button for best film are Frost/Nixon, Milk and The Reader.
Others to receive multiple nominations are Batman: The Dark Knight [Images] (nine nominations), Changeling (eight), Frost/Nixon (six), The Reader (five), In Bruges (four), Milk (four) and Revolutionary Road [Images] (four).
Patel, a London-raised teenager, will vie with resurrected actor Mickey Rourke [Images] (The Wrestler), Frank Langella (Frost/Nixon), Sean Penn [Images] (Milk) and Brad Pitt [Images] (The Curious Case of Benjamin Button).
Kate Winslet [Images], who managed two Golden Globes earlier this week, has been nominated twice over in the leading actress category: once for The Reader and once for Revolutionary Road.
Pitt is another double nominee, for The Curious Cause of Benjamin Button and for Burn After Reading [Images], where he'll compete with the late Heath Ledger (The Dark Knight) in the Supporting Actor category.
This year's BAFTAs will be held at London's [Images] Royal Opera House on February 8.