| | |
| --- | --- |
| Deepika Padukone and Shah Rukh Khan in a scene from Billu Barber | |
| | |
| | |
| | |
| | |
| | |
| | |
January 14, 2009 11:55 IST


One Khan against another, that's Priyadarshan's [Images] latest offering, Billu Barber in a nutshell. Don't [Images] expect too much hype over it though.

This one has Irrfan Khan [Images] playing the title role with producer Shah Rukh Khan [Images] pitching in an extended guest appearance.

Besides bringing about the proverbial twist in the tale, inspired by Malayalam hit, Kadha Parayumbol, he also provides song and dance relief alongside ladies Kareena Kapoor [Images], Priyanka Chopra [Images] and Deepika Padukone [Images]. Billu Barber's actually heroine, however, is Lara Dutta [Images].

So far the trailers, orbiting around its funnily-clad stars in tackily-executed item numbers against gaudy sets, have been far from impressive. Sadly, its jhankaar beats-themed soundtrack is no better.

Even though the originality of his creations has often been a subject of debate, music director Pritam has helmed pretty hummable ditties in the past. What went wrong with Billu Barber? Let's find out:

The lengthy album opens with a Gulzar-penned fast track, Marjaani. Despite the ever reliable Sukhwinder Singh and Sunidhi Chauhan's [Images] best attempts to inject their brand of husky exuberance into the pedestrian beats of Marjaani, the song refuses to budge from ordinary. Certainly, if you are constantly exposed to it, like its omnipresent promos are trying to do, you'll involuntarily get used to its presence but that's how far it goes. Its Electro House mix by DJ Sunil and Spinz is on the spunky side. Another remixed version by Kilogram K & G vies for attention with KK and Akriti Kakkar doing the vocal honours. Seriously, that's a lot of Marjaani for one day.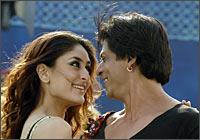 It's unintentional, we presume rather hope. But Hare Krishna Hare Ram crooner Neeraj Sridhar's overdoes the orgasmic uh-uh-uh sounds to disconcerting levels in his bid to capture the come-hither mood of Love mera hit hit. For all its show of zing and rhythm, Hit Hit is far too silly and monotonous to make any connection. In fact, it appears as though it's unintentionally mocking an entire generation of mindless Hinglish music, which is in desperate need of a makeover. Hit, too, is followed up by a couple of racy remixed versions -- DJ Amyth's House mix and another by DJ Chetas and DJ NYK.
Shridhar is perfectly mellifluous in the semi-R&B meets Punjabi cocktail, You get me rockin & feeling. Though vaguely reminiscent of Kismat Konnection's Bakhuda tum, the song fares better thanks to a strong vocal presence, including a charismatic chorus. The Video edit mix is particularly catchy. Ditto for DJ Suketu's retro treatment to the same.
The wannabe tone of the soundtrack returns with a batter, namely Ae Aa O. No amount of dynamism and enthusiasm from KK, Rana Mazumder and Suraj's side can raise this song from mediocrity. DJ Nikhil and Nawed go all-out to work up this limp horse to no avail.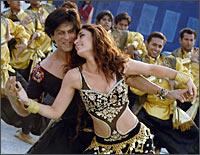 Up next, Pritam calls upon grim-songs-specialist Rahat Fateh Ali Khan to break Billu Barber's until now buoyant tempo to snivel aloud about a loved one gone missing. Khan is efficiency personified but is let down by his composer's trite imagination.
Unlike its scaring off title, Billoo bhayankar is rather amusing. After the ho-hum Marjaani, Gulzar [Images] makes a tickling comeback with this comical celebration of Billu, the barber -- Billoo hamaar jaise ustare ki dhaar, jaise saboon ki jhaag, jaise lotion khushboodar. Animatedly rendered by Ajay Jhingaran and Raghuveer, Billu cuts a better picture than most situational numbers of its genre.
Moonlight and stars inspire Gulzar's poetry in Khudaya khair, a breezy creation in sync with Pritam's gooey line of romantic duets. Not bad but not new either. Again, it opens like a thinly-veiled ghost of Bakhuda tum, the music director needs to get over his last year's chartbuster.
That's the problem with Billu Barber. It's like a hastily-recycled compilation of Pritam oldies, which is jarringly familiar and mostly uninventive.  
Rediff Rating: