| | |
| --- | --- |
| Konkona Sen Sharma | |
| | |
| | |
| | |
| | |
| | |
| | |
January 09, 2009 16:04 IST


There's funny-funny. And there's sharp wit. The President Is Coming is a delightful combination of both.

Sometime in 2006, President George Bush visited India to, most memorably, forge nuclear ties with us. It was a widely covered event that, evidently, triggered writer Anuvab Pal's (other credits include Loins Of Punjab Presents) imagination in more than one way. Especially the part where a meeting for Bush is arranged with one of the young faces responsible for championing the cause of 'New India' movement. The offshoot of this is a fictional mockumentary woven around six eager candidates vying to be the chosen one.

At a pace where there's no scope for a single dull moment, debutant filmmaker Kunaal Roy Kapur adapts Pal's satirical play for screen with satisfying results.

And so, without further ado, we are introduced to the Meet Bush contenders:

Maya Roy (Konkona Sen Sharma [Images] employs her striking presence and charismatic talent to lead the bandwagon), a sly pseudo-literary, feisty feminist who pens heavy prose for a living and supports the cause of tribal midgets for a hobby. She lives in Kolkata, by the way.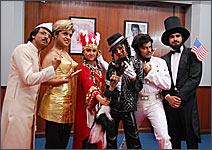 Ajay Karlekar (Satchit Puranik is so believable, he inspires awe), a Jai Maharashtra-spewing, Khadi-clad radical nursing anti-West sentiments and in-your-face chauvinism, that's this Nagpur denizen in a nutshell. 
Archana Kapoor (Ira Dubey glimmers with spontaneity and promise), a Daddy-this Daddy-that brand of specimen from the elite side of Delhi [Images]. She talks like a typical airhead from an American teen flick and runs her own line of Daddy-sponsored lipsticks in the name of independence. 
Ramesh S (Namit Das, a tricky role but he does well not to confuse caricature with comical), the software guy with a penchant for miscalculated moves when it comes to hitting on a girl. Among other things, the Chennai-ite is a Kamal Haasan [Images] fan and a closet homosexual.
Rohit Seth (Vivek Gomber delivers a confident, convincing performance), an accent trainer from Gurgaon and once-upon-a-time illegal immigrant in America, his story isn't as glorious as Don [Images] Corleone but his temper surely comes close. 
Kapil Dev [Images] Dholakia (Anand Tiwari is a bit too exaggerated to entirely work), an edgy stock market junkie from Mumbai [Images], the man eats, drinks, breathes shares. His mantra for everything: bribe your way.
Like a home video in play, The President Is Coming cheekily documents all the action inside the American consulate where the jumpy six are being adjudged by two PR agency ladies -- a neurotic kleptomaniac Samantha (Shernaz Patel) and the super subservient Ritu (Shivani Tanksale).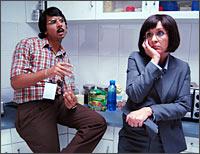 All through this delectable six-reel course, there is no dearth of hearty laughs or shrewd repartee. Instead of going for the conventional caricature route, Pal masterfully plays on the regional and professional stereotypes and the popularly unfavourable outlook associated with each.
His versatile creativity is gloriously displayed in the tickling, occasionally ribald humour and crunchy dialogue, conveyed in the varying flavours of its different protagonists. Even if the subjects of the conversation or argument raised, only skim past a standalone issue, the usage is always in context and noticeably amusing. Also, the easygoing communication between the characters is most refreshing, considering it is an English-language Indian film.
Despite the apparent low-budgeted aura (produced by Rohan Sippy, also appearing in a blink and miss cameo) of the caper, director Kapur uses its raw, substandard production values to the film's benefit by making it a contributor of realism. The ploy works. Given the niftiness of the script and intent, cued-in actors and breezy soundtrack, technique has little place in the scheme of things.
The President in question might be leaving (office) in the next few days. But this film and its frisky laughs will entertain us for a long time to come.  
Rediff Rating: