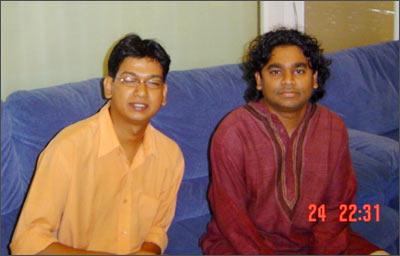 Slumdog Millionaire's Jai Ho is the first Hindi song to win an Oscar award, and everyone is praising its composer A R Rahman [Images], its singer Sukhwinder Singh and its lyricist Gulzar [Images].
But not many know that there are three other singers, who share credit too -- Mahalakshmi Iyer, Vijay Prakash and Tanvi Shah were the other three who featured in Jai Ho.
Born and brought up in Mumbai [Images], Iyer has been a playback singer since 1998. She first worked with Rahman in Dil Se, and then Ek Ajnabee [Images]. She also sang in Tamil movies like Alay Payuthe, Kandukondein Kandukondein and Jodie.
She recalls the day she was asked to sing Jai Ho with delight. "We were shooting for a television serial, Music Ustad where Rahman was a judge. After the shoot, he asked me to sing a few lines. I accompanied him to Nirvana studio in Mumbai. We reached there after midnight, and recorded for about an hour. We finished the song the same night. The next morning, I continued to shoot for the TV serial," she says.
As for Vijay Prakash, he must be thanking his lucky stars the day he dropped out of engineering college to try his hand at music.
Born and brought up in Mysore, Vijay was studying electronics and computers before giving in to his passion, music. He is trained in Carnatic music and has compered Sa Re Ga Ma Pa on Zee Kannada.
Vijay came to Mumbai to try his luck in movies. His first song was for Karisma Kapoor-starrer Baaz in 2002. His first song for Rahman was in Ashutosh Gowariker's Swades [Images], and later in Subhash Ghai's [Images] Yuvvraaj [Images]. He has also sung in a number of Tamil movies.
He has a small part in Jai Ho -- he only sings the high notes in Jai Ho. "It was sheer luck that I got a chance to sing in a song that won an Oscar," he says.
The third singer in Jai Ho is Tanvi Shah, a Gujarati, who has sung in Arabic, Latin and Afrocuban with her band Zahrra in Chennai.
"I have sung a number of songs for Rahman in Jillunu Oru Kadhal, Slumdog Millionaire [Images] and Delhi 6 [Images]," she told rediff.com in a telephonic conversation from the US. "I have also worked with Yuvan Shankar Raja, Srikanth Deva, Premji Amaren and other music directors. I started my career with a Masters in Ceramics, and then I did a stint as a graphic designer for the World Bank in the US."
But music drew her to Bollywood. "I have been singing for about five to six years now," she says. "I met Rahman sir when I got a call to sing Fanaa [Images] from Mani Ratnam's Yuva [Images]. I thought it was a dream and had to keep pinching myself."
Ask to describe her Jai Ho experience, and she replies, "It was just another working day when I was called to the studio. I had no idea what I would sing. So I went and heard the track. Rahman sir kept saying, 'Go sing out loud, think out of the box and enjoy the song.' I was worried because I had to match up to Sukhwinderji, who has a powerful voice. I just hope that I did," she says.
In the the picture: Vijay Prakash and A R Rahman
Text: A Ganesh [Images] Nadar