February 20, 2009 12:19 IST


Just about a month ago, my closest friend and I took the Metro from Delhi's Connaught Place, the offically acknowledged center of New Delhi, to the arteries and valves of the unpredictably throbbing Chandni Chowk, the city's heart. We met an old buddy, walked through gallis of stores like in a timewarp, and ended up at a joint famed for its gilafti kababs. The place positively reeks with atmosphere, and you can't help but be entranced by the way this patch of old Delhi feels.

We sat back and wolfed down our awesome mutton, a pair of south Delhi boys breathing in the regular mid-afternoon awesomeness that is Chandni Chowk, New Delhi 110006.

The primary difference between our photographs and commentary from that day and Rakeysh Omprakash Mehra's [Images] Delhi-6 [Images] is that ours ended up on a Facebook album, and his have been released in theatres worldwide.

Which is why, nostalgic and earnest as it may be, it's hard to qualify Delhi-6 as an actual film.

It starts off as a plotless set of well-drawn vignettes, a series of quirky characters doing their own charming thing, which one almost gets used to because of the fine acting on display, until suddenly there is a full-blown national integration message blared at you in the audience, a message so simplistic it doesn't seem like anybody would make an entire motion picture throwing it at you. And yet, here it is.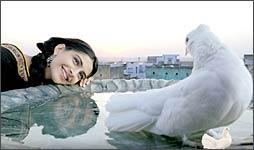 The film is about the Delhi 6 [Images] area being terrorised by a monkey-man, a 'kaala bandar' who has -- increasingly sensationalised rumours tell us -- blinking lights on his chest, springs on his feet, and, as a couple of locals memorably boast to the omnipresent news channel cameras, 'is invisible, we've seen him.' It is the topic of the month, the kind of thing that is leading some hapless innocents to their death while making for gossip fodder between bored housewives desperate for any kind of buzz.
In the midst of all this stands the outsider, Abhishek, playing Roshan Mehra. The young NRI has come to Chandni Chowk to bring his grandmother (the ever-amazing Waheeda Rahman) to her home, where she wishes to welcome her imminent death. Like all of us, even those who pop in regularly and are no stranger to the area's irresistibility, Roshan bites in, thrilled, capturing everything he sees on his cellphone camera. So far so great, and as we're introduced to the constantly likeable group of Hindu-Muslim friends and neighbours, we're reeled in by the fine acting on display and the wonderful way the director captures flavour.
It is a brave move indeed to make a film where the narrator, the leading man, is singularly the least interesting character. Roshan is an observer, a tourist taking in the madness around him, and we're never told much about him, seeing him only through his reactions to his surreal surroundings. In the same vein, Rakeysh flits from snatches of dialogue to snatches of dialogue with an arbid sense of dynamism, giving us a bunch of very well-acted characters laden with quirks where they would normally have had backstories. It is the kind of thing that must have seemed conceptually thrilling on paper, but on screen leaves the audience rudderless, because there isn't a single character to emotionally connect with.
The only character who has a proper graph, and the ability to take the narrative forward is Bittu, the feisty young Indian Idol [Images]-wannabe played by Sonam Kapoor [Images]. Kapoor, for her part, is quite astonishing in the role, creating the character through body language and mannerism, and it is genuinely exciting to see a young actress this nuanced. Hers is the film's only finely-etched character, one with conflict and a need for action, and even though she does smile-provokingly well, her perfect pitch seems out of place with the film's obviousness. And Mehra makes the cardinal sin of sorely under-utilising his films greatest assets -- the girl and A R Rahman's magnificent soundtrack. For a film with a title song that says 'yeh sheher nahin mehfil hai,' ('this is not a city, it's a party') it's a pretty lackluster mehfil.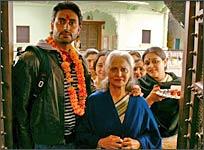 I remember watching a television interview many years ago, where Pritish Nandy was questioning Lata Mangeshkar [Images]. Every time the journalist would thrust a question in immaculate English, she'd parry in chaste Hindi. They never quite connected, but at least it made for an interesting, if somewhat flummoxing, interview. Here Roshan and Bittu get the same treatment, the hero who knows Hindi speaking frustratingly in English to this girl, as if talking down to her, while she snaps back in Hindi with thankfully the odd English jibe ('tum thode slow ho, na?' she says endearingly, while Bachchan remains irritatingly standard-issue NRI in his conversation). As far as I can remember, Mr Nandy never asked Lataji out for dinner, and the convenience with which the Bittu-Romance blooms is just as far-fetched.
And what's with the preachiness? I'm all for the entertaining message movie, a format Mehra completely mastered in his previous, phenomenally well-packaged effort Rang De Basanti [Images]. Yet this film, trying to tell us that there's god and a monkey within each of us, hammers in the message with the same repetitive stubbornness that crippled Mehra's first edgily made film, Aks [Images]. A beatific mad fakir roams around, mirror in hand, telling people who don't care to listen that they should look within themselves, and its a great touch until Abhishek takes the mirror from him and proceeds to spell out -- to an inflamed Hindu community and a furious Muslim brigade -- exactly what the old man is saying, his accent conveniently evaporating just as our patience begins to. A public service announcement this basic? Really?
The ensemble cast is spectacular, by the way. Pawan Malhotra is the pick of the bunch as he becomes the ubiquitous Dilliwala next door, Vijay Raaz [Images] sinks his teeth into a meaty role after ages, and Deepak Dobriyal is reliably stellar. Waheeda-ji is gloriously hard to resist, Divya Dutta [Images] just seems to be getting better and better, and there's a wonderful discovery called Aditi Rao who plays a delightful young bua with a broken marriage, a bua hard to take eyes off. Rishi Kapoor [Images] is fast becoming one of the industry's better character artistes, and there are two little kids we are never quite introduced to, but who are freakin' awesome.
The cast's only weak links lie in the form of Abhishek -- who is pretty good in parts, but mostly obvious, wearing his expressions like masks (hand me my 'Disappointed' face, will you?) -- and Cyrus Sahukar, who deserves a rap on the head for being so, so bad.
There is a scene in the film where two characters are making out in bed, their toes occasionally hitting a TV remote that switches from news to primate lovemaking to news of a missile launch, and the gag provides an authentic laugh. The scene cuts to another scene, of different people watching the news, but perplexingly Mehra chooses to cut back to the lovemaking, where the missile launch news clip is now shown climactically launching. It's alarming, this joke-reprisal, as if to tell his audience that they should laugh again, and this repetitive simplicity is symptomatic of this whole film and its ludicrous climax.
And if dying means I get to wear white and sit next to Amitabh Bachchan [Images] and eat jalebis, I really wouldn't mind being run over by a bus.
Rediff Rating: