February 13, 2009 13:38 IST


Trust the man who came from Fauji to give us a film reminiscent of the good old Doordarshan days.

Shah Rukh Khan's [Images] latest production is a simplistic, well-meaning take on a familiar story, and Billu -- perhaps inadvertently -- ends up being a naive little children's film, the kind of entertainment DD used to hurl at us kids during its Afternoon Transmission.

It takes a while to get used to it. The setting is that of the imaginary village of Budbuda, which like most cinematic villages behaves like no other place on earth. Its residents speak as if constantly on stage in a school play, and director Priyadarshan's [Images] attempt at restrained realism -- his Swades [Images], so to speak -- takes place in a stagey, theatrical, unreal zone. His village is populated mostly by cutouts, yet, by the time the film's end rolls around, they end up rather likeable.

Such is also the case with the film's leading man, Billu. Irrfan Khan [Images] plays the barber with the sort of plodding sincerity that initially grates on our nerves, nerves nowadays used to slangy edginess in character, but such is the charm of the everyman performer that it becomes increasingly difficult to not like him.

The Krishna-and-Sudama tale is an essential part of Indian folklore, the story of a poor man reluctant to claim any ties with the King, who would likely have forgotten him. And as we know, the Lord hasn't forgotten a thing, and welcomes his old friend with open arms and cartloads of generosity. It's a simple moral tale, and Priyan keeps it pretty much exactly the same.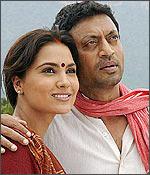 Which brings us to the film's basic problem. Thrust in as much Khan as you want, but the story remains one we know well, and the film takes its own time getting to the plotpoints. Also, we might honestly be a bit too old to appreciate a school play which doesn't feature a cousin or nephew or daughter to be biased about, and Billu gets significantly tiresome as the story unspools. Sure there are a few deft comic moments, and Khan even addresses the Khan v Khan 'feud' the media makes such a rush over, but watching Om Puri [Images] fall from a chair isn't really enough to keep you glued to the screen during a predictable film.
Shah Rukh, however, is clearly having a ball. I'd assume the actor made this film as a bit of Sunday schooling for his kids, and the film within the film features aliens and medallions separated at birth, an inept director and pretty cheesy dialogue. Khan mocks his own stardom pretty constantly and sharply, pointing to his bodyguards and deriding himself for perpetually being surrounded by more men than women.
Then there are the three item numbers you've seen glimpses of in the promos, random gratituous songs featuring Deepika Padukone [Images], Priyanka Chopra [Images] and Kareena Kapoor [Images] all gyrating with Khan who is frequently in black-and-gold regalia. Knight Riders season coming up, remember? And there's even a bit when he whips out a bright green light saber. Awesome. If that saber isn't there simply to make his son grin, I'll eat my hat.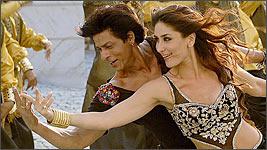 When Bollywood takes a crack at children's cinema, it usually does so with such condescending formulaic tripe that it's hard to sit through the forcefed emotions and the like. Billu is definitely a more sincere product, one that tries hard to keep the story and morals straight, and let the rest work on its own. Like most other movies in theatres today, you could easily chop a half-hour off the running time.
By the time the end -- the inevitable end you know right from the start -- swings into place, you're admittedly more than a little weary, and have rolled eyes a few times. Just when you're least expecting it, though, Khan takes the stage and starts talking to all of Budbuda, addressing its schoolkids. The morals are drilled in, but this is a truly brave monologue, a speech that goes on for about twelve whole minutes. Khan goes from smiley charm to red-eyed anguish, and delivers this section excellently, the producer in him ensuring he's far removed from the standard-issue ham trappings of commercial cinema.
It is this end that elevates the film, making it a worthwhile children's cinema experiment rather than a humdrum nothing film. If kids are not watching quality realistic cinema made just for them -- and we know they're not --  than does it take the belles and wolf-whistles of King Khan [Images] to lure them into theatres? And can that, by itself, work? Let's hope it can.
Finally, it's worth noting that the story of a poor man and God has been turned into the story of a poor man and a movie star. I'm not denying it accuracy, for in this world without towering figures in politics and sports, the stars are the ones who bestow the nation with wonderment -- it's just as valid as America now calling superheroes the new Greek Gods. And while the analogy may be correct -- and no offense to Mr Khan -- isn't it at least a little disturbing?
Rediff Rating: