Advertisement

  

Advertisement

Snehituda: Nothing new to offer
Radhika Rajamani August 10, 2009 11:42 IST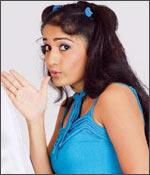 Telugu film Snehituda deals with friendships, a premise that has been dealt with innumerable times. This one however has a bit of everything: action, romance though all in bits and pieces which are loosely knitted.
Sai (Nani), an orphan grows up spending nights in other people's homes (when the owners are away). This film starts off on this premise and moves in a watchable way thanks to Nani's antics and acting. In one such adventure, he runs into Savitri (Madhavi Latha) who bulldozes him to take her away from the house she is living. We later realise she has been kidnapped by a bad guy there. From then on Sai and Savitri are on the run, trying to escape from the police and the baddies as well.
The dodging tale moves on till the interval when it's revealed that Savitri has run away from home and her father Sreenivasa Rao (Nasser) has disowned her. Sai gets his act together and goes to her village to bring about the reconciliation.
In the meantime, Savitri falls for Sai but Sai is totally unaware. The director does not even show that he's in love with Savitri except in a song. The rest of the film is all about whether this tale of friendship will culminate in marriage or not.
Nani does a good job. His acting skills are becoming better as his movie career progresses. He seems to be on a merry ride. He's pretty casual in this role and his voice modulation is apt. Madhavi Latha gives him good company and the lead pair shine but their effort goes waste on account of a rather poor script.
Director Satyam [Get Quote] Bellakonda has scripted the story with inconsistencies and offers nothing new for his viewers.
Rediff Rating: