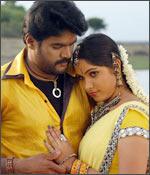 Tamil actor returns as the hero this time around in Karumari Pictures' Azhagar Malai directed by S P Raaj Kumar, an old hand at coming up with pot-boilers.
The set-up is a tried and thrashed one: a misunderstood Pugazhendi (RK, who looks and acts like Sundar C) who has a drinking problem, generally behaves like a maniac in company of his uncle Kathamuthu (Vadivel) and is the despair of the whole village except for his loving brother Pandithurai (Napoleon). Rathnavel (Lal) and his sister, who have cherished evil designs on them for years, are out to get them whichever way they can.
Comic relief is at hand however, along with plenty of romance. Pugazhendi cuts a few capers with his uncle (and these are the real high points of the film), not to mention bumping into a heavily made-up Janani (Bhanu), who smiles, smirks, and seems ever-ready to fall into the hero's arms.
In the meantime, Rathanavelu's rather childish attempts to discredit Pugazhendi continue and lead to an instant and artificial change of mind for Pugazhendi to become a model human being.
RK is a considerable improvement this time: the horrible accent is gone, and you can see that he's made a conscious attempt to re-invent himself. Lal has been completely wasted; Bhanu is too made-up to make an impact. Napoleon is his usual, strong self but you've seen too many characters like this to be really impressed. Vadivelu is the only one who's worth a watch.
The real problem is the screenplay though the comedy, and some slick production values are the only things that keeps it going while all the twists and turns are as predictable as a 70s pot-boiler.
Rediff Rating: