Advertisement

  

Advertisement

This Daddy ain't cool
Paresh C Palicha August 10, 2009 11:35 IST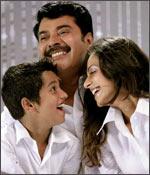 Malayalam film Daddy Cool directed by newcomer Aashiq [Images] Abu is one more substandard film of Mammootty to hit the theatres in the recent times after Ee Pattanathil Bhootham.
Most of these films with big stars piggyback on the star's image to score at the box office, and, they are all made to showcase the star the way he is loved by his fans. Still, we wish the filmmaker used a thread to weave a cohesive story. This is where Aashiq Abu fails miserably.
The story (if we can call this a story) is about Antony Simon (Mammootty), a cricket crazy police officer, who will do anything to be with his school going son. His easy going attitude makes him an object of ridicule among his co-workers and drives his wife Annie (Richa Pallod [Images]) crazy. As expected the father-son duo do not change till the end even when things go terribly wrong.
You may argue that this film is kiddie stuff like the other Mammootty film, Ee Pattanathil Bhootham released a few weeks back. But, parents are warned that the dialogues credited to Bipin Chandran are somewhat crass with street lingo and innuendoes.
We have seen Mammootty playing the cool cop numerous times but he is not cool either as a cop or a daddy. We cannot imagine Sreenivasan doing the same.
Of the rest of the cast Master Dhananjay playing Aadi, Antony's son is a typical over smart cinematic kid. Richa Pallod as the working mother passes muster but has nothing substantial to do. The supporting actors consisting of Biju Menon, Sai Kumar and Vijayaraghavan, Baburaj act as Mammootty's colleagues.
Samir Thahir's camerawork is the only good thing about the movie.
So, to the question whether you should spend money to watch this film, the answer is this: listening to the classic Boney M song (Daddy Cool) on a loop will be a better idea.
Rediff Rating: