Ram Gopal Varma to helm biopic on Paritala Ravi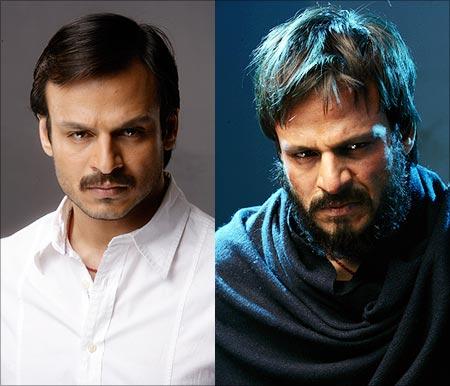 Ram Gopal Varma surely has a penchant to make films on the murky world of crime, underworld and mafia.
His forthcoming offering is Rakta Charitra, a film on the life of Paritala Ravi, one of the most feared individuals in the blood-ridden faction politics of south India, particularly Andhra Pradesh, who was assassinated in 2005.
What's more interesting is that Varma will be making the film in Hindi and in two parts (not a sequel) -- with both parts releasing within three months of each other. Varma has cast Vivek Oberoi [Images] to play the lead role of Paritala Ravi. He plans to shoot the movie come August.
"I decided to make it in Hindi because I strongly felt that the sheer uniqueness of the story deserves to be told to a much wider audience," Ramu says.
Varma, who has read biographies of various personalities like V Prabhakaran (LTTE [Images] supremo), Dawood Ibrahim [Images] and Pablo Escobar (Columbian drug lord) feels their stories "pale in comparison to Ravi's as his tale is more gripping than any fiction.
"Ravi was a soft-spoken guy who under circumstances retreated into the jungles, became a rebel and turned to violence to avenge his father's and brother's deaths before eventually becoming a minister in NTRama Rao's Cabinet," Ramu says.
Ravi was a dreaded man. "His name sent shivers down the spines of not only his rivals but even the law enforcement agencies. He was a rebel, a feudal lord, a Robin Hood, a killer of hundreds and saviour of thousands till the day he was gunned down by a death squad allegedly put together by his arch rival Suri, who wanted to avenge his father's and brother's deaths.
In fact, Ravi was a prime accused in innumerable murder cases and also survived numerous assassination attempts, the most brutal of which happened on a quiet Friday afternoon near Rama Naidu Studios in November 1997. Ravi survived this attempt which however killed 26 others.
In his research for the film Varma met Suri now lodged in Anantapur jail. He has put together the story based on information from Suri, Ravi and Suri's associates and family members, eye witnesses accounts and police records. "It is the most fascinating story I have ever heard or could hope to hear in my life. This is the story of a man's phenomenal rise to power and a story of the most intense blood curdling conflict ever heard between two individuals. It is also the ultimate statement on the oft-heard disastrous consequences of a fatal mixture of caste, crime, family feuds and politics," Ramu adds.
Casting is integral to any film and Varma feels that Vivek "has remarkable intensity in his eyes which I noticed in the making of Company, a voice which commands attention, an arrogance in his demeanour, an enormous power in his stance, and also a certain vulnerability which makes one instantly warm up to him, which is what is needed to fit in a role of Paritala Ravi's profile." Varma has also revealed the look of Vivek in the film.
Varma is setting a trend of sorts by releasing the film in two parts (with a three months gap) titled Rakta Charitra I and Rakta Charitra II. He wants to do so "because, the sheer drama and content the story possesses is so incredibly rich and of such high magnitude that it is not possible to do justice to do it in a film which is lesser than five hours.
"Also Ravi's life can be broadly divided into two parts from the time how circumstances created his rise to how he created circumstances that felled him," Ramu says.
Varma believes "Rakta Charitra is going to be the most defining film of my career not because of how well I will make it but because of the material I have in my hands. To put it simply I don't have to work hard to make it well but I have to work hard to spoil it."
Way to go Varma!
Text: Radhika Rajamani