Advertisement

  

Advertisement

Feroz Khan: 1939-2009
R G Vijayasarathy April 27, 2009 13:57 IST
Last Updated: April 27, 2009 15:42 IST


Actor-filmmaker Feroz Khan [Images] will be laid to rest at Bengaluru's [Images] Johnson Market graveyard on Monday at 5.30 pm, his brother Sanjay Khan said. The actor died at his farmhouse on Tumkur road, Bengaluru, last night. He is survived by son Fardeen and daughter Laila.

Fardeen is married to Natasha Madhwani, daughter of actress Mumtaz, who was Feroz's heroine in quite a few films in the 1970s. Laila is married to tennis player Rohit Rajpal.

Feroz had divorced wife Sundari 24 years ago.

He has three brothers -- Sanjay, Akbar and Sameer. Both Sanjay and Akbar are actor-filmmakers in their own right. Sameer is a filmmaker and has also been assisting Sanjay Khan in his Golden Spa farmhouse in Bengaluru.    

Born in Bengaluru on September 25, 1939, Feroz did his schooling in the city. He later moved to Mumbai [Images] to make a career in the Hindi film industry. He got a big break in the film, Didi (1960), and went on to act in many films like Arzoo, Aadmi Aur Insaan and Safar.

He won his first Filmfare award for Best Actor in Supporting role for Aadmi Aur Insaan (1969). By then, Sanjay had managed to get a break in Bollywood as well. Both the brothers worked together in the successful film Mela (1971).

The actor found himself restricted to doing small budget action films, and could not join the big league. Fed up, Feroz started his own production house and made Apradh (1972). He went on to make many more hits like Qurbani and Dharmatma. Qurbani was such a big hit that it was remade in Tamil with Rajnikanth [Images].

After Yaalgaar (1992), Khan took a break from films. For six years, he did not act or produce films. In 1998, he launched his son Fardeen in Prem Aggan. The film flopped and Khan went back into a shell. He made an acting comeback in Jaanasheen in 2003. His last film was Anees Bazme's superhit Welcome.

Even though Khan settled down in Mumbai, he loved Bengaluru and would fly down to the city whenever he could.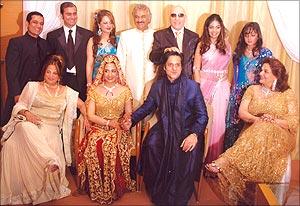 The actor's closeness to politicians in Karnataka was well-known, especially his relationship with former Chief Minister R Gundu Rao and former Rajya Sabha member F M Khan. Rao was a family friend to Feroz Khan.
Rao's son Dinesh -- presently, a legislator in the Karnataka Assembly -- remembers Khan as an elegant style icon. "I have fond memories of  my father's excellent relationship with Ferozji," he says. "I saw him a few times even after my father's death and I thought he had not changed even in his old age. He was as stylish and elegant in his 60s as he was in his younger years."
Feroz had been waging a battle with cancer for the past year, and was being treated in a Mumbai hospital.


Hrithik Roshan [Images] and his father Rakesh Roshan is expected to arrive in Bengaluru to pay their last respects. Hrithik is related to the Khans by marriage -- his wife Suzanne is Sanjay Khan's daughter.