April 02, 2009 14:31 IST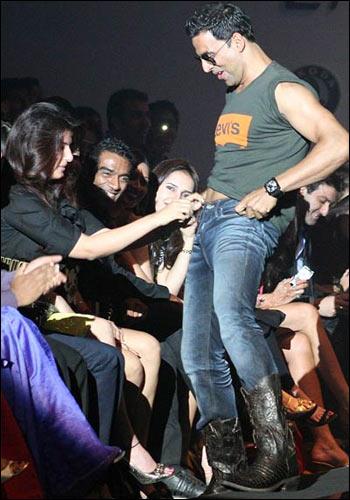 Akshay Kumar may land himself in the soup as city police have started inquiry into his alleged obscene "unbutton" act during the Lakme Fashion Week in Mumbai [Images].
"We are conducting an inquiry into Akshay Kumar's [Images] alleged obscene acts during Lakme Fashion Week held here recently after we received a complaint from a person called Anil Nair," a police officer told PTI.
The complainant raised objections on Akshay's unbutton act in public, the officer said. On Monday, mid-way between his ramp walk, Akshay Kumar walked towards his wife Twinkle Khanna [Images], who was seated in the front row and allegedly asked her to unbutton his jeans during the fashion show.
Asked if a police case is likely to be registered against Akshay and the organisers, the officer said, if the inquiry finds them guilty of obscene act, they will register a case against the actor and the organisers.
Well, what do you think? Should Akshay and the organisers be penalised?
Text: PTI | Photograph: Arun Patil