It's a Madhur Bhandarkar thing to do.The director likes to weave stories around a specific section of society every time. And so after tackling one backdrop after another with films like Chandni Bar, Satta, Page 3, Corporate and Traffic Signal [Images], Bhandarkar sets his sights on exploring the glamorous world of fashion, in a movie titled just that.
Like most of his previous films, Fashion, too, is woman-centric, featuring a slim troika of Priyanka Chopra, Kangana Ranaut [Images] and Mugdha Godse in the lead.
Although as far the soundtrack goes, Bhandarkar takes a break from his usual fixture Shamir Tandon and opts for the snazzy duo Salim-Sulaiman against Irfan Siddiqui and Sandeep Nath's run-of-the-mill lyrics to do the needful. The Merchant brothers, on their part, do not disappoint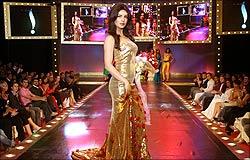 The album opens on a stylish note with Fashion ka jalwa. A niftily paced composition, Jalwa perfectly echoes the high-strung mood of runway magic with generous help from Sukhwinder Singh's animated vocals. His partners in rhyme a sauciness-personified Satya [Images] Hinduja and rap artist Robert 'Bob' Omulo come around to infuse their characteristic blend of coolness, at times reminiscent of Kaal, resulting in a distinctly infectious ditty. Regardless of its pumped up temperature, DJ Amyth's remixed version doesn't hold a candle to the original's exuberance.
Up next a gruffy-in-a-nice-way Shruti Pathak collaborates with Salim to dish out the zingy and melodic Mar jawan. The intense, vulnerable emotion in her voice lends the song an air of elegance and meaning. Interspersed with Arabic lyrics, which compliment the obvious velvetiness of this dulcet beauty, the overall impact is most soothing and effective. DJ Amyth's remixed concoction with its pounding beats and dynamic effects do well to lure the nightclub crowd.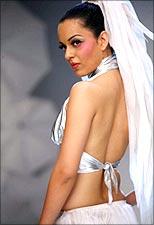 The composer duo maintains a mushy and mellow ambiance in the following track as well. Soft pop specialist Mohit Chauhan (Tum [Images] se hi, Jab We Met [Images]) and co-singer Neha Bhasin discover the joys of love in Kuchh khaas. While Chauhan goes through the motions with seasoned tranquility, Bhasin jarringly overdoes the enthusiasm bit. As for its remix, it's surprisingly unadventurous, mostly insipid and badly off tune.
An upbeat Salim Merchant jams furiously to ambitious temperament of Aashiyana. Despite its fancy percussions, the number doesn't fall in the 'instantly likeable' category and takes a while to grow on the listener.
Theme of Fashion, a dramatic fusion of ambient and lounge in inspiration, draws the erratic graph of its lead protagonist (Chopra), but prioritises fancy technique over stirring sentiments.
What is commendable about Salim-Sulaiman's score is that all their music, with its recurring theme and riffs, is nicely linked to one another. That ought to come handy in the movie's narrative. As an album too, Fashion offers a well-designed mix of trendy tunes and refined melody.
Rediff Rating: