Home > India > Movies > Interviews


Discuss |
Email |
Print | Get latest news on your desktop

The Rediff Interview

'I am not unhappy that I had to release Gulabi Talkies in one screen'

R G Vijayasarathy | September 19, 2008


| | |
| --- | --- |
| Girish Kasaravalli | |
| | |
| | |
| | |
| | |
| | |
| | |
Girish Kasaravalli, winner of four National awards has come out with a real masterpiece in the form of Gulabi Talkies now. Thankfully, the film is running well in its third week.
In this exclusive interview, Kasaravalli speaks about his Gulabi Talkies and the dearth of audience to artistic films which were toast of the audience during the seventies.
Were you little disappointed that Gulabi Talkies despite winning an international award got only one show in a multiplex screen while your first film Ghatashradhdha was released like any other commercial film in many theatres with good publicity?
I am not unhappy that I had to release Gulabi Talkies in one screen. Even my previous film Naayi Neralu had only one show at the PVR multiplex and it ran for four weeks. I am happy that Gulabi Talkies is getting a good response.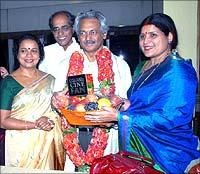 There is no point in discussing about today's situation as even in the neighbouring Kerala [Images], many award winning films are not getting enough exposure. Kerala has thousands of film societies which take up the causes of good and artistic cinema, but still good films are not getting to theatres.
Your previous film Naayi Neralu based on a novel written by the popular writer S L Byrappa was criticised by some because you had moved away from the contents of the original novel. Even in Gulabi Talkies you have given your own interpretation of the story. Do you think literary works have to be modified when they come on screen?
I read Gulabi Talkies a few years ago. And I thought it had the potential to be made into a movie. I had prepared a script based on the story and had even narrated the same to actor and producer, Jayamala, who felt that we should make Thaayi Saaheba instead. When I prepared the script for Jayamala, it was completely different from what you see now.
I had to change the script of Gulabi Talkies because I had to interpolate many issues relating to the raging controversy on reforms, consequences of introducing of corporate linked mechanized speed boats in the fishing areas and other things. I decided to rework the story because I had decided to change the geographical base of the story to a fishing village. In the original story, Gulabi is a Christian woman, but in my film, she is a Muslim woman. I also introduced many characters, and many issues like environment and global reforms.
Many people who saw the film argue that I have deliberately tried to have discussions on issues, and not have bothered about the story as an independent observer. I am not unduly perturbed by this observation.
Why do you think this film is more appreciated than your previous films like Naayi Neralu and Haseena for instance?
I don't know exactly. I think, it may be because of the fast pace of the film and also the witty elements in the narration. Umashri as Gulaabi is excellent. The film starts off in a light way, acquires serious overtones later, and in the end, it takes another turn.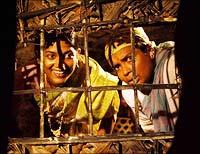 Why did you include issues relating to consumerism and reforms in the film?
End of 20th century saw the country's rural belt facing several difficulties on account of the sudden economic changes brought about by the administration. The issue was always in my mind.
In the mid nineties I made Mane on the ill- effects of consumerism, but the film did not reach the audience despite the presence of some well-known stars like Naseeruddin Shah [Images] and Shabhana Azmi.
The reforms process had just set in and the middle class segment was overawed by the comforts that were setting into their life.
Now when I made Gulabi, I am sure poor people in the urban and rural areas had clearly understood the consequences of reforms and consumerism better. I thought a film on these issues is more relevant today than then.
I started to look at things from the perspective of a lower middle class household. Though I took the example of one family living in a fishing village, you can see that the film showcases the economic and social changes brought out by a colour television set or the introduction of a mechanized speed boat.
Why did you choose the coastal town of Kundapura as the back drop for the film?
I always shoot my films in real locations. One village in Kundapura suited the requirements of my script. We built a small hut with thatched roof which was then against an effective backdrop of a series of boats lined up along the shore. There was a rock behind the hutments. It matched the description of the script. The local villagers were co-operative and many of them are featured in the movie. We did not in anyway interfere with their work. The work in the village was going on as usual as we did our work.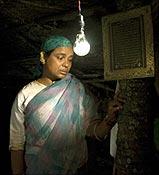 When I shot Dweepa in a busy town of Sagara in Shimoga district, I ensured that the work of the people was not disrupted. I followed the same principle here also. Artists like Umashri and M D Pallavi mingled with the people freely and entertained them.
My photographer S.Ramachandra was patient enough to get the best shots despite fading light and big crowds.
Do you think the Rs 20 lakh prize money won by Gulabi Talkies make it a profitable bracket for the producers?
None of my producers have lost money for the simple reason that money is made through many avenues like the prize money on awards and festival screenings and also DTH distributions.
Yes, we have to find a different business model for artistic films these days. But I still value the audiences' reaction in theatres as the most satisfying.
That way, though Gulabi Talkies has been released only in a single multiplex screen for a single show, I am happy I am reaching out to film lovers.
Email |
Print | Get latest news on your desktop