Home > India > Movies > Reviews


Discuss |
Email |
Print | Get latest news on your desktop

Worth a trip

Sukanya Verma | September 19, 2008 11:34 IST


| | |
| --- | --- |
| A still from Welcome to Sajjanpur. | |
| | |
| | |
| | |
| | |
| | |
| | |
Films like Welcome to Sajjanpur are tricky to form an opinion about. They have got so much going for them, but, nonetheless, aren't above fault.

Lack of perfection aside, Shyam Benegal's new film doesn't belong to any genre in entirety. It's assuredly funny, unexpectedly grim and sufficiently preachy to be a full-blown satire.
Unlike Sajjanpur -- a compact, fictional hamlet it weaves a yarn around, the persistently episodic production is marred by exhaustive, listless Shantanu Moitra [Images] compositions (the opening credits song, Sitaram, being a sole exception), a pointless sub-plot featuring a shabby romance angle between village compounder Ravi Kisshen (in ham-mode)  and child widow Rajeshwari Sachdev ( wasted in a role that asks nothing of her except showing up in dream sequences or conveying nervous laughter/fear) and the absence of a bona fide story.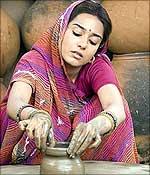 By the time, an actual development takes place in the proceedings; Welcome to Sajjanpur is probably approaching its last reel. Truth be told, the final inadequacy would not be magnified this much had the first two been kept in check. Welcome to Sajjanpur didn't really need any songs, let alone so many of them.

The film opens with a hilarious face-off between the town's only literate inhabitant, Mahadev (Shreyas Talpade), a wannabe novelist who makes his living writing emphatic letters for the uneducated Sajjanpurites, and a maverick snake charmer (Daya Shankar Pandey in a brilliant cameo reminiscent of Amrish Puri's masterfully quirky turn in Mandi).
Thereon we witness several fascinating albeit disjointed encounters between Mahadev and co-villagers. One of them happens to be Kamla (Amrita Rao), Mahadev's childhood classmate cum crush. Unruffled by her I-am-married-husband-is-away-in-city-to-earn status, Mahadev goes ahead playing the mischievous go-between to have her back in his life. 

Benegal's films have always echoed our society's ongoing frame of mind. And so the first few scenes itself, frothily written by Ashok Mishra, establish the political, social or cultural scenario that keeps breaking news on channels.

The context varies from industrialisation versus farmers, a well-connected housewife running for election against a quick-witted eunuch (Ravi Jhankal), a superstitious mother (Ila Arun) trying to ward off her tomboyish daughter's (Divya Dutta [Images]) manglik status by tying her knot to a manglik mongrel.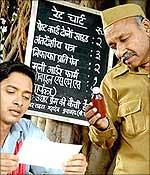 At the same time, he explores the human psyche and its knack to constantly surprise itself through Mahadev's change of heart, catharsis and subsequent redemption.  And while one may not feel particularly sympathetic, Welcome to Sajjanpur works, largely because of its astute writing. Mishra's rejoinders and quips are quick-witted, terse and appropriate with a clever mix of ethnic and understandable dialects of Hindi and assorted humour ranging from raunchy to amusing.
Even if the lighting or production value is nothing impressive, the well-rounded performances ensure you notice the afore-mentioned flaws as little as possible. Under Benegal's sharp focus, the supporting cast of actors like Yashpal Sharma (in terrific form yet again after Singh is Kinng [Images]), Daya Shankar Pandey, Ravi Jhankal (a regular, stellar presence in Benegal creations), Ila Arun (the husky actress-singer brings the house down with her remarkable delivery, making one wonder why we don't see more of her), Divya Dutta (the usually subdued star makes a subversive transformation here. We like!). 

A far cry from her whimpering ways in mainstream masalas, Amrita Rao [Images] gracefully gets under the skin of the naive, unsure Kamla. Her measured dialogue delivery and deliberately held-back body language reflects she has put in a lot of hard work. And to her credit, she gets it right. 
Blessed with innate earthiness, Shreyas Talpade [Images] looks every bit of the part he plays. Although he exudes the essence, his enthusiasm-laced performance is rather one-dimensional, and doesn't bring out the layers of Mahadev's grey mentality. Having said that, he is especially competent in scenes where his inspired voice-over mouths out aloud a legendary letter in the making.

It would be unfair, even impossible not to compare Welcome to Sajjanpur with Benegal's previous Mandi, which has its own share of issues, idiosyncrasies and intended comedy. While Mandi it's not, Welcome to Sajjanpur is worth a trip, flaws inclusive, for its nifty funniness and curious concept.

Rediff Rating: 

Want to see this movie? Check out Rediff Movie Tickets!

Email |
Print | Get latest news on your desktop