September 18, 2008 13:29 IST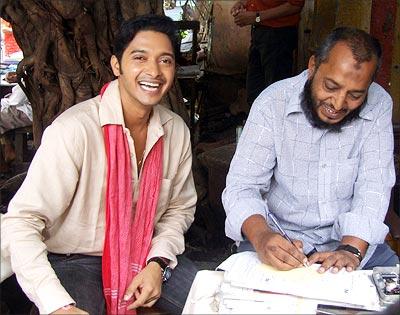 In a unique attempt to promote his new film, Welcome To Sajjanpur, Shreyas Talpade visited Mumbai's General Post Office and met some letter-writers.
For those who don't know, Shreyas plays a letter-writer in the film, as he the only literate person in the village. 
At the Mumbai post office, Shreyas earned Rs 10 per letter, as he sat next to Shakeel Ahmed, who's been a letter-writer for 30 years.
"I enjoyed playing Mahadev in the film, and now performing the same act in real life is more fun," Shreyas said. "It is interesting to see that even today, at this age of mails and text messages, there are people who are dependant on letters to reach out their loved ones. This is one of my most memorable experiences''
Directed by Shyam Benegal, Welcome To Sajjanpur tells the story of Mahadev (Shreyas), who wants to become a novelist but finds it easier to make a living by writing letters for others. His ability to write persuasive letters makes him popular with the uneducated villagers. 
Welcome to Sajjanpur releases on September 19.