Home > India > Movies > Reviews


Discuss |
Email |
Print | Get latest news on your desktop

Effectively intriguing

Sukanya Verma | September 12, 2008 11:12 IST



There is a difference between people and personalities.

Rituparno Ghosh's The Last Lear [Images] makes a fascinating and uncompromising journey in this thought. Although his vision may be marred by dissatisfactory subtext, apathetic characterisations and awkward communication; it single-mindedly strives to discriminate greatness from genius and idiosyncrasy from commitment. In that sense alone, The Last Lear inspired by Utpal Dutt's play Aajker Shahjahan, is effectively intriguing.

Ghosh is completely absorbed in deciphering the workings of his central protagonist's Shakespeare-dominated mind, where silence is a poetic pause and the untold becomes enigmatic.

Fortunately for Ghosh, his leading man Amitabh Bachchan [Images] appears to be reading his mind. He plays Harish Mishra aka Harry, a theatre actor hailing from the Shakespearean school of thought. Moody like the English weather, he expects everyone to be well-versed with A Midsummer Night's Dream and recognise it's the Tempest that he lovingly quotes.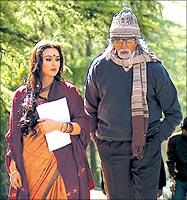 Like an actor in play, he's always a different person at different hours of the day. At times, he transforms into a gallant knight in a grand battle. On other occasions, you can hardly tell him apart from an eight-year old petulant child (albeit a drunken one) languishing to have his way. Occasionally, he is eerily quiet only to unexpectedly bark at a mindless passerby peeing on his walls. His penchant for drama reflects in the unkempt white tresses dominating his wrinkled countenance as well his choice of clothing, ranging from kimono robes to Egyptian galabeyas. He is a legend of his own making. And Bachchan essays this startling personality with awe-inspiring ardor. 

Essentially, The Last Lear is only about Harry, how he is persuaded to act in a film and his concealed regrets. He always wanted to enact King Lear but due to some ambiguous reasons, could not. Later, when the reality of it is spilled out, you really wish Ghosh had thought of something better than that. Harry, l believe, is way too unconventional to succumb to such a lame obstacle.

Therein lays the problem with The Last Lear. While Ghosh builds Harry's aura to perfection, everyone around him fails to reach out. To think their conversations, the film keeps travelling from past to present, gives us an insight into the man in question. Still, they come across as a bunch of unimportant people whom he interacted with.

As the visionary filmmaker Siddharth, Arjun Rampal [Images] is convincingly intense, understated and dry. But there's not much detailing to his character. Is he really as radical as he seems? Is he genuinely feeling guilty about Harry's condition since he is the one who persuaded him to act in a movie? Somehow, the open ending fails to convey anything substantial. To me, he strikes as a self-centred and hypocritical manipulator.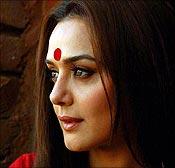 Indeed, this is one of Preity Zinta's most un-bubbly roles. As a traumatised soul struggling to hold back a long-due outburst, courtesy her tumultuous, abusive relationship with her man, Zinta is palpably vulnerable. Sadly, her dialogues in English distract one from the seriousness of the situation.

It's an English film with crumbs of Bengali and Hindi thrown here and there, in which the priority of the language seems apt in all scenes AB. But the interaction, between his live-in companion (played by an excellent, commanding Shefali Shah), night nurse (Divya Dutta [Images] re-doing her Veer Zaara [Images] bit in English) and Preity, limps and lugs uncomfortably. On such occasions, a local flavour could have added to the authenticity.

Flaws aside, this film belongs to Amitabh Bachchan. The actor is at his unconditional best, lending unrestrained brilliance, puckish nonconformism and persuasive madness to the actor he portrays. Gradually, during the process, they become one, making it hard to distinguish the star from the subject. This is Bachchan's masterpiece even when it requires him to do something as casual as twisting a whiskey glass around his long, perceptive fingers.

Ultimately, The Last Lear is neither a study nor a summary. It is an indulgent celebration of a larger-than-life personality, a classic consumed, for better or worse, by his art. In this case, Shakespeare.

Rediff Rating:

Want to see this movie? Check out Rediff Movie Tickets!

Email |
Print | Get latest news on your desktop